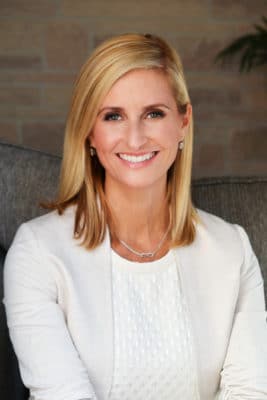 At the beginning of the career of Josie Padilla, there weren't many women at the top of the finance world. "When I entered the workforce in the early 1990s, the top executives were white men," she explains.
That started to change during Padilla's twelve-year tenure at the Coca-Cola Company. More women became heads of the household and had increased buying power. That meant it was important for companies like Coca-Cola to reflect that changing demographic. 
Padilla was part of that change. "I'm so happy and inspired to see more minority women in top executive roles," says Padilla, who worked her way up the finance executive ladder. Now, she's the chief financial and operating officer at Kate Somerville Skincare.
As a child, Padilla didn't picture herself as a finance executive, but she was always  ambitious, dreaming of becoming a doctor.
Padilla grew up in a traditional, middle-class Mexican family. Her parents emigrated from Mexico, and Padilla and her four younger siblings were born in the US. Her father is an entrepreneur and a risk taker, which she admires, while her mother is more risk averse; Padilla sees herself as a combination of the two.
From the time she was young, Padilla's father told his children they had to go to college. "College was just what you did," she explains. "We didn't know how it would be done or paid for, but it had to happen. For me, there was no other alternative."
Thankfully, Padilla had a high school guidance counselor who helped guide her through the process, and she attended Stanford University. She eventually also received her MBA from UC Berkeley. "I was a total math geek," Padilla says. "I loved science, too." But that love of math and science didn't translate into becoming a doctor—she didn't have the passion for it. So Padilla pursued another path: finance.
The two fields overlap in significant ways, particularly with using precise math and solving complex problems. "Finance should always be a big driver of business decisions," Padilla says. Understanding how the numbers play into these choices and explaining them to non-finance colleagues is sales and marketing is both  fulfilling and challenging. "This is key in making sure you are making investments in initiatives with the biggest return," she says.
When Padilla first started, the finance department was more of a back-office function. Over the past twenty years, finance has shifted to a position that's more front and center. This is a change that Padilla supports. "Finance deserves a seat at the table," she says.
And in her current role, which she assumed in January 2017, it's safe to say she has a prominent seat at the company.
Padilla had spent twelve years at Coca-Cola, holding five different roles in the company, including the CFO position at ZICO Beverages. She was on track to eventually move to Atlanta to assume more senior financial and operational leadership roles at the company. "It was a very difficult choice, but I decided I didn't want that," she says. "It didn't feel right."
Before she worked at Coca-Cola, Padilla had worked in the Bay Area at start-up companies during the 1990s dot-com boom. She loved the thrill of working at these smaller companies because she was able to do so many different things and get involved in a variety of projects.
Where she once sought stability, she began to want  excitement, so she left Coca-Cola in February 2016. After working briefly at a cookie company that did not end up being the right fit, a recruiter found Padilla and connected her with Kate Somerville.
Kate Somerville is a small prestige skincare brand based out of Los Angeles. Padilla says the company is in "aggressive growth mode" and will be for the next few years.
Because Kate Somerville is a smaller company, this means longer hours and a lot of hard work. "I love it! I'm never bored," she says, adding that she thrives in high-stakes business situations.
Padilla's contributions to Kate Somerville are intrinsic to its success, says Michele Van Patten Frank, partner at Venable LLP. "Her strength in identifying critical priorities for Kate Somerville and the emphasis she has placed on intellectual property has led to the company's dynamic growth, and it has been an honor to partner with her for the past year," Van Patten Frank says.
Padilla works ten- or eleven-hour days, which means it's vital to like the people she's working with and to have a strong, healthy company culture. She has both, and part of that is due to her focus on building and nurturing high-performing, diverse teams. She's passionate about mentoring others, especially other women of color.
Though her family was supportive of her ambitions as a child, she says, "If someone had caught me at a younger age and said I could do anything I set my mind to, it would have had a huge impact."
There aren't enough women in finance, she says, and she sees mentoring as one way to help solve this issue. "All the Hispanic women I know have such passion, such zest for life," she says, adding that having such passion and a different perspective on solving problems is incredibly valuable in the business world.
"There's so much opportunity," Padilla says. "We're capable of so much. We just have to believe in ourselves."
Padilla is grateful for all she has, so she does what she can to give back. She's on the board of the Boys and Girls Clubs of Venice. Her involvement with the Boys and Girls Clubs started during her time at Coca-Cola, which revolved around a charity basketball tournament event at the Staples Center. The Clubs provide after-school programs to disadvantaged, at-risk youth in a number of disciplines, such as science, math, music and fine arts.
"I'm always looking for ways to pay it forward, and I'm happy to do it," Padilla says.