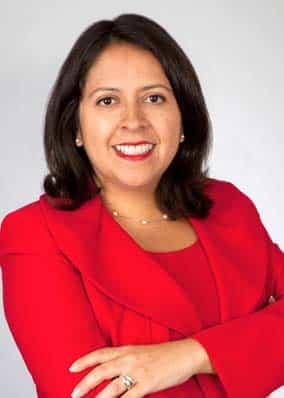 When an immigrant walks through Scotiabank's doors in Toronto, the director of multicultural banking knows where they're coming from. Born in Mexico herself, Fabiola Sicard is sensitive to the challenges and the opportunities newcomers to Canada face upon arrival. For her efforts at Scotiabank to help immigrants, especially Hispanics, transition to Canadian life and begin seizing opportunities, she was honored with the Ohtli Award, the highest recognition that the Mexican government gives to its citizens who have contributed to the Mexican Diaspora. With a focus on immigrant needs, the StartRight program, and an emphasis on networking, Scotiabank is raising the visibility of Latin American potential in Canada.
1. 

Targeting Immigrant Markets
With an influx of more than half a million immigrants each year, Scotiabank realized in 2008 a sizeable population was being left out of Canada's fairly stable banking industry. "We realized immigrants had specific needs and we were not providing those services properly," Sicard says of such accommodations as bilingual literature and automatic banking machines, which Scotiabank continues to offer exclusively in Canada. After examining the Latino demographic of that market, Sicard says the bank found that the most recent wave of Hispanic immigrants, while overwhelmingly bilingual and highly educated, preferred financial services in their mother tongue to make the most informed decisions.
Another unique problem the bank identified centered around credit. With no history, immigrants are unable in many cases to secure the loans necessary to pay for such big-ticket essentials as lodging and transit. Recognizing this, Scotiabank now offers immigrants a credit card without credit or income histories. A consistent challenge Sicard faces in facilitating Canada's Hispanic population is a lack of information. "Because of incomplete census data, the Latino community in Canada is invisible from a statistical standpoint," she explains. To gain ground in this respect, Scotiabank has partnered with some Latin American consulates as liaisons to the Hispanic communities.
Up Close & Personal
with
Fabiola Sicard
What is your favorite Latin American food, and where is the best place to get it? Pozole, traditional Mexican soup, at Rebozos restaurant in Toronto.
What's the best piece of advice someone has given you? Listen to your heart.

What's your favorite city, and why do you love it? Paris. I could walk around it for hours. It's like being in a museum.

If you could learn another language, which would it be and why? Portuguese. If I spoke Portuguese I could work anywhere in the Americas.

What is your favorite hobby in your down time? I love meeting new people. I'm very social.

2. 

Helping Make the Right Start
The consulates are also a vehicle through which Sicard is making Latino communities abroad aware of the resources the bank has to offer. Through its StartRight program for newcomers, Scotiabank provides a unique opportunity for immigrants to set up their financial infrastructure before ever stepping foot on Canadian soil. In Mexico, for example, soon-to-be immigrants can simply fill out an application once they have received immigration status in Canada and transfer up to $50,000 into a personal account. And if newcomers don't have access to a Scotiabank branch in their native country, Sicard says the bank has found ways to take the stress off them upon arrival. While most banks require two forms of identification usually issued by the state to open a checking account, Scotiabank makes an exception for newcomers, requiring only passports or proof of immigrant status. "They are really set when they get to Canada," Sicard says. "Some people bring cash, which is very risky, and others can wait weeks to deposit foreign checks, so the StartRight program is really the safest way to wire funds before landing in the country." Additionally, the bank assists newcomers in purchasing transportation with tailored financing plans through dealer partnerships, and newcomers can take advantage of free use of a safety deposit box for a year.
3. 

HOLA at Scotiabank
Beyond financial guidance, as cochair of the bank's Hispanic Organization for Leadership and Advancement (HOLA), Sicard is helping foster thriving Latino community relationships with non-Latinos through Scotiabank's HOLA program. Its flagship program, Dia de la Hispanidad, showcases Latin culture and gives Latinos an opportunity to network with colleagues. Another of HOLA's programs, the Lunch & Learn series, brings together employees from across the bank to meet and discuss their work in a manner they would otherwise be too busy for. HOLA also participates in the annual Networking Beyond Boundaries event at which established Latino professional associations, and employee resource groups from large corporations connect with transitional or immigrant Latinos. "The objective is to create a sense of community within the bank and also to promote the professional development of the Hispanic community," Sicard explains. "But it's not a group of Hispanics just for Hispanics. No matter if Canadians want to learn Spanish or share knowledge of the market, everyone can benefit from the group."