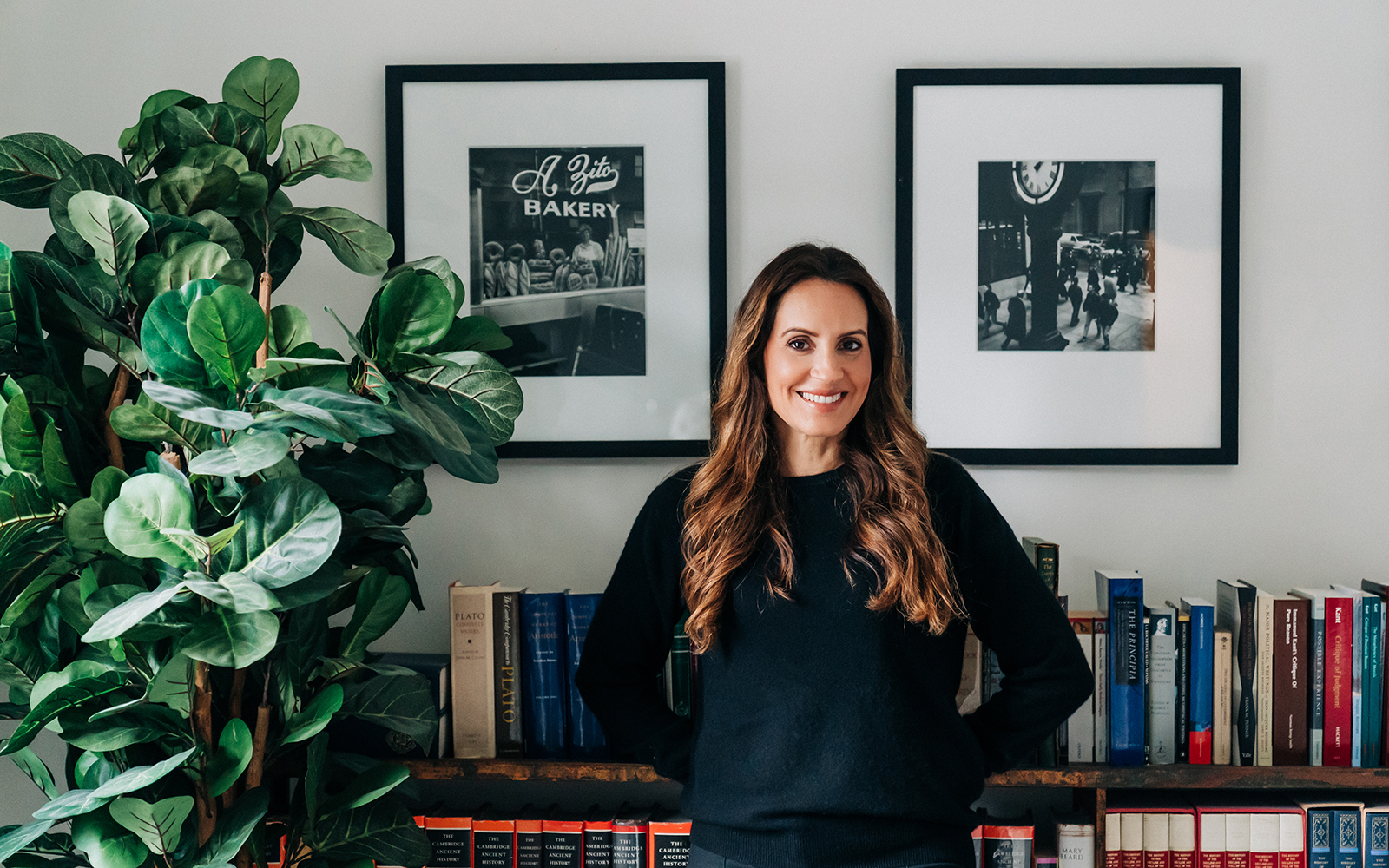 When a recruiter called to inquire about her interest in joining the Big Lots board of directors, Sandra Campos had what seemed an unusual reaction: she burst out laughing. "The recruiter asked why I was laughing, and I said, 'Because my kids make fun of me for going to Big Lots so often,'" says Campos, a mother of three. "I have three Big Lots within thirty minutes of me, and I go there on a regular basis."
Campos has sat on the board of the affordable retailer since May 2021. She has also served on the board of Project Verte, a technology-driven supply chain company that she previously served as CEO. A relative newcomer to the corporate boardroom, she nonetheless brings considerable experience to the table as a seasoned veteran of the fashion industry and a successful business founder in her own right. Between her retail savvy and her passion for innovation, she's more than ready to show the board world what she can do.
Campos gravitated toward fashion from an early age, but understood from the start that the industry is as much a business as any other. After cutting her teeth at high-end labels Polo Ralph Lauren and Oscar de la Renta, she reinvigorated a portfolio of turn-of-the-millennium brands including Juicy Couture, Bebe, and BCBG. She then went on to become CEO of Diane von Furstenberg (DVF), a company known as much for its iconic clothing as for its dedication to female empowerment.
"Sometimes you're a little ahead of the curve, and sometimes you're right on time. It's a matter of trying to trust your instinct in determining when the right time is to innovate."

Sandra Campos
That mindset resonated with Campos, who espouses a leadership philosophy likewise built on empowerment, collaboration, and inclusivity. "Leadership today is very different from when I was first starting out in the industry. Now, you need to make sure that you're incorporating everyone and everything," she says. "At DVF, I was able to find more of my inner confidence and focus my efforts on other people and their successes, especially within the Latina community."
Campos recently founded Fashion Launchpad, an online education platform for professionals in fashion and retail. However, her initial foray into entrepreneurship took place back in 2010, when she created a celebrity brand management company that developed and handled a lifestyle business for then-teen sensation Selena Gomez.
"An incredible amount was changing in the industry at the time. Consumer tastes were changing, and it was no longer about dictating what a fashion trend was going to be—it was about influencers telling us what was important," Campos explains. "But we knew the market, we knew what demographic we wanted to go after, and we were able to execute."
Campos has focused on the consumer throughout her career, with a particular emphasis on the ways in which younger generations and emerging technologies are shifting consumer priorities and retail dynamics. "I consider myself to be a student of culture and a student of the consumer. I love being able to identify opportunities that are going to click," she says. "Sometimes you're a little ahead of the curve, and sometimes you're right on time. It's a matter of trying to trust your instinct in determining when the right time is to innovate."
In Campos's eyes, innovation requires absorbing as much information as possible about the latest advancements and industry trends. She engages in daily research to remain at the forefront, whether that means exploring artificial intelligence as a modernization tactic for back-end logistics or investigating new methods for streamlining the ecommerce returns process.
Campos recognized her knowledge of technology and digital retail practices as an asset when she started eying seats on corporate boards. She urges aspiring board members to identify what sets them apart as an individual, consider the boardroom applications of their skills, and use their network to their advantage. "Just like with anything else, you have to put yourself out there and let people know that you're looking for a board seat," she notes. "I always encourage people to be an extrovert professionally because maintaining relationships and being in the conversation is really important if you want to be on boards."
Campos views her membership on the Big Lots and Project Verte boards as an opportunity to increase her impact. In the case of Big Lots specifically, it's also a chance to reconnect with a customer base close to her heart. "The community that shops at Big Lots is one I can very much relate to. While some of my experience has been luxury, I not only understand but also value and appreciate the mainstream consumer who is spending their hard-earned money at Big Lots," she says. "This customer base is someone who really is everyone, and to me, it's a gift to be able to have that customer."
As for her fellow board members, Campos feels inspired by their level of experience and respect for one another. Each member draws on their unique background to propel the collective toward a common goal––a collaborative spirit that keeps Campos excited for what lies ahead.
When she looks to the future, Campos envisions opening doors for people like her. "I'm focused on elevating more voices and providing another platform for entrepreneurs with business ideas as well as people who want to help from a social change perspective," she says. "There is so much that this next generation of Latin entrepreneurs is going to be able to do, and I'm hoping I can contribute, whether through board work or anything else I do."