While today Rosevelie Márquez Morales is the diversity, equity, and inclusion director for the Americas at Hogan Lovells, her parents never graduated from college. Her mother had always valued education and dreamt of becoming a lawyer, even getting as far as starting college in Puerto Rico with an infant Márquez Morales in tow. However, family circumstances prevented her mother from continuing her education, and the family promptly relocated to Brooklyn.
Call it those infant college classes or watching her godmother travel the world as a teacher, but Márquez Morales always knew attending college was a key to unlocking greater opportunities. Without any insight into the college application process, she relied on her high school counselor Marianne Finn to help guide her and set her on the path to Columbia University and Barnard College. Ms. Finn, as her students addressed the educator, contacted Barnard and convinced them to visit the high school and meet Márquez Morales. After meeting the young woman, Barnard invited her to tour the campus.
"We walk in through these beautiful iron gates, and we go into the hall, and they have everything set up for a dinner," Márquez Morales recalls. "I knew what college was, but not what it looked like."
A borough away from Márquez Morales's Brooklyn home, the gates at Barnard College looked like the entrance to heaven. They opened doors for new opportunities. Barnard, along with the help of Ms. Finn and ASPIRA of New York (a Latino youth college access and leadership development nonprofit), inspired the future lawyer to earn a full scholarship to Barnard.
But as an Afro-Latina and first-generation college student at a predominantly white institution, Márquez Morales faced more adversity than most of her new peers. In turn, she made friends with fellow Boricuas on campus to preserve her roots and advocate on their behalf. She stayed connected on campus by working with ASPIRA, helping other students access their college dreams. Márquez Morales now serves as chair of ASPIRA NY, in which role she continues to guide Latino youth toward college access.
Because Márquez Morales—who was a mock trial wizard in high school—enjoyed crafting up a strong argument as much as she did advocating for her gente, she also applied to Fordham University School of Law to become a trial lawyer. Once the young Márquez Morales got accepted, she enrolled in the school's JD program. Yet, despite leaving Brooklyn behind for Manhattan, she walked alone and felt the repercussions of being a first-generation college student again.
"No kind of mentors. No real role models in this space," Márquez Morales remembers. "I tend to just let myself be guided by the system. And by that system, I mean when you go to law school in your first year, you're quickly thrown into the interview thing. It's not like I had anyone guiding me in how to research the firm or what the differences were between the different practice areas."
Make no mistake, Márquez Morales graduated from Fordham on time and started her legal career as a pharmaceutical defense attorney at Harris Beach in 2002. Still, she lacked the road map that many of her peers seem to have found in law school. Add the fact Márquez Morales had to navigate Harris Beach as the only woman of color and only Latina lawyer, and she knew she had to get support. She refused to go through her legal career on her own.
Márquez Morales contacted the Puerto Rican Bar Association, a professional network that supports Boricuaand Latino attorneys and asked to form their first ever Young Lawyers Committee. Outside of her office hours, she has dedicated twelve years to the support and development of Latino lawyers, initially as the second youngest president of the organization from 2011 to 2012 and later as part of the Executive Committee of the Hispanic National Bar Association (the latter service has included roles as corporate secretary, general counsel, and now chief compliance officer).
Recognizing the importance of cultivating the pipeline of Latino lawyers, Márquez Morales was instrumental in formally launching the Sonia and Celina Sotomayor Judicial Internship Program, which places high school, college, and law school students in judicial internships. Márquez Morales had the privilege of serving as its first president.
The busy lawyer also developed a knack for representing companies in trials. In other words, the more she won legal cases, the more she rose through the ranks at the law firm. By her early thirties, Márquez Morales had overcome another learning curve—i.e., becoming a partner at a New York firm where she was still the only one that looked like her. Nevertheless, she attained partner status less than a decade after her law school graduation.
While pharmaceutical law was initially not in her line of sight, she is thankful for the opportunities she had to develop as an attorney at Harris Beach while finding her passion for diversity, equity, and inclusion (DEI). Latina and Black women lawyers make up less than 1 percent of partners in US law firms. What she accomplished puts her in an elite territory.
Before Márquez Morales knew it, the best law firms in the world were recruiting her. Sidley Austin LLP, the Chicago-based law firm where former US President Barack Obama once worked, extended an offer for Márquez Morales to become its East Coast diversity director. Whereas most attorneys would balk at the notion of changing their careers, Márquez Morales pounced at the opportunity to boost representation for diverse talent across law firms.

"As a DEI professional, I have the opportunity to impact the careers of many diverse lawyers through my guidance and advocacy while also working with leadership toward cultural change that creates more inclusive environments." The director went to law school with the intention of being a stellar advocate for her community, and she has achieved that noble goal.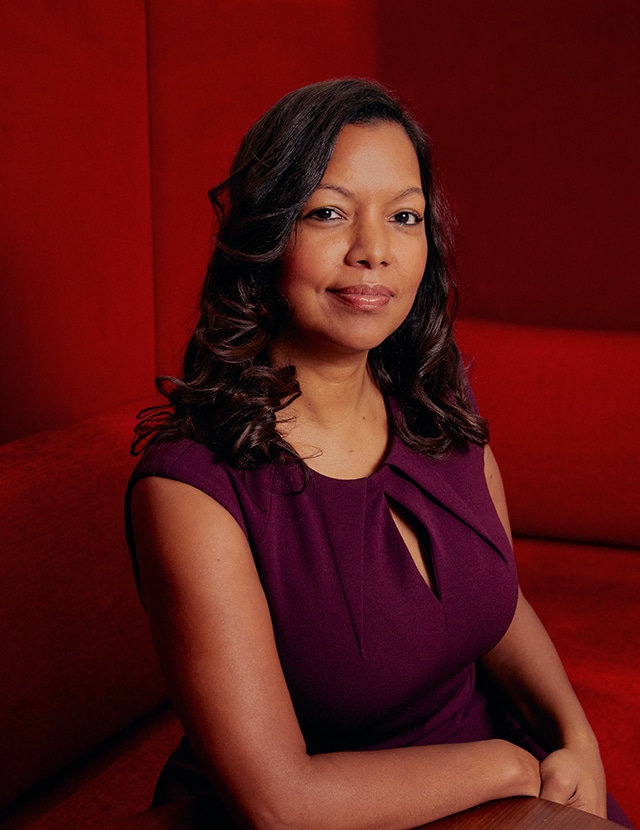 After Márquez Morales joined Sidley Austin LLP in 2015, she solidified herself as a leader who spearheads DEI strategies and implements policies, processes, and procedures to effectively recruit, retain, and develop talent. In 2020, amid a global pandemic, she accepted an offer from Hogan Lovells to lead DEI across the Americas.
Since Márquez Morales took on her current role at Hogan Lovells, she has worked to foster changes in leadership and culture across the law firm. The firm is focused on strategies to recruit, retain, and develop diverse talent including a campaign and a sponsorship program that aims to place more diverse lawyers and business services professionals in leadership positions.
Meanwhile, Márquez Morales lends her legal expertise closer to home. The former Fordham University School of Law student is an adjunct professor, teaching courses like "Fundamental Lawyering and Diversity, Equity & Inclusion in Law Practice," a class she developed to address the gaps that law students face while transitioning to early career attorneys.
Preparing the next generation of diverse lawyers requires a different approach to DEI: Márquez Morales has moved beyond representation to teaching the business of law and how to navigate it as a diverse lawyer. "I was seeing students coming in, and they're thinking about diversity in one way," she says. "What diversity looks like in the workplace is very different. They're not understanding that there is bias in the workplace, that there is bias in the feedback."
And that's not the only reason Márquez Morales returned to academia. As a mother of two daughters, she wants to model the behavior that will inspire her daughters to reach their highest potential and foster a society that is accessible and inclusive.
"Now, my daughter just started high school, and I've already started taking her to schools," Márquez Morales says. "We stopped at Berkeley. We stopped at UCLA. But she's going into ninth grade, which shows the difference in my experiences and how I can support her differently."