Giving back to local communities is not optional for Richard L. Rodriguez, a strategic management consultant in Chicago. In fact, he says, it really is a must for executives, no matter how "busy" they claim to be.
"I've always had a calling to give back," says Rodriguez, an attorney who serves on the boards of at least eight nonprofits in the city. "The further I progressed in my career, the more I made sure I allowed time to give back. And I don't just mean financially."
Rodriguez explains that while cutting a check can certainly help a nonprofit, what really makes a difference is offering one's time and experience to assist an organization to operate more efficiently and productively.
For example, Rodriguez explains, "I come on as a board member and review all their internal processes. I know they're good at what they do, such as providing human services. But I try and use my operational knowledge to help them generate more revenue or reduce expenses."
He believes that participation by executives and other experts from all walks of life enhances the perspectives and experiences of both the nonprofit and the board members themselves.
Among the boards Rodriguez serves on are several that are dedicated to supporting higher education. His role models for hard work and higher achievement were his own mom (originally from Ecuador) and dad (from Puerto Rico). "As a child of migrant/immigrant parents, I saw them work hard to give us what we needed," Rodriguez says. "So I believe it is important to put that passion into the work you do."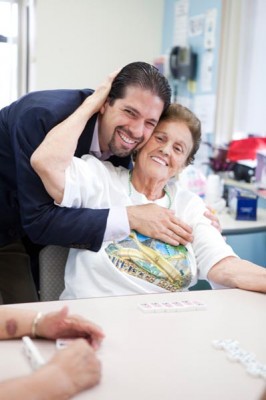 Although he says his parents wanted what was best for their kids, they weren't necessarily familiar with the educational system in the United States. "Because I came from a humble household, I feel extremely blessed to have been able to go on to college with the help of scholarships and government grants," Rodriguez says.
But it took a spark from the right person to inspire a lifetime of accomplishments. That person was college professor Dr. Samuel Betances, who came to speak to Rodriguez's high school class about drinking and driving. "He was the first college-educated Hispanic I had ever met who was accomplished and reachable. He encouraged me to believe I could do anything," Rodriguez recalls. Betances also inspired Rodriguez to use his skills and experience once he graduated law school to help his community by serving on boards.
Rodriguez has since worked in a variety of executive-management roles in the fields of environment, housing, construction, aviation, and mass transit for the City of Chicago. Driven to excel, Rodriguez did not end his studies with a bachelor's degree, but pursued even higher levels of education. "Why stop at a bachelor's?" he asks. "When there's so much more to learn and accomplish."
Why indeed. "Sure, you can be comfortable with an undergrad degree and make a good living," he says, "but there should be a voice inside saying 'something is missing.' Whether it's volunteering at a soup kitchen, after-school program, or neighborhood-improvement group, you'll find that giving back gives you great fulfillment and the added benefit of interacting with colleagues from all walks of life."
Among the organization boards that Rodriguez has served on are Casa Central, Daughters of Charity Ministries of Chicago, Heartland Alliance, United Neighborhood Organization, Loyola University Chicago, North Park University, and the Chicago Innovation Awards. "For those of us first-generation immigrants looking to improve our quality of life, it's a great sense of satisfaction to give back, reap unanticipated social benefits, and encounter networking opportunities we may not have found elsewhere."
It's all in a day's work for Rodriguez. "While the outside world might call us 'Hispanic executives,' we can't forget that someone once gave us a hand up. Look around at the social challenges facing your own community—and work on making the world a little better for the next generation. It's good for your soul."
UPDATE:
Since press time, Richard L. Rodriguez has stepped into his current role as vice president and business development director at Lend Lease, one of the world's leading fully integrated property and infrastructure solutions providers.