A straight-talking New Yorker, Genaro Perez Jr. tells of his rise in the accounting world, and why his heritage makes him create a family environment both at home and at work.
Resources Global Professionals' Genaro Perez Jr. may work in a field that does a lot of number crunching, but Perez finds that building relationships and meeting with his clients to discuss business over a good meal is the highlight of his job. Resources Global Professionals is a professional services firm that helps clients solve problems and execute initiatives in a variety of areas including accounting and finance, information management, risk assurance, legal/compliance, and human-capital management. As managing director, Perez is responsible for managing key client relationships and developing growth strategies, which has allowed him to generate more than $100 million for his firm. Here, he shares how he worked his way up from a union worker cleaning bathrooms on Wall Street to a finance and accounting guru.
Thinking Out Loud
Trading Words With
Genaro Perez Jr.
Success
For me, success has always been about making life better for your family, yourself, and for the people around you. Leaving a legacy that will continue the value of good deeds.
Community
When I think about community, I think about the bonds that are forged through family values, character, generosity, and volunteerism.
Economy
I think about the impact every individual has the ability to influence if they get involved. I also think about how lucky I am to be a citizen of the United States of America.
Latino
I think about a group rich in culture passed on by traditions of many influences (i.e. religion, nature, philosophy, music, community, etc.) of other cultures.

It all started at CUNY [City University of New York]—Queens College, where I studied accounting and information systems. While I was there I met a group called NABA, the National Association of Black Accountants. They were ambitious and smart, well organized, and had support from black professionals already in  the industry. Fellow members were focused on studies, had a strong work-ethic culture, and discussed goals of passing the CPA and working for top global CPA firms.
I grew up in a blue-collar sector of Queens and corporate America wasn't something that I understood or knew much about. Most neighborhood young Latinos were into graffiti, drugs, or gangs and that wasn't for me. I thought, "There had to be a better way." As a union worker cleaning bathrooms on Wall Street, I would overhear professionals discussing client-based solutions and their business travels around the world. It was a career choice I didn't know existed.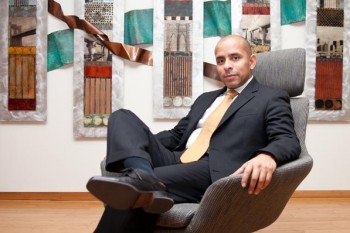 I applied myself by improving my GPA, becoming a student leader and serving on boards, and accepting two internships, including one that did not offer compensation. That led to an offer in my junior year to Deloitte, one of the top four global CPA firms. I gladly accepted the offer.
I started my career at Deloitte in the Metro New York Practice where I was providing audit and assurance services to a variety of corporate clients. After six years and a promotion to manager after passing my CPA, I accepted a position with Goldman Sachs Merchant Banking group. The team was young, intelligent, and was eager to thrive in the fast-pace environment culture of the top global investment bank.
After four years when the operations moved down to Dallas, I shifted my focus to get back to professional services, which was my real passion. That's when I found Resources Global Professionals. The interviews focused on teamwork and the sincerity of forging genuine relationships. I thought, "This is a good thing I could be a part of." It was sort of a gut feeling. I thought, "You know what, I like these guys. I like what they're about."
All throughout my career I developed strong ties with my team members based on trust and respect. I was open and candid regarding my teams' strengths and development needs. Similarly, I deal with CFOs and other executives from across the globe who are interested in dealing with people they trust and offer superior results.
The Latino culture places a focus on relationships and particularly confianza, "trust," which comes from knowing someone's character and values, more so than their educational or professional accolades. Our culture's focus on family helps define our individual identity. We naturally create family environments regardless of whether we're at home, in our communities, or in corporate America.
I had good fortune to have opportunities with top firms that supported my development so I took on the responsibility to reach out to communities with few role models to expose them to the career of finance and accounting. Looking back at NABA, I thought, "Why don't we have this for Latinos?" So I got involved! I became the New York president of ALPFA and helped create that vision. We started with only a handful of members, but today there are more than 2,000 members in New York and over 20,000 nationwide. Finance and accounting is a great field and should be open and accessible to all. Just because you're Latino doesn't mean you can't be part of it. It's a great career path and I wanted to introduce it to our communities.