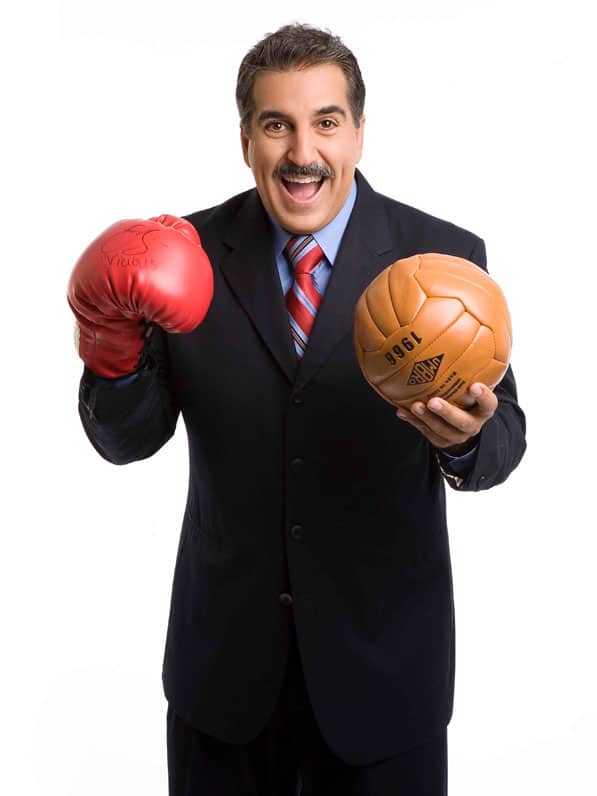 When it comes to work experience, Fernando Fiore is nothing if not well-rounded. The Argentina native has been a chauffeur, a tour guide, a stage actor, and a manual laborer. At one point, he even painted New York City fire escapes for a living. Whatever his original ambitions may have been, though, it's unlikely that he expected to become an Emmy-award-winning sportscaster and one of the most recognized faces on Spanish-language television. But, that's exactly what happened.
Back in 1980, Fiore, then 19, left Buenos Aires, Argentina, to join his mother, who had moved to New Jersey. His parents had divorced, he had just completed his year of compulsory military service, and the military junta was in power. It seemed like the right time to leave the country. Fiore arrived in the United States, intending to study communications, but didn't yet speak English. A program at Montclair State University allowed him to take a language course in English and his remaining major courses in Spanish.
A year later, realizing that his command of English wasn't fluent enough to work in a fast-paced media environment, Fiore enrolled in a program geared toward hospitality and tourism, eventually leading tours, first in Spanish, and later in English, to destinations throughout the United States. Following his stint as a tour guide, Fiore turned to acting, working with venerable stage and movie actress Miriam Colón at the Puerto Rican Traveling Theatre in New York. There was fun and glory, but little else.
Then in 1988, a friend told him that Telemundo, the country's second-biggest Spanish-language television network, was looking for reporters. One phone call later, and Fiore was on a plane to Miami. The network wouldn't cover his airfare, but if he could get himself there on his own dime, they'd see him, even if there weren't any immediate opportunities. Determined to wedge a foot inside the door, Fiore showed up at their offices every day, waiting for an opportunity. His big break finally came one day when the network needed someone to cover a news piece, and he was there to do it. By January 1989, he was working on a news magazine show called Día a Día and covering the Super Bowl. "I made myself indispensable," Fiore recalls. "I told them I liked everything and could do it all, and eventually they gave me a permanent position."
Six months later, Fiore returned to New York, this time as a news anchor for Univisión, the number-one Spanish-language broadcaster in the country. He stayed for a year, working on various news programs and covering his first FIFA [Fédération Internationale de Football Association] World Cup—he has anchored coverage of four World Cups since then. But when his contract expired, he moved back to Miami, working with Univisión's local channel and doing sports coverage for the entire network.
From there, he spent years hosting a variety of hugely successful programs, including Lente Loco, a Spanish version of Candid Camera, and Fuera de Serie, a travel program he co-hosted with Colombian actress Sofia Vergara [now a crossover star on Modern Family], and won three Emmy awards along the way. "I'm more of a general practitioner than a specialist," he says. "I may not be the best surgeon, but I can cure your headache or your foot problems. In this day and age, you have to know about everything, so it's good to be a generalist."
And then there's Republica Deportiva, the two-hour weekly sports show that made him a household name. In fact, such is his popularity that, according to marketing company Latin World Entertainment, Fiore was proclaimed the "Favorite Soccer Personality" in a 2011 poll conducted among US Hispanics.
But this adored anchor isn't just another talking head. Fiore is quick to point out that sports journalism is increasingly becoming a 24/7 job in the vein of breaking-news coverage, and that the commercialization of sports is leading to greater opportunities for sponsors and networks alike. "Whether it's baseball, soccer, boxing, or football, we're saturated with sports information all the time," he says. "Pay-per-views are growing, people are attending sporting events in greater numbers, and sponsors are happy because their products are viewed and consumed."
Eager to capitalize on that trend, Univisión is launching Univisión Deportes 24/7, a round-the-clock sports channel, this year. And Fiore will play an instrumental role in that launch, serving as the network's best-face forward. That's just how he likes it. "The banker knows he can work at the bank and keep making loans no matter what. People don't have to like what he does," Fiore says. "But in my business, if the public doesn't like what you do, you're out."