When Raymond Bilbao was just five years old, his family left their home in the Philippines to care for a sick relative in San Francisco. Bilbao observed as his father, a retired professional soccer player and financial analyst, struggled to make the transition, learn English, and reinvent himself in a new land. Eventually, his father landed a new job in the United States: he spent years traveling the country, training employees, and setting up displays for a PPG, a national paint company. Watching his father's story unfold showed Bilbao how far the ability to learn something new can take a person.
It was a lesson he would carry with him through adolescence and into his career. Many years later, Bilbao found himself studying political science at Texas Christian University. He was an athlete like his father, but unfortunately his days on the football field were cut short by injury.
Still, Bilbao persisted and excelled in his studies. He was on the dean's honor list and remembers being in an introductory business law class of 150 students when the teacher vowed to award just two As. "I knew that I would have to work hard and stay determined to learn new things if I wanted to succeed," he says. Bilbao and his roommate were the only two students to receive top grades that semester.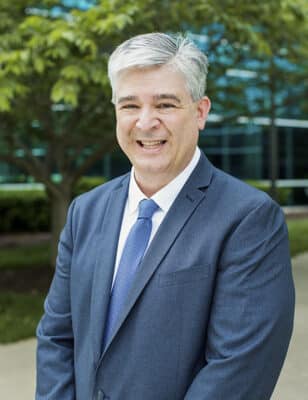 The success impressed Bilbao's college girlfriend (and current wife) so much that she insisted he take the LSAT. When she persisted, he relented and ended up scoring high and enrolling at St. Mary's University School of Law.
That set Bilbao on a new path as he continued learning and developing skills that brought new opportunities. Following graduation from St. Mary's, Bilbao started his career as an associate at a small, full-service law firm in Fort Worth, Texas, where he progressed quickly, defending doctors, nurses, and hospitals in high-dollar medical malpractice cases. And as Bilbao launched his legal career, he developed a reputation as a daring and competent advocate.
Unfortunately, after just two years, Bilbao's firm dissolved, and the lawyer was forced to look for a job in a bad economy. He found a position at a small boutique office where he learned broad-ranging skills alongside two other lawyers. Months later, an injury forced a partner out, and thirty months after graduating from law school, Bilbao inherited a complex caseload.
Those nuanced legal matters prepared him to go in-house, and when a recruiter called with a position at a telecommunications company, Bilbao accepted. He was soon prosecuting litigation against a former CEO who had breached a noncompete clause. It was an opportunity for the young lawyer to demonstrate his skills by trying a case in federal court. "I was in tough circumstances very early in my career," Bilbao says. "I had to be bold and daring because I had no other choice." After three days of trial, Bilbao secured a favorable settlement for the company and was subsequently promoted to general counsel.
It was the start of a trend of success for Bilbao, one that would continue as he worked on cases for a variety of companies over the next several years. He mastered new and emerging technologies to help guide GiftCards.com, ServiceMaster, and Terminix through complex marketing, commercial contract, and intellectual property issues, and managed the international and domestic restructuring of Gibson Brands in twenty-two countries. Bilbao racked up big wins and high-dollar settlements in hotly contested cases and arbitrations. He faced tough judges, went toe-to-toe with skilled prosecutors, forced settlements, and took down patent trolls.
In 2018, the veteran attorney joined Tivity Health as deputy general counsel. Now, as chief legal officer and corporate secretary, he has responsibility for all legal matters, enterprise risk management, information security, and data privacy including M&A, corporate governance, securities disclosure, litigation, contracts, intellectual property, enterprise insurance program, regulatory compliance, and all related matters for the company.
As he's done many times in his career, Bilbao learned an entirely new area of the law in order to thrive at Tivity. This time, he became an expert on Medicare and HIPAA as the company acts as a business associate to more than seventy Medicare Advantage plans. "A good in-house lawyer has to understand the business to provide sound legal advice," he says. "Great lawyers go deeper in their knowledge to help guide strategy."
Tivity operates SilverSneakers, a famous fitness program that promotes wellness in the senior community for Medicare Advantage members. Plan members get access to SilverSneakers benefits at no additional cost to their Medicare Advantage premium at more than twenty-two thousand locations, and Bilbao and his legal team are putting the agreements and resources in place to support the company's digital engagement growth strategy.
The CLO and his legal, information security, and data privacy/compliance teams are also supporting Tivity in its effort to pivot to the ongoing COVID-19 pandemic. According to Bilbao, the company continues to grow its virtual offerings for SilverSneakers members, recently adding social engagement and mental enrichment while expanding its in-person nationwide gym network. These steps bring new online security, data, and privacy considerations, but Bilbao is unfazed by the new challenges. "Every employer, position, year, and project means you have to handle something you haven't seen before," he says. "And I love learning new things."
---
Fenwick & West LLP:
"Ray is extremely supportive, both of his internal and external legal teams, and a great partner with whom to collaborate. He creates a collegial atmosphere where everyone is excited to work together and solve problems that lead to the best outcomes for the company. He is a true leader."
–Eric Ball, Trademark Litigation Partner