Ray Casas is motivated by empathy, gratitude, and a drive for purposefulness. He always has been.
Casas grew up in Fort Worth, Texas, with his parents and younger sister. He credits his parents with teaching him that there was nothing to fear when pushing boundaries, moving across the country, or moving back home when the time came. His sister, who is fourteen months younger than him, taught him perspective and perseverance, and she inspired him daily through her composure while living with cerebral palsy.
A graduate of the University of Texas at Arlington, Casas did not expect his career to bring him back to Texas, especially not within a ten-minute radius of his old stomping grounds.
"I've rarely said no to opportunities that I've been offered, and I think that's kind of why I've been so successful," Casas says. "I was a kid growing up in Texas who moved to DC to New York, back to DC, and then to Los Angeles, and then back home to Fort Worth—[and through] all of that I've just never really said no."
Now his current role as the director of community impact for the Texas Rangers Baseball Club is an amalgamation of his past experiences, including outreach and educational services at the Congressional Hispanic Caucus Institute, public affairs at MTV, and government relations at Paramount.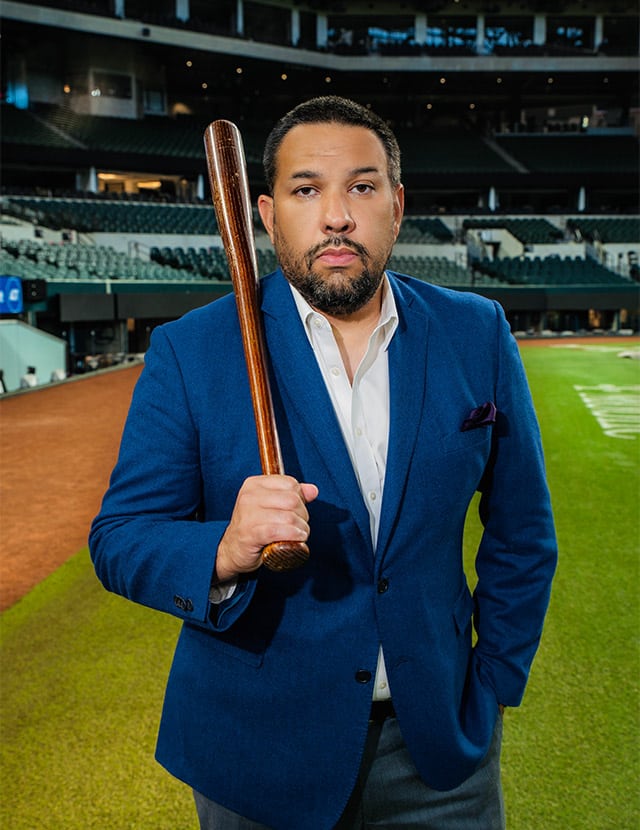 Casas describes his career trajectory as a rollercoaster that he didn't expect to be so fun and fulfilling. As he closes in on his sixth year with the Rangers, he measures joy through impact and how aligned he is with the values that helped guide him from the beginning.
"Our department is an extension of the Texas Rangers Baseball Foundation," the director says. "Through our 501(c)(3), we serve youth, first responders, and veterans . . . we're able to provide food, financial support, [and] we also have our Texas Rangers Baseball Youth Academy—a safe haven for kids that want to learn how to play baseball and softball."
In addition to the external work that he leads on behalf of the organization, Casas is also committed to affecting change internally. During the pandemic, he spearheaded the launch of the organization's Charley Pride Fellowship Program, an internship program for students from diverse backgrounds interested in baseball front office careers.
"I wanted to create an opportunity for people of color and women," he says. "I believe that we need just as many people of color and women to work in sports because our ball club should represent what our community looks like."
At the same time, he notes that navigating a rewarding career isn't always easy. Successful leaders shouldn't worry about their own career longevity, and they should instead be helping others build theirs.
"What's helped me is understanding the fact that failure is a part of success, and I've certainly had failures in my career," Casas says. "But I've [also] just learned to keep moving forward and realize the responsibility I have to be successful is not just my responsibility, but it's to help others and provide a roadmap for others."
Casas can pave that road for others now, thanks to those who paved it for him along the way.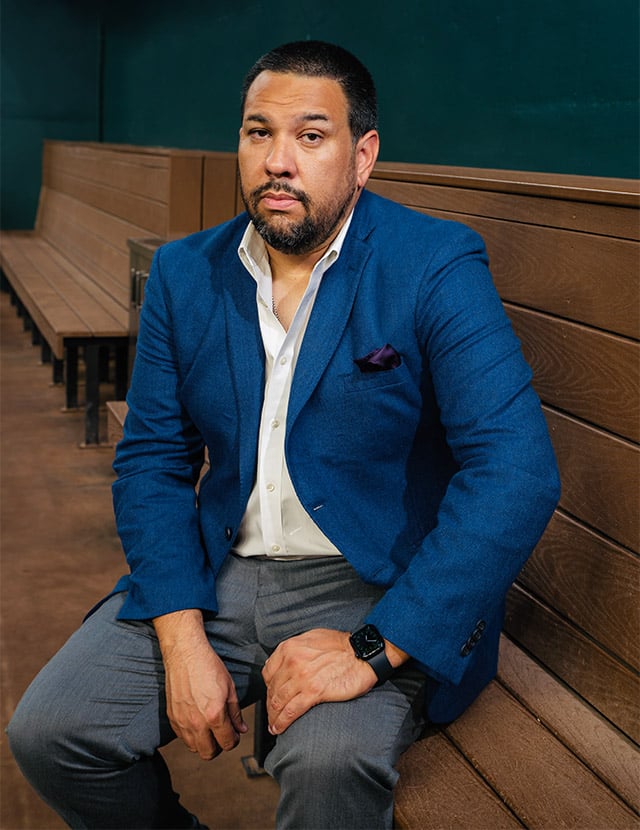 "Every move that I made, I questioned. I wish I could tell you that I had all the confidence in the world, [but] I didn't," Casas says. "What got me through was the belief others had in me, and I didn't want to let them down. It's like that old adage, 'fake it until you make it.' I really don't like that term, but in this respect, [it refers to] when people say, 'Go ahead, do it, you can do it.' I grew confident once I was in the job, but every move that I made took some time to really feel comfortable on my own."
In those in-between moments, Casas focused on what he could control like becoming a better listener and developing his skills as a bridge builder, no matter his role.
While at MTV and Viacom, he lived in New York City's Washington Heights neighborhood, the first time he made a home where being "Latino" was not a monolithic experience. Now, when he connects with his Rangers community, he knows that while sports bring people together, their baseball organization's role extends beyond the game or the team—it's in support of the people whose lives they can touch, thanks to the impact the organization can have.
"It's easy for us to tell them what they need, but we don't know what they need," he says. "Until we find out—whether it's a tornado, whether it's a fire, whether it's COVID—we really had to find out and ask these communities how can we serve [them]. And again, we may be helping a Rangers fan [or] we may be helping a fan from another team, but the reality is that the people who live in our metroplex and our community, those are the folks that we serve."