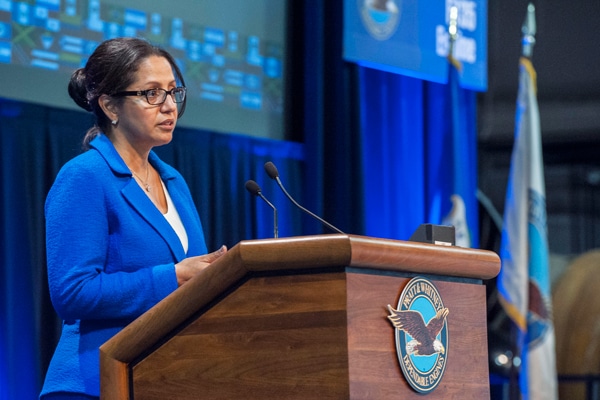 Raquel Rivera has always loved science and math. After moving from Puerto Rico to New York while she was still in high school, she had the opportunity to pick her own focus area at a vocational school. Inspired by her mother's work at defense contractor Raytheon, she chose electronics.
"My mother worked on the development side of the business," Rivera says. "She would often talk about how much she enjoyed her work and her experience working with engineers."
From there, Rivera had no doubt that she wanted to pursue a career in science and math, and she went further down the engineering path, inspecting computer boards during an internship in high school and studying mechanical engineering at the University of Massachusetts Amherst.
Then, one day at a recruiting event during college, she happened to stop by a table sponsored by aerospace manufacturer Pratt & Whitney (P&W), a division of United Technologies (UTC). The company's work building jet engines fascinated her, so she applied for an internship and was accepted. The rest, you might say, is history.
"During my internship, I fell in love with the product, the company, and the people right away," she says. "Honestly, it was love at first sight. Upon graduation, P&W was the only company I applied to. I knew that P&W is where I wanted to be."
Out of college, she joined the company's Manufacturing Engineering Development Program and discovered she loved working on the shop floor. She began quickly taking on more and more prominent leadership roles within P&W. Today, she is the vice president of P&W's product delivery centers. And she couldn't be happier to be where she is.
She spoke with Hispanic Executive about P&W's culture, how she leads her team, and what can be done to get more women into STEM fields.
How do you connect with the work at P&W?
Rivera: Working in the aerospace industry actually results in real-world effects. We have eighty-nine thousand engines in service that transport people all over the world. Building engines means we get to connect people and grow economies. It's so rewarding to be able to see the results of our work, and what we do has a long life. Compared to other, newer industries like web and app design, there's something tangible in aerospace. We don't just make jet engines. Working at P&W is a higher calling, and we consider that each and every day that we come into work.
What do you think has fueled your success as you've taken on more and more leadership roles?
Rivera: None of P&W's success—or my success for that matter—would be possible without teamwork and the talented employees that make up our company. The overall P&W team and the product delivery team that I manage are amazing. They have been able to accomplish amazing things. In the past year, we've doubled our production output. None of what we accomplish as an organization can be done without working together with a common purpose towards a common goal. At P&W, we have a saying, "Go beyond." We go beyond for each other and work as a team because we love what we do.
In addition to our team here, UTC and P&W have developed something called ACE: Achieving Competitive Excellence. ACE is our operating system that focuses on continuous improvement and puts the customer at the center of everything. I learned, early on, that it's one of the secrets to success. It's about continuous improvement and embracing and engaging our people; it works.
Speaking of your team, how do you engage and empower them?
Rivera: One of the key ways I empower and engage my teams is through trust. It's about trusting that my employees can work together to determine the best path forward as long as they clearly understand what we need to do and why we need to do it. I work hard to focus on driving flexibility and a team-based approach. I really do believe that good leadership transcends gender, race, etc. It all comes down to listening to your employees, understanding what makes them tick, and doing it in the most authentic and humble way possible.
What is the culture like at P&W, and how do you connect with it?
Rivera: P&W has strong values and a culture that promotes empowerment, diversity, and innovation. In fact, UTC and P&W have committed to ensuring that half of the executive leadership team will be women by 2030.
But that culture also means providing an environment where employees from all backgrounds are valued, respected, and rewarded. One of the key ways we do this is through our employee resource groups (ERGs). I am lucky to be an executive sponsor of one of these groups: the Hispanic Leadership Forum in our West Palm Beach, Florida, facility. I am also the executive sponsor of the UTC 4 Vets, our veteran-focused ERG, in our Middletown, Connecticut, facility.
I believe it's important to participate and support our ERGs. I participate in those ERGs that I may not necessarily sponsor, like the Women's Leadership Council in West Palm Beach, because we need more women in engineering, manufacturing, and operations. To me, it's really about walking the walk and being a role model for the company. It's about sharing my experience and the lessons I've learned along the way. Although it's important to share these experiences with larger groups, I also believe it's important to take the time to sponsor and mentor employees one-on-one.
What do you think can be done to bring more women and people from the Hispanic community into STEM career fields?
Rivera: About a year ago, I had the opportunity to speak at an aerospace high school in Windsor, Connecticut. I spoke to a group of high school students and shared my passion for engineering, manufacturing, and aerospace. For me, it's about getting out there as much as I can to inspire the next generation of talent. Showing women and people in the Hispanic community what opportunities are out there is critical. It's not just about women or about people from the Hispanic community. It includes our veterans. All I can say is share, share, share!
I'm also proud to work for a company that takes an active interest in supporting STEM in various ways—through partnerships with community colleges and universities and by sponsoring primary school initiatives that spark students' interest.