Although it may seem unlikely for the son of former migrant farmworkers to grow up to work at a Fortune 100 company, Lupe De La Cruz III was instilled with a passion for politics at an early age, when his father started taking him to political events and rallies.
Those rallies inspired De La Cruz to study political science at UCLA while serving as a reserve deputy with the County of Los Angeles Juvenile Probation Department. His passion for public policy was cemented while he worked as the senior field deputy in the office of Congressman Esteban Torres, before he went on to become the legislative director and manager of advocacy for AARP.
When telling the story of how he got to be the senior director of government affairs for PepsiCo, De La Cruz likes to highlight the importance of networking.
De La Cruz met Jose Langoria more than twenty years before Langoria recruited him to work for PepsiCo. They kept in touch over the years—without the help of email or social media—and eventually Langoria asked De La Cruz (who was still working for AARP at the time) for a favor. When De La Cruz completed the favor, it made other executives at the company take notice. So, when Langoria was promoted to a position with the Frito-Lay division, he recruited De La Cruz to take his place in government affairs.
"When I share that with fellows, I express the importance of taking that business card and following up," De La Cruz says. "I definitely credit that to, two decades later, getting a job at one of America's leading companies."
Since getting that job, one of De La Cruz's proudest accomplishments has been helping to create an edible teaching garden at LA Plaza de Cultura y Artes, in Los Angeles. The garden teaches children about the nutritional importance of vegetables and how to work them into their diets in delicious ways—while also talking about the history of Los Angeles.
"Of all the great stories that are told of Los Angeles and Hollywood, there was a hole in the storybook about the importance of the Mexican and Mexican-American contributions to the founding of the city and the county of Los Angeles," De La Cruz says.
The teaching garden has been a place to rectify that omission. With the help of Torres and Gloria Molina—his other mentors—De La Cruz has been able to spread the word about LA's history, and the garden itself has become a central hub of the community.
"It has become a literal placita where people gather and we have every kind of celebration you can think of," De La Cruz says. "It's become a destination for people who want to have a press conference, a community rally, or a wedding reception. Everything happens there, in addition to the teaching that goes on."
"It's an amazing, beautiful garden, and the kids come in, they get to see the fruit, they get to participate and get their hands dirty, and they get to make a seedball they can take home and put in a pot or a plot of dirt at home," De La Cruz says. "It's an opportunity for them to continue to learn and share what they learn with their families."
That said, the teaching might be the most rewarding aspect of De La Cruz's work on the project. Every year, about five thousand kids come through the program from underserved communities and the LA Unified School District to learn about where fruits and vegetables come from. Prior to coming to the garden, many of the kids haven't had an opportunity to see a radish or a strawberry, much less learn about how and where they grow.
The other aspect of the teaching garden is teaching kids about nutrition and how to put healthy spins on traditional foods they already know and love. De La Cruz says he and his colleagues regularly receive notes from parents about how their kids taught them how to make a lettuce wrap.
"The best is when the kid didn't want to touch a vegetable, but now they want to go home and tell their parents how great they are and use them in a dish," he says.
Although bringing in five thousand kids every year is great, De La Cruz and his fellow organizers on the project know they can do more, so they recently made the project mobile.
Before, the program was limited to schools that had scholarships or could provide transportation to the garden. Now, the mobile unit will take the program to schools, parks, and libraries that are unable to make it to the garden on their own.
As a child of farmworkers who always stressed the importance of education and hard work, De La Cruz considers the teaching garden an extremely important tool to pass on such values.
"They're learning about the value of education, of their culture, of great leaders of the past such as Chavez and how they influence our community," De La Cruz says. "They learn about the importance of education and being in school, and having the opportunity to impart that has been very rewarding to me."
Developing Future Hispanic Leaders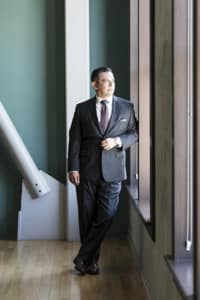 Lupe De La Cruz III's other favorite project he is working on at PepsiCo is the Congressional Hispanic Caucus Institute (CHCI), which runs leadership development programs for future Latino leaders. As a member of the board, De La Cruz gets to meet a new group of students every year, and their stories continue to strike him as being very similar to his own.
"It refuels me to be able to interact with and support the young people who want to improve their lives—not just for themselves and their families, but there's this overwhelming sense of responsibility to do it for the greater community," De La Cruz says. "Being able to direct PepsiCo's resources and help channel funding for worthy programs like La Plaza and CHCI, where we're truly helping to shape tomorrow's leaders—that's really rewarding to me."
---
At Prime Strategies of California, we are idea generators, government-relations specialists, strategic thinkers, business consultants, reputation enhancers, and problem solvers with a reach that spans across states, the country, and the globe. Our expertise is working on complex issues in big states and on international issues with global implications.