"I  grew up in the field, it was all I knew. During the school year, my oldest brother Feliciano made sure we went to school and during the summer, we all worked the fields together. When I got older I began working at Ontario Produce Company in Oregon and when I was 18, I married my wife Lupe. My father-in-law was a farmer in the Ontario area and he urged me to start farming, so he gave us a three-acre field. I'd work all day at Ontario and then come home and my wife and I would work our own field with our three kids. Around midnight we'd eat dinner and my wife would bathe the children. The next day, we'd start all over again.
The year we first planted there was a hurricane and it wiped out a lot of crops, but most of our onions survived. My boss at Ontario Produce bought the field from us at $3.75 a bag and gave me a check for $18,000. I'd never had that kind of money in my life; I thought I could buy Ontario. After 25 years of service, I was fired from Ontario Produce because I was told I'd become 'too independent.' I didn't understand what he meant, so I looked it up and it meant someone that can't be told what to do; it's someone who can take charge. I took that as a compliment, but it still really messed me up. After two years my two sons convinced me to move forward. My wife and I experienced racism when trying to rent land, so we found a place in Idaho in 1998 that is now Partner's Produce. We now have 1,400 acres. We work 600 of it and lease the rest.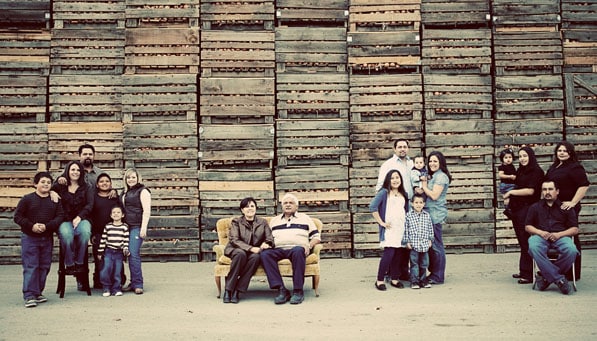 We're called Partner's Produce because six years ago we started with five partners. My sons George Jr. and Eddie asked me why we were sending our onions somewhere else to get processed when we could do it ourselves. My three partners didn't like the idea, but it was apparent I was going to side with my sons. The partners wanted to be bought out because they didn't agree, but we didn't have the money. We also had to purchase all of the equipment to process the onions. I'll never forget the day that the Intermountain Community Bank took a chance on us. We were loaned the money for the buyout and the supplies and after we had everything we needed, business really took off.
There were times when things were very hard, but we never quit. If it takes working seven days a week, 24 hours a day, we'll do it. Being a Mexican family, we experienced discrimination, but when you pay your bills on time and become successful, people treat you differently. People still come in looking for the boss and they'll walk right past my two sons and I, but we push past that. My son George Jr. says we have to be better and tougher because of our brown skin; we prove people wrong with our work ethic. Sometimes when I'm walking around the company I still think, 'Wow, we did all of this.' We went from nothing, to selling to Campbell's, Costco, and Sysco; we sell to nearly every state in the US and internationally to Mexico and Canada; we now have almost 200 employees.
America has a lot to offer if you're willing to work hard and take risks. If I didn't listen to my sons' idea about processing, we wouldn't be where we are. This is our livelihood; we've put everything into it. I suffered as a child, but I was determined to give my family something better and together, we worked toward a better life. I look at all of my grandkids and I couldn't take them working the fields and because of our hard work, they'll never have to. I tell my three kids that when their children ask how we did all of this, tell them it all came from hard work."