Pedro Lichtinger remembers a sleepless night in the 1980s. At age 27, he was leading an animal health division in Brazil for pharmaceutical giant Smith Kline. His role involved identifying talent and building his department, but that's not what kept him awake. Earlier that day, a friend and mentor called Lichtinger to his office for a chat. "He said that he liked me a lot and that he wanted to help me," Lichtinger recalls. "He told me he thought I could go all the way to the top of the company—if I changed my name."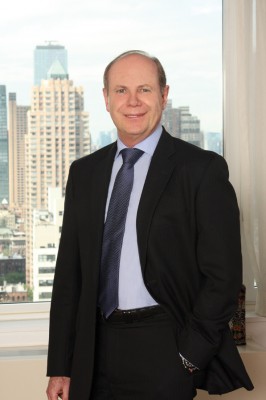 Born and raised in Mexico, Lichtinger attended the University of Mexico and earned a degree in engineering before moving to the United States to enroll in the University of Pennsylvania's Wharton School MBA program. When he graduated in 1978, the Mexican peso suffered big devaluations, and Lichtinger thought it would be best to stay in the United States. After a two-year rotational program that sent him through various Smith Kline departments, Lichtinger was offered the Brazil post.
Things were going well, but his mentor thought they would go even better if Pedro would Americanize his name. The friend—who also offered to hire a linguist to "correct" Lichtinger's accent—advised Lichtinger to adopt the name Peter.
The next day, Lichtinger turned down the offer. "I knew I could never face myself in the mirror as Peter. I could never call my mother and say 'Hi, it's Peter,'" he recalls. While taking a shortcut to the top seemed appealing, Lichtinger resolved to keep his name and thus retain his identity. "I'm proud to be Mexican," he says. "If my heritage kept me from my professional goals, then I would prefer opportunities where progress is based on merits and not on ethnicity." Two weeks later, Lichtinger's mentor named him vice president in charge of Smith Kline's operations in southern Europe.
That series of events stuck with Lichtinger throughout his career. He went on to become president of Smith Kline's European animal health business. When Pfizer acquired the division of the company, he led prominent teams for its global animal health business and later the global human primary care business that accounted for more than half of company revenues and more than 60 percent of profits. In 2009, he became CEO for Optimer Pharmaceuticals and held that position until 2013.
Throughout his career, Lichtinger has gained valuable insight into the Latin American market. He says the region is experiencing many improvements. As its population grows, however, governments, communities, and corporations must address the distribution of wealth and other socioeconomic issues. While challenges remain, he says rapid growth, vast natural resources, and improving infrastructure make Latin America more attractive than ever for multinational companies.
Lichtinger says he found success by understanding the differences between two cultures. "Hispanic leaders are different in various ways from our American counterparts. We're often judged not just on our merits, but also on the image of what a leader is in the white tradition of leadership. We can't ignore that," he explains. While Hispanic leaders should adjust in some ways to societal cues, Lichtinger believes strongly in corporate diversity. He helped modify Pfizer's interview process to capture and leverage diversity throughout the global organization. "We shouldn't expect all employees to hide their identities and fit in with American norms," he says. "Leaders will create much richer and more successful companies if they embrace differences."
Lichtinger's style of promoting diversity is simple: he strikes up conversations with his coworkers. He also chairs a diversity initiative to bring cultural events into the workplace to introduce world cultures to employees.
Drawing upon the lessons he learned while running some of the biggest publicly traded corporations in the world, he helps guide nonprofit organizations like the Boys & Girls Clubs of America. As a national board member, Lichtinger helps define vision and strategy while supporting the CEO and leading Hispanic initiatives. In the early 2000s, the organization reached 700,000 Hispanic children. Today, that number tops one million. Lichtinger and his fellow board members have put into place specific cultural activities like dancing and boxing designed to attract and nurture children with Hispanic backgrounds. As a board member for The Brazil Foundation, Lichtinger supports leaders in favor of social change in that emerging market. "We know there are innovators out there who just need a bit of help moving forward to create social impact," he says. The foundation raises money to support 30-40 programs each year.
Large nongovernmental organizations (NGOs) can benefit from business leaders like Lichtinger who are willing to lend a hand. After all, the Boys & Girls Clubs of America has 50,000 employees and operates in many ways like a corporation. "NGOs and businesses have similar challenges," says Lichtinger. "They just don't have the same resources." That's what motivates him to give back. He helps nonprofit organizations develop a vision of impact, raise capital, review processes, determine best practices, and maximize potential.
When he looks back at his career, Lichtinger is proud of his many accomplishments, but one stands out above the others. "I got to where I am because of my talents and my heritage—not in spite of them," he says. By refusing to compromise for success, Lichtinger made it to the top of his field without sacrificing his identity.
The Next Chapter
One year after his retirement, Pedro Lichtinger is beginning a new chapter. He recently accepted a new position as CEO of biotech company Asterias. The venture is focused on regenerative medicine and is developing therapies in neurology, oncology, and other areas. Key products include treatments for spinal cord injuries and lung cancer. Lichtinger is excited about his new position because it will give him the chance to use his industry expertise to support a company on the verge of scientific breakthrough.
"New technologies can help transform the way we look at disease. We can renew damaged tissues, so we don't have to rely on curing the disease," he says. "I'm going to the company because I'm passionate about what it can do for patients and society." Spinal cord injuries can cost patients and insurers more than $4 million per patient. Treatments that improve mobility can have a dramatic impact on patients and the economy alike. At Asterias, Lichtinger will rely on his years of experience in taking products through regulations and to the patient.