At sixteen, Paula Angarita Rivera came to the US from Colombia by herself to learn English. With help from mentors and others, she went to accomplish so much more. Today, she's a principal scientist at Eli Lily and Company, where she develops groundbreaking medicines and devices while advocating for minorities in STEM.
What do you do today?
I am currently a principal scientist for the Bioproduct Research and Development organization at Eli Lilly and Company. My team produces the final drug product formulation of the medicines. The two main challenges that my job is currently addressing are (1) supporting optimization of the production of large molecule medicines and (2) evaluating new process manufacturing technologies to address the demand of the medicines.
As a process engineer, I am responsible for designing and optimizing drug delivery platforms, conducting commercial equipment development studies, evaluating new technologies to enhance mixing and filtration capabilities, providing recommendations for technology transfer to manufacturing sites for large molecule project, presenting results for the team to decide how to proceed with the projects, documenting the laboratory studies, and cross-functionally working with different R&D and business teams to move the projects forward.
What is your greatest career accomplishment to date?
My greatest career accomplishment is to be part of the Leadership Development Program (LDP) at Eli Lilly and Company. LDP is a prestigious rotational program that allows selective professionals to explore their career interests in the area of research and development (R&D). This program also provides mentorship and career development opportunities with C-suite executives and senior leaders. During this program, I was promoted within one year of joining the company (usually takes two to three years).
What is your greatest personal accomplishment to date?
My greatest personal accomplishment is creating a meaningful life in the USA. I came to the USA when I was sixteen to learn English. My family stayed back in Colombia. I didn't know what was going to be my future in the USA. I was so afraid that I would not be able to achieve anything because I didn't even speak the language. Now, I have the opportunity to develop ground-breaking medicines and devices in my dream job, to mentor and support students/professionals in their career journeys, and to spend time with my USA familia.
How do you tackle problems and overcome challenges?
When I am facing a problem or challenge, first I ask myself two important questions: What is this teaching me? Would this matter in a year from now? These questions allow me to understand the severity of the problem, analyze what are the tools that I have to solve it, and ask for help where I need it. I usually reach out to a mentor to help me clarify my thoughts and then I create an action item list to start solving the problem/challenge. I believe the key for me to overcome challenges is to stay optimistic and rely on my faith.
What do you do today to impact your community?
I am passionate about giving back to the community because when I was a student, I had so many mentors and people who supported me and encouraged me to pursue my dreams.
I currently serve as the Society of Hispanic Professional Engineers (SHPE) regional vice president of the Midwest. I support over fifty chapters in the Midwest including high schoolers, undergraduates, graduates, and professionals. I decided to take on this role because I am a strong believer that I have the power to influence the younger Latino population to pursue careers that they don't think are possible more specifically in STEM. As a charismatic Latina engineer, I am an example that scientists and engineers come in different shapes and forms and all of them are equally important in the workforce.
I was appointed by City of Indianapolis Major Joe Hogsett to serve on the board of Metropolitan Board of Zoning Appeals Division III. I joined the board because I believe that diversifying my network in other fields would give me more tools to better serve my community.
I am a leader of the Youth Group of St. Mary's Catholic Church. I am super passionate about this group because I walk with the students in their journey of faith, as well as I get to help students with any questions they have (college, work, hobbies, etc.)
I am part of the Alumni Relationship Committee with the Axis Leadership Program. It is a young professional program for Hispanics that promotes professional development to a selective group each year. I support the continuous engagement of Axis graduate participants with current Axis participants.
I volunteer with Girls Inc. of Indianapolis for their STEM Week. I organized the lab tours and the visit to Eli Lilly and Company. As a minority in the STEM field, I believe that representation in these activities motivates the younger generations of girls to think of the possibility to be a scientist and engineer. Also, I enjoy talking with them and learning about what they are passionate about and why.
I volunteer with the STEM summer camp with DNOVA Institute. It is a local nonprofit organization in Indianapolis. I organized their visit to Eli Lilly and Company and provide feedback on their research proposals. My engineering career started with my internship at DNOVA Institute. This program exposes the students to research and propose solutions to real-world projects. I enjoy mentoring the students and learning their critical thinking and problem-solving skills.
At Eli Lilly and Company, I am part of the board for the Organization of Latin Americans ERG, I lead the event planning team. I am a volunteer for Ignite the ERG for early career engineers. I volunteer with my current work organization Bioproduct Research and Development at Gleaners Community Food Bank. I lead member engagement initiatives for a rotational program. I developed and executed DEI Initiatives for the Devices Organization. I volunteer with the Latin@ in Science Day. I participated in these opportunities because I believe that having a familia at work is important for a successful journey.
I mentor ten-plus students and professionals monthly. My support includes professional development, finances, finding the best graduate program for them, interview preparation, tips to adapt to new environments, and faith formation.
I volunteer as a panelist sharing my insights in minorities in STEM, DEI initiatives, and professional development for early career professionals. In 2023, I have done five panels addressing these topics.
Describe yourself in five words.
Passionate, believer, optimistic, influential, and adaptable.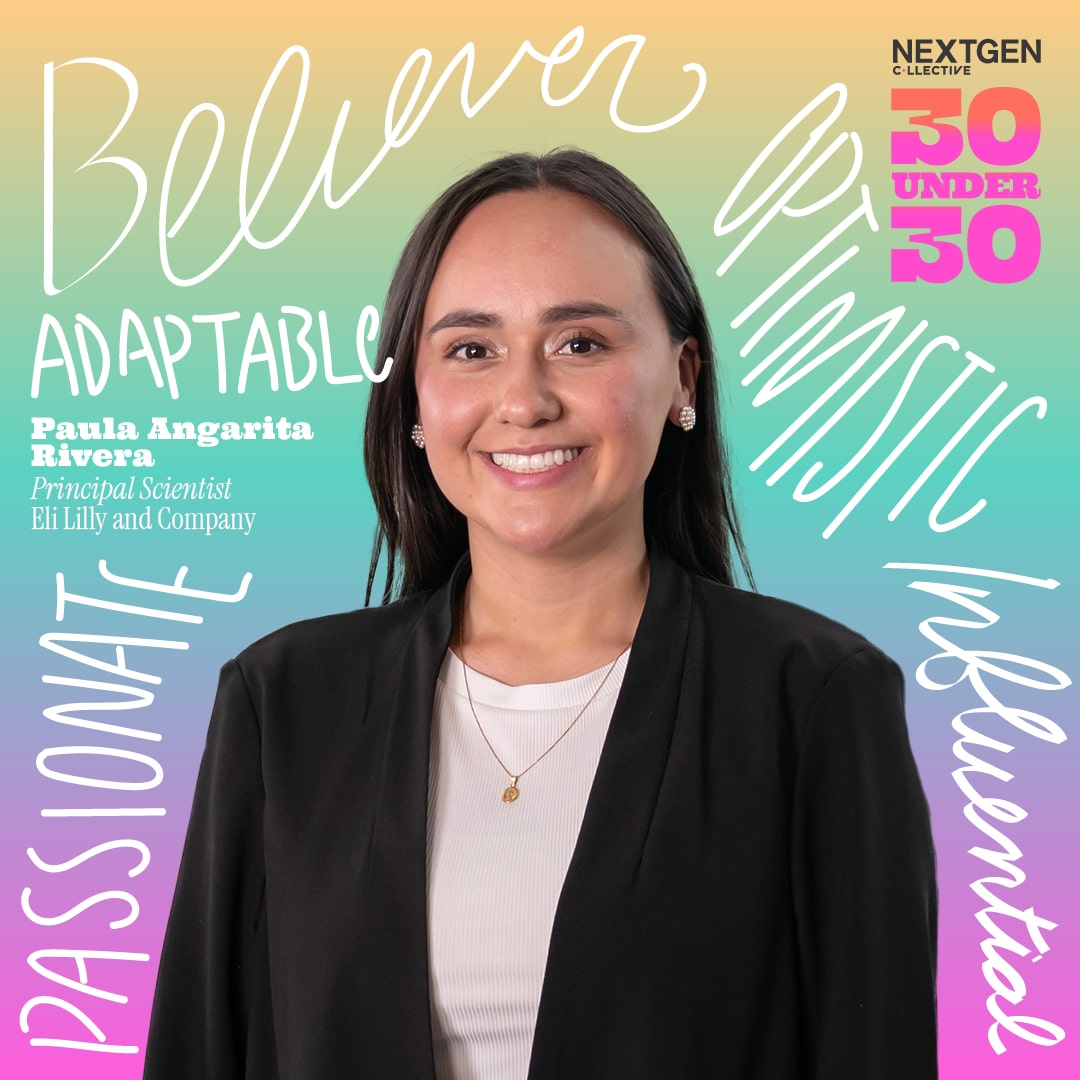 What are your future goals?
Be a board member of a top nonprofit organization or university
Become a speaker on topics such as elevating Latin@s in STEM, how to navigate the workforce as a minority, and identifying your superpower
Directly influence the life of at least five Latin@ to pursue a career in STEM
Get promoted to a management position in the next five to seven years
Visit ten new countries in the next five years (including attending a World Youth Day)
Establish a family in the next five years
What is your favorite form of self-care?
My favorite form of self-care is being in nature, so I go on a hike or bike ride.
What do you like to do for fun when you're not working?
I like to travel and hike the US National Parks, to go Latin dancing with my friends, and to have friends over in my house so that I can share some homemade food.
What does making NextGen Collective's 30 Under 30 list mean to you?
This national recognition reminds me that the sacrifice of leaving my mom, my brother, and my home country at sixteen years old was not in vain. In fact, it allowed me to identify my purpose in this world which is to help people through medicine, and my passion which is to advocate for minorities in STEM. I have been intentional in the pursing of this goal. I am thankful for NextGen Collective to be able to recognize and value these efforts. This recognition is an encouragement to continue paving the way for the ones that come after me.
What is your personal theme song?
"Hips Don't Lie" by Shakira
What is your Latino background?
I was born in Bogotá, Colombia, and raised in Barranquilla, Colombia. I moved to the US when I was sixteen, by myself, to learn English and then attend college. All my family is back in Colombia.
Editor's note: This Q&A has been edited for clarity.