When it came to finding a professional focus in law, Paul Sousa, lead counsel for trademarks at Meta, took his time to figure out what kind of work inspired him. The wide array of potential specialties can be overwhelming, and the lawyer was patient.
But when it came to understanding who he was as a human being, Sousa, thankfully, was not willing to wait for the world to catch up. Sousa knew he was gay in high school, and in college he had the courage to embrace his identity and fight for the civil rights and marriage equality of the LGBTQ+ community.
It's easy to forget just how divisive the issue was in the early 2000s. For Sousa, coming out after attending an all-boys Catholic high school and growing up in a Catholic home of Portuguese immigrants didn't present the most welcoming of possibilities. But then the spark came.
"I remember when the Massachusetts Supreme Court issued an opinion that found the state's ban on same sex marriage unconstitutional," Sousa recalls. "I devoured that opinion. I read every single page from beginning to end multiple times. I wasn't just happy about the outcome; I was incredibly impressed with the court's legal rationale and logic despite strong societal prejudice against LGBTQ+ people."
In college, Sousa cofounded a nonprofit focused on LGBTQ+ rights. Protests and demonstrations by the organization attracted hundreds, sometimes thousands, of participants, including congressional representatives. And his increasing interest in the law would drive the college student to pivot from his engineering focus.
After law school, Sousa spent time with several firms figuring out exactly what he wanted to specialize in. His engineering background seemed to support a path into patent and intellectual property litigation, but Sousa's entrance into the space was far more utilitarian.
"I was just trying to be strategic by leveraging my engineering background to maximize my chances of obtaining a good job," the lawyer explains. "It was 2012, we were still emerging from a huge economic downturn, and I needed to start my career."
Fortunately, the IP litigation focus would eventually shift to trademark law, where Sousa found his calling. "IP litigation work had slowed down, and I'm grateful a partner at the law firm gave me an opportunity to join her practice and learn trademarks," Sousa says. And after he'd worked as both outside counsel and a secondee, Meta hired Sousa to join in-house in January of 2021. The timing was critical for what might be the most pivotal project of Sousa's career.
In late October of 2021, Facebook announced it was renaming its larger parent organization. Meta was born. It's the kind of news everyone everywhere has heard about. How many trademark lawyers get to take part in a rebrand that makes The New York Times?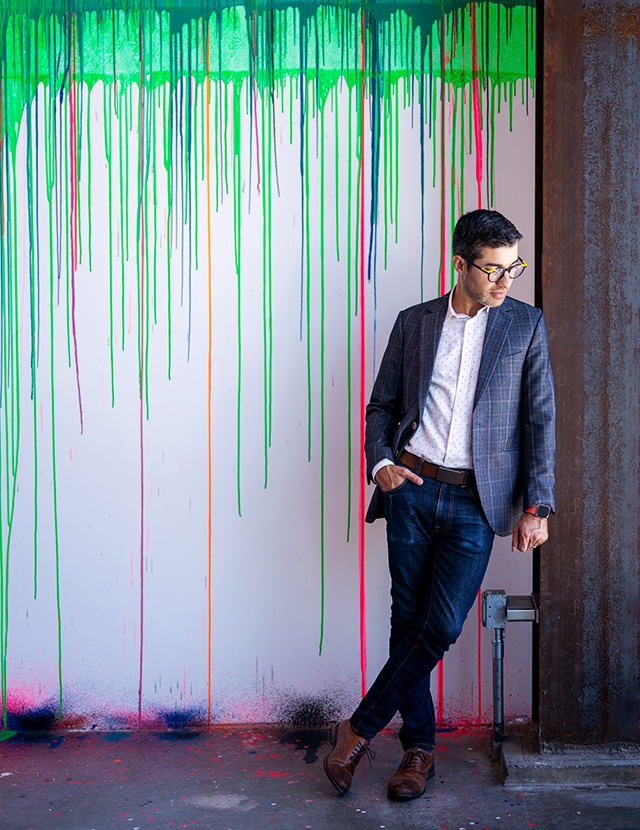 "It was an incredible opportunity to be part of the core group responsible for the rebrand," Sousa says. "This will probably be the biggest project of my entire career; it doesn't get much bigger than the rebranding of a globally known company."
Since the rebrand, the trademark counsel has been involved in the small team standing up and running the day-to-day work on behalf of the Meta trademark portfolio.
Sousa has also found significant ways to integrate his personal passion for LGBTQ+ rights into his career. At Meta, the lawyer has helped organize and promote events for LGBTQ+ employees and allies within Meta's legal department. As part of the company's LGBTQ+ User Safety group, Sousa has also had the opportunity to provide input and guidance on user-safety related issues that impact LGBTQ+ users on Meta's platforms like Facebook and Instagram.
The lawyer's commitment to equal rights for all extends beyond the last couple years at Meta. Sousa was a board member for the AIDS Legal Referral Panel, an organization that provides free and low-cost legal services to people living with HIV/AIDS in the Bay Area.
Most importantly, Sousa says he tries to live his life in a way that might signal to younger professionals that they should be proud of who they are.
"I'm open about who I am, and I hope that it can make it easier for others to be who they are, too," he says.
The lawyer is also helping shape the next generation of legal talent. Meta, in partnership with outside counsel, is hosting a first-year summer associate program for diverse first-year law students. Sousa is helping organize his work group's participation in this program. It's a chance for future lawyers to get a feel for in-house roles and expand their horizons as to what a career in the law can look like.
"A lot of law school grads aren't able to obtain in-house experience until later in their career, so I think this is a valuable and unique experience to provide more context and perspective for students," the lawyer explains.
Sousa says that younger lawyers shouldn't be afraid to reach out to potential mentors, because most understand just how valuable mentorship was in their own careers and are often excited to pay that experience forward to the next generation of law practitioners.
Fortunately, and because of lawyers like Sousa, that next generation will never have to hesitate about being who they are, wherever they are.