We sit down with chief HR officer Alfonso Martinez to discuss the many ways he's evolved alongside an industry in flux
When Alfonso Martinez was general manager of the Bethesda Marriott Suites in Maryland in 1995, his mentor—Pam Farr, executive vice president of human resources for Marriott—came to him with a novel idea. "She said that every great leader of the future requires a rotation in HR," recalls Martinez. "I was younger and more impressionable then, so I said, 'Sure, when do I start?'"
It was a move that would change Martinez's career. He never left HR. Today, almost 20 years later, he is the executive vice president and chief human resources officer for Reston, Virginia-based NII Holdings, Inc., a $6-billion and 16,000-employee company that sells wireless services under the Nextel brand in Latin America.
It wasn't a straight shot to the top for Martinez, who took a circuitous route to his current role. After receiving a bachelor's degree in business administration from the University of Denver in 1981, Martinez began working in hotel management at Marriott International. His chosen career path took him through various positions in hotel operations, and he moved frequently, spending time in a multitude of US cities and roles.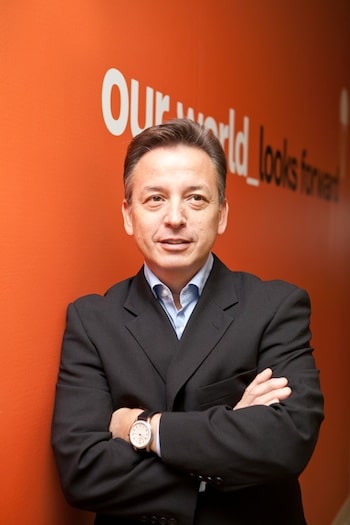 Self-Review
Tell me about your family.
I've been married for 20 years, and have a 17-year-old daughter and a 14-year-old son. We live with my 82-year-old mother and our beagle, Chester.
What's your favorite sport?
I attended the University of Denver to play baseball, and I still play today, from April through November. I like all sports, but baseball is my favorite.
Do you have any other hobbies?
I run four miles three to four times a week. I think exercise has kept me young—I still get carded sometimes when I purchase alcohol.
After stints in Hilton Head, South Carolina, Houston, and Chicago, Martinez moved to Los Angeles in 1986. Then, he moved to San Francisco to oversee operations at 25 Pacific Northwest hotels under two Marriott brands. In 1992, he transferred to Bethesda, Maryland, to serve as head of revenue management for the Courtyard by Marriott brand, which involved managing customer research and developing pricing strategy. In 1994, he moved back into operations, working as a general manager of the Bethesda Marriott Suites.
"The beauty of the hospitality industry is that in order to be a leader, you have to be a generalist," Martinez says. "You have to understand customer preferences and pricing, be an effective salesperson; manage business economics; recruit, manage, and develop talent effectively; and even understand physical hotel maintenance and the culinary arts. It wouldn't be unusual for a seasoned hotel manager to move into a specialty role in any of those functions."
It was thus that Martinez—who along the way picked up a master's degree in organizational psychology from Johns Hopkins University—found himself in an HR role at Marriott International. "Within several weeks after my mentor suggested I consider HR, I had moved from a career in hotel operations into an HR role, running a centralized service model for three Marriott brands: Courtyard, Fairfield Inn, and Residence Inn," he says.
Martinez wasn't looking to leave Marriott International, but through his diversity work, including sitting on boards for a number of Hispanic nonprofits, an unexpected opportunity arose. In 2004, he was offered the CEO position of the Hispanic Association on Corporate Responsibility (HACR), which works with corporations to improve their outreach to the Hispanic community. "It was a role in which I felt that I could have an impact," Martinez says.
Eighteen months later, one of HACR's clients, Sodexo, Inc., a leading provider of integrated food and facilities-management services, offered Martinez a position of senior vice president of HR. He jumped at the opportunity. "Sodexo is famous for its diversity strategy, and in an industry I understood. Working for such an organization appealed to me," he says.
With multiple rotations in HR under his belt, only one step was missing for Martinez: to be the head of HR, particularly in a publicly traded company. That opportunity arose with NII Holdings, where Martinez has been since 2008.
3 tips
1.
The company needs to know itself extremely well—what it's good at, what it's not good at, and what behaviors it values—and articulate that in its leadership competency model and its statement of values.
2.
Build accountability in three dimensions: financial rewards, performance management, and recognition.
3.
Have a CEO who isn't shy about evangelizing the spirit of the company and motivating people to optimize on those attributes.
It's been a good fit, since NII Holdings serves Latin America exclusively, and Martinez is of Mexican descent. "I was born in Chicago to Mexican immigrants, but moved back to Mexico City for middle school and high school," he says. "Having grown up there, I have a grounded point of view regarding how to conduct business internationally."
More specifically, Martinez says his ethnicity has influenced his career in HR by making him aware of how personality is controlled by language. "When people are working in their first, second, and third languages, there can be array of misinterpretations, but more importantly, power imbalances," he explains. "My ethnic background has given me an understanding of how communication is used to influence."
To others seeking to follow in his footsteps, Martinez suggests a broad background. "If you choose a career in HR, be sure to pursue at least one substantive career rotation in business operations. You will not only be more credible, you will perform better in HR," he says.