Kids are realists. Ask them what they want to be when they grow up and they might say "astronaut" or "fireman" or "movie star." Though lofty, these professions are still achievable (though you might not hear a kid say the word "profession"). But what kids really want is to play with toys forever.
In this way, you could say that Manuel Torres's childhood dream came true. He's the senior vice president of global toys and games for Nickelodeon Consumer Products, one of the leading toy producers in the world. It's like he's Tom Hanks in the 1988 film Big, except that Robert Loggia isn't his boss.
"I remember every single toy I had when I was kid, and I was super toy-driven as a child, and even when I was a kid, I knew I would grow up doing something related to children," Torres says. "I feel very passionate about this demographic."
Torres was born and raised in Mexico City, though his mixed background—with a Polish/Russian Jewish mother and a Mexican Catholic father—gave him early insight into navigating the intricacies of tastes and interests at cross-cultural intersections. Torres lived in Mexico City until he was 28 years old, and got his career start as a CPA for Arthur Andersen—one of the world's top accounting firms in the 1980s. By the late '80s, Arthur Andersen began to diversify its services and provided Torres an opportunity to expand his professional interests in sales and marketing. "I've always had an interest in sales, which is strange, because I come from a family of doctors, but it has always been a passion for me," Torres says.
In pursuing this passion, Torres fully transitioned from his work as a CPA to serving as a tax auditor and consultant to help launch distribution business in Mexico City. This was where Torres first began to realize his interest in the children's market, though, at the time—naïve and not totally financially stable—Torres wasn't yet able to see a future in this space. So, he transitioned back to the corporate world as a trainee for Unilever in its personal-care division, on the sales side. "My theory was that if I wanted to end up doing something related to marketing or sales, I should take every opportunity to learn," Torres says. "And the only way I could gain credibility with the sales force is by working with them, so I went into sales."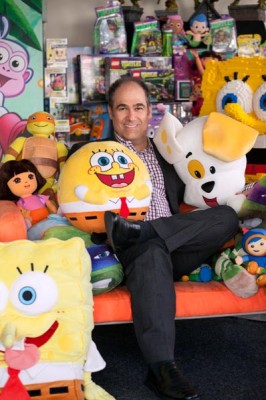 It was the early 1990s by the time Torres began to conclude his four-year stint with Unilever, category management for consumer products was becoming increasingly important as big-box retailers like Wal-Mart were expanding throughout North and Central America. Wal-Mart began to form partnerships with its various vendors, such as Torres. "This allowed me to develop a really strong understanding and knowledge not only of retail, but also an incredible new world of consumer goods, and how to manage a brand on a consumer level," Torres says.
While Torres was working in this world of merchandising and store checks, he found himself consistently drawn to the way these practices were executed in a toy department. Gravitating towards the merchandising strategies that make toys "pop," Torres was soon approached by Mattel Mexico in 1994, which was looking to grow its category management and trade marketing division. "I started as the trade marketing manager for Mattel, but I was also managing a few Fisher-Price brands—like Power Wheels and Hot Wheels, which was close to my heart," Torres says. "I had a team of over 450 merchandising reps, and it was a very exciting time."
Torres was with Mattel for eight years, spending the first three in Mexico, and then relocating to California, where he took charge of various trade marketing regions—including Latin America and Europe. Torres eventually got more involved with brand and product development, running international boys toys and games properties for Mattel, which involved brand partnerships with companies like Warner Brothers and Nickelodeon. "During this time I really got a flavor for the licensing world, and that became an area I wanted to learn more about and hopefully master," Torres says.
In 2002, Torres left Mattel and joined up with Warner Brothers, which brought him back to Mexico where he oversaw all of the DC Superheroes and Looney Tunes products. And it was during his time with Warner Brothers that Viacom and Nickelodeon (a Viacom subsidiary) were looking to create a consumer-products business for Latin America. They recruited Torres and he came back to America in 2004 to Miami, then fully joining Nickelodeon the following year. "What I'm doing now—it all started with work in the core financial world, and then it warped into sales, marketing, and product development," Torres says. "I really believe that accounting helped me out this whole time because it has given me the capability to understand financial metrics and the impact of the decisions that I would be making."
Under Torres's leadership at Nickelodeon, the company has produced some of its biggest products, lines, and partnerships to date. In 2012, for example, Nickelodeon launched the hit reimagined CG-animated Teenage Mutant Ninja Turtles series and successful toy line with Playmates Toys, among others, which were declared one of the "most wanted toys for 2012" by Time to Play magazine and Toys 'R' Us. Torres's team also relaunched the Floam and Gak brands that rose to prominence in the 1990s, and also developed Preschool toy brands from Nick Jr. shows such as Dora the Explorer, Team Umizoomi, and Bubble Guppies. But even in the midst of all of these fun, colorful names, and products, there is a serious side to the toy business, so an added challenge for Torres is what he can do to still keep the business fun. "There's the 'surprise factor' that is always very strong in entertainment-driven products, and you can never really control the outcome," Torres says. "On the other hand, however 'cool' an item might be, at the end of the day, someone is wanting to profit from it, so the key is creating a good value proposition around that item as part of the storytelling."
This aspect of "story" is ultimately what connects Torres's upbringing and background into his present work, such that his own diverse background affords him a deeper understanding of diverse markets—and the nuances of those markets—on an international scale. "Even when I was still working in Mexico, I was becoming very interested in the international world, so getting the chance to work with multinationals like Unilever and Mattel and travelling the world with these companies was invaluable," Torres says. "I've always been very interested not only in geography, but also for history, and this has helped me appreciate other cultures, and also increased my understanding."
Now that Torres is approaching veteran years in the toy industry, he's looking at his next steps to extend beyond the realm of his office and towards his own children, attempting to create the same kind of opportunities for them that his own family created for him. For this reason, Torres also supports various nonprofit organizations, such as Breast Cancer Org. "What I do outside of work I consider very important for mine and my family's future; there's so much to contribute to the world, and nonprofit work is very appealing to me. A lot of my energy is going towards this," Torres says.
Torres serves on the board of directors of the Toy Industry Association, the first Latino on the board.