When you hear the word "franchising," what is the first thing that comes to mind? Is it owning a McDonald's, Baskin-Robbins, or Subway? Before starting my career in franchising, the word I held in my head was uninteresting. I saw franchising as repetitive and void of innovation and excitement. I thought repeatedly replicating the same systems and processes was redundant and lacked value.
I was undeniably wrong.
Some of the largest companies in the world are franchisors who operate under a franchise model, and working on the franchisor side can be a tremendously rewarding career path for those who enjoy growing people into business owners and watching them create thriving businesses that contribute meaningfully back to families and their local economy.
That's certainly been the case for me.
Call Me Coach
For the past three years, I have worked as a franchise business coach for the Mr. Electric franchise brand which delivers premium electrical solutions to residential customers across the United States. It is owned by Neighborly, our parent company and the largest franchisor for home services.
Today, my primary responsibilities are to provide technical, operational, and marketing guidance to Mr. Electric franchise owners in Arizona, Kentucky, Michigan, Ohio, Virginia, and West Virginia. Before becoming a coach, I served as a technical specialist for the brand helping franchise owners adopt, understand, and implement all the technological platforms required for franchise operations.
One aspect I love about coaching is understanding the business and personal goals of franchise owners, also known as franchisees, and then strategizing with them to bring these goals to life. Once the plan is outlined, we work as a team to leverage the myriad of resources provided by Mr. Electric and Neighborly to execute the processes and systems effectively. I also conduct frequent coaching calls to create space for myself and the franchisee to plan scaling their business, pivot according to marketplace changes, and helping franchise owners overcome their doubts, find confidence, and improve their mindset.
The pinnacle of all these efforts is when the process, systems, and resources work to manifest a thriving business for the owner. When this occurs, a genuine smile forms in their faces and I can see an owner's shoulders release the months of stress spurred by sleepless nights, payroll worries, and the restlessness that follows all business owners. The owners earn relief, and the franchise model produces yet another thriving business. As a Latino who understands how business ownership can lead to generational wealth, it's truly rewarding to help franchise owners gain the confidence and skills they need to succeed.
Where to Begin
Interested in learning more about working on the franchisor side and being part of a support network for franchise owners? There are many career paths to choose from.
From operations to IT to marketing to vendor relations and more, there are many ways to lend your expertise. These roles directlyimpact the success of all franchise locations by providing the infrastructure to deliver the brand's products and services.
In turn, the franchising industry can offer you versatility in the types of positions you can assume, extraordinary compensation opportunities, and a tight-knit community of franchising professionals from some of the world's most recognized brands.Depending on the structure of the franchisor, you may even have the opportunity to work for a holding company that owns several franchise brands. Some of the most well-known are: Neighborly, Unleashed Brands, Yum! Brands, Inspire Brands, and Xponential Fitness. Such companies pose an extraordinary opportunity to be part of the rapid scale of a franchise brand and cross-pollination of business ideas amongst sister brands.
Food for Thought
I encourage my fellow Latinx colleagues to consider opportunities in franchising, specifically on the franchisor side. Helping franchisees faithfully execute the systems and processes of a franchise brand is both tremendous and empowering. The training, support, and guidance a franchisor can provide to the franchisee system helps aspiring business owner materialize their vision for a better life and establish a legacy for their families.
Historically, business ownership has remained one of only a handful of ways wealth is passed along from generation to generation. This can translate to lowering barriers to higher education, access to capital for additional business ventures, homeownership, and more. As a Latino who works on the franchisor side and witnesses these kinds of wins on a regular basis, I'm so thrilled to be part of that journey.
---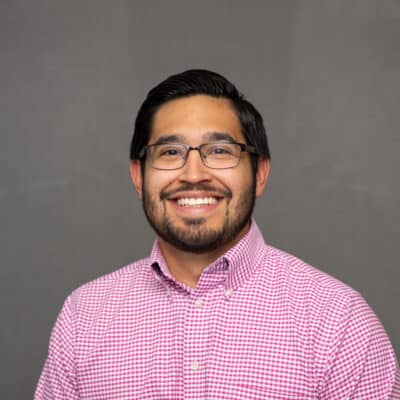 Benjamin Gomez is a franchise business coach at Mr. Electric.