"Pivoting" might seem like a corporate buzzword to some, as it is sometimes used to finesse employees into adopting duties outside of their role. To me, however, the word is empowering, an opportunity to adopt change and lean into the possibilities a new path brings to you.
After several years working in higher education, I pivoted into marketing and digital media and today I'm a product marketing specialist for an edtech company. My work is primarily focused on lead generation for our student success SaaS product line, which is a dream job for me. I'm also an MBA student at the University of Central Florida.
From Retail to Higher Education
I moved from Yauco, Puerto Rico to the US mainland when I was three years old. My parents insisted on teaching us Spanish at home, so I grew up bilingual and spent summers during my teens in Yauco with my grandparents. As an adult, I still make an effort to visit two to three times a year when possible, to maintain my connection to the island and my family.
When I was a communications undergrad at the University of Central Florida, UCF offered me a role as a part-time program assistant—that was my first job "real" job where I didn't work retail or food service for the first time in my life. I originally wanted to be a journalist, but as I worked more with international students my interests shifted to political science and advocacy. So, I changed my major and graduated in 2019 with a bachelor's in international studies.
I stayed at UCF for a total of six years, working my way from international student services to graduate admissions before finishing in social media management. Higher education was the professional home where I received an education and also grew the professional skillset I used to get to where I am today.
Time to Pivot into Tech
After six years in higher education, it was time to close this chapter and pivot out of the higher education industry and into the marketing industry.
I started my journey by doing a lot of research. I joined several online groups of other folks leaving higher education. I joined networking communities for Latinas. I did informational interviews on different marketing positions with people currently in the field. I revamped my resume, and did freelance writing to strengthen my resume while earning some extra income.
My first big break into the field happened during the COVID-19 lockdown when I secured an internship with a Latina-focused media company. I created digital content for a progressive Latina advocacy group and the experience opened my eyes to the world of marketing and digital media, especially within the Latino community. At the time, I was also pursuing a graduate degree in communications, but I decided to instead pivot and pursue an MBA. This has helped me substantially more in building my business acumen and advocating for myself professionally.
All of this hard work and effort paid off. During three months of an aggressive job search, I got an offer from my current organization. What I love about my job today is that it marries both the left and right sides of the brain. I get to hone my creative marketing capabilities, learn about what it takes to make a product and take it to market, analyze past campaigns and use that data for new work, assist my sales colleagues with lead generation, and help institutions implement our solutions that benefit students. I also get to work cross-functionally with many teams for an internationally distributed company, which is a huge change for me from campus life to remote life (with travel!). I'm loving every minute of it.
My long-term goal is to become a product marketing manager or product manager so I can continue to grow in the technology sector, especially once I graduate with my MBA. I've also recently launched my own platform called Mujeres in Marketing to represent and advocate for Latina marketers, so having that grow along with my career is my dream!
Advice for Pivoting Latinos
The ability to pivot is crucial in a dynamic, tech-driven workforce and we will see more of it shifting entire industries, with workers moving in tandem with shifting industry goals. My advice is to get comfortable with it in both your personal and professional life.
If you're a Latino considering an industry switch, here are some ideas to help you get started:
Try a blind ask. Ask anyone and everyone with relevant knowledge for a short chat on their role. Gathering those different perspectives convinced me that pivoting out while I'm young was the best thing to do.
Imagine the future you when making decisions. Think of where you currently work and why future you would be disappointed to find themselves still there in a few years. Staying with an employer simply because it might be the safe and comfortable choice now might mean you are stunted tomorrow. Imagined stability can prevent us from going to places where we can really thrive and make a difference.
So take the chance, do your research, and go for the job/life you really want. You're more than qualified and capable – you will land on your feet!
---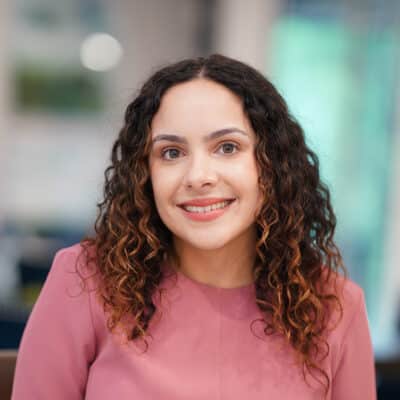 Ashley Rivera Mercado is an Orlando-based creative professional originally from Yauco, Puerto Rico. She is the creator of Mujeres in Marketing, a professional community for Latinas working in the marketing industry.