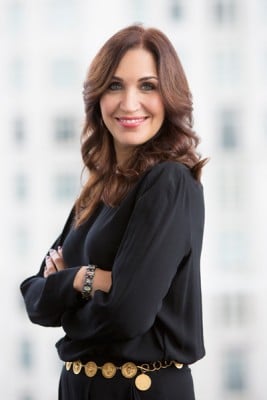 From a childhood in Puerto Rico to decades working with leading beauty brands in the United States, diversity has always been important to Michelle Freyre—which is why the general manager of Neutrogena is proud to be at the helm of a company that boasts strong diversity and inclusion initiatives as well as successful multilingual advertising and marketing campaigns.
But Freyre's path to the C-suite was not always direct. After graduating from college and working in the corporate world for three years, Freyre applied to and was accepted at her first MBA program choice, Harvard Business School. However, as a young woman, Freyre was faced with a tough decision. Her family wanted her to return home to Puerto Rico. Looking back, Freyre is confident she made the right choice.
"I knew that getting my business degree was the right decision and investment for my future," explains Freyre. "I have always approached my career path and development with making sure I have the best possible tools."
Attending business school helped Freyre maximize her potential, a trait that her parents encouraged from a young age. She then spent three years at PepsiCo, where she learned the fundamentals of brand management. Working with smart and creative people, Freyre enjoyed the work-hard, play-hard attitude of her colleagues.
Throughout her career, Freyre has made calculated decisions, weighing the pros and cons, and moving forward confidently. After spending nearly ten years in the marketing department at Neutrogena, Freyre chose to spend time in the sales department even though she was more interested in marketing. Calling it a risk, Freyre admits that "it helped me grow professionally."
"It's important to think strategically about your career," says Freyre. "While a position in sales was not part of my initial career plan, I knew that it was important for me to try a new experience in order to grow."
Freyre then worked in sales with Neutrogena for seven years. By making that bold decision, she turned herself into a more well-rounded leader, eventually becoming the general manager of Neutrogena's market in the United States.
"It's really important to be open to new experiences and take risks, because it's what is ultimately going to help you advance," says Freyre, who shares this advice with her team.
She was partially inspired to take this leap by a mentor early on in her career. When asked what she wanted to do, a young Freyre said she wanted to lead Neutrogena. Her boss said he believed in her potential, but that she needed variety in her career to achieve this goal.
"Even though it made me uncomfortable, I decided to take the plunge and move from marketing to sales," recalls Freyre. "The decision led me to my dream job."
In addition to the satisfaction of achieving her goals, Freyre enjoys leading a company that values the Hispanic market. The company is the top facial care brand among Hispanics, as well as the top facial care brand in the United States. The company offers a range of skin care solutions that address beauty needs that are important to Latinas.
"It's our priority to have a workforce that feels confident in who they are when they come to work."
Michelle Freyre
As one of the few beauty brands with a Spanish-language website, the company is able to reach the Hispanic consumer through marketing campaigns, social media, and traditional advertising. The company also has Latina brand ambassadors, like Eiza Gonzalez, who is featured on both the Spanish- and English-language websites, as well as in advertising campaigns. By focusing their marketing to a diverse and multicultural audience, Neutrogena has been able to maintain its position as the top facial skin care brand in the United States.
"Fostering a culture that embraces diverse cultural backgrounds, experiences, and viewpoints is so important for both an individual's professional success and the business' success," says Freyre. "We have a strong focus on recruiting, developing, and retaining a diverse workforce that is reflective of the marketplace."
"It's our priority to have a workforce  that feels confident in who they are when they come to work," she continues.
Born in San Juan, Puerto Rico, Freyre was raised by a Cuban father and Dominican mother. Freyre says, "I have known how important diversity is from a young age."
Neutrogena's commitment to diversity is something that makes Freyre proud to be on the company's leadership team. She also believes that this approach—valuing multiculturalism and putting the consumer first—sets the brand apart from others in the same space.
In 2015, Neutrogena continued its efforts to build relationships with key media and digital influencers, including sponsoring two of the primary conferences in the Hispanic market: the We All Grow Summit in Los Angeles and Hispanicize
in Miami.
Thanks to these efforts, Neutrogena was named one of the top beauty brands on social media.
Personally, Freyre is interested in strong, integrated marketing campaigns with an increased focus on digital. These strategies help the company successfully launch new products like the Hydro Boost collection from Asia and Naturals Makeup Remover Towelettes.