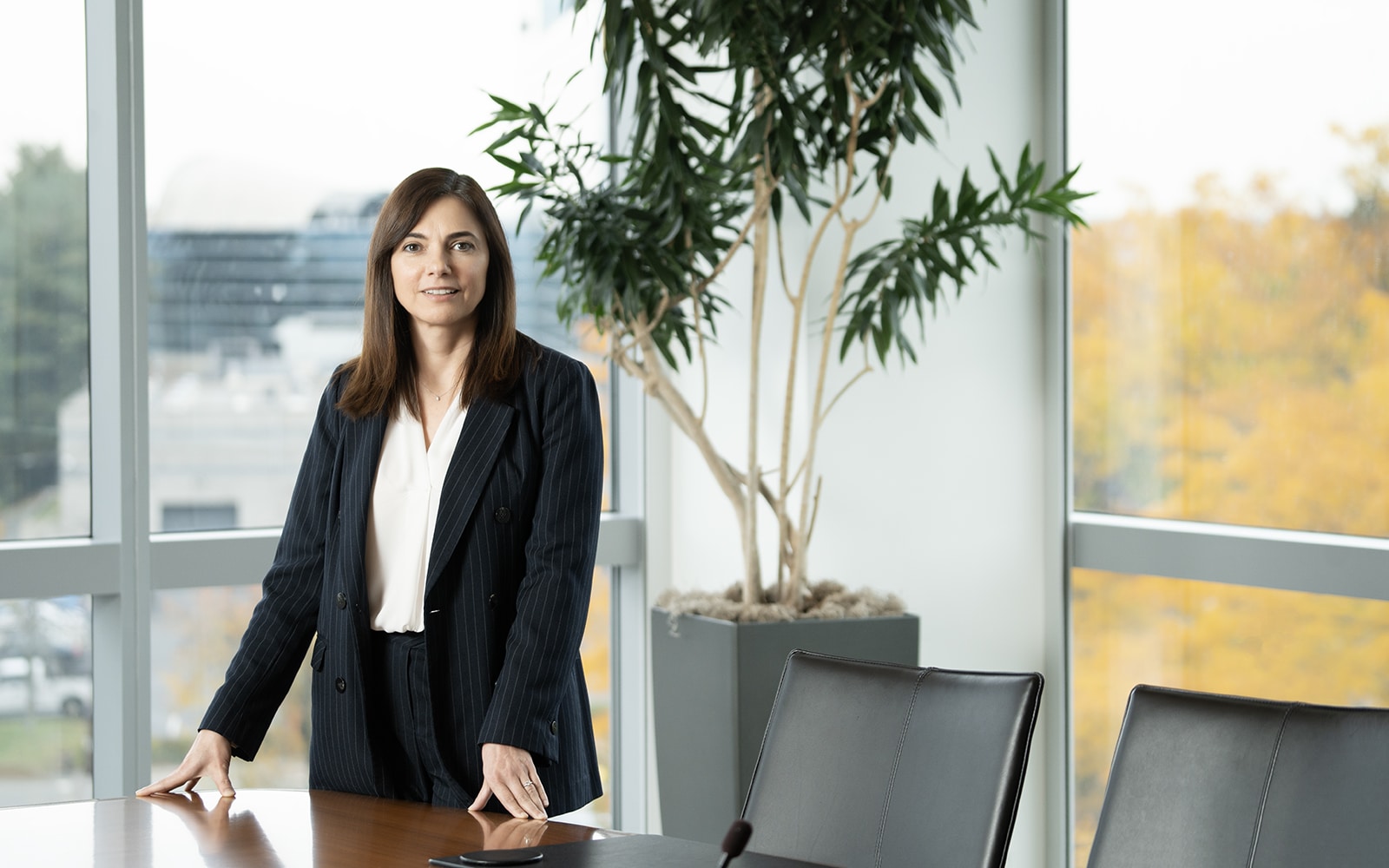 For as long as she can remember, Monica Manotas has always been a curious soul. Different customs, languages, perspectives, and foods from other world cultures often drove her curiosity while growing up in what she describes as a traditional setting in Barranquilla, Colombia. While tradition can often dictate a specific path for Latinas, Manotas's sights were being set beyond a life in South America. From a very young age she was encouraged to think differently from the most unlikely family member—her mother.
"Although my mother chose not to complete her studies, there was never any question that everyone in my house would go to college. So I knew my path would be much different from hers," says Manotas, senior vice president and president of life sciences and lab products at Thermo Fisher Scientific, a life sciences company with more than 120,000 employees and $40 billion in annual revenue. "I remember as a young girl my mom opened a bank account for me and my siblings, and when it was time to make a deposit, she would take us to the bank. It was a big deal. She was teaching us to be independent."
Her mother's guidance and encouragement to strive for excellence would eventually serve Manotas in more ways than one. It not only deepened her desire to see the world but also led to opportunities and experiences—professional, personal, and culinary—that have shaped her work and approach to leadership.
"For me, it has always been important to bring different perspectives into the work setting," Manotas says. "Maybe it's because of my heritage, but my focus has always been on cultivating diversity. I identify with the sense of belonging and always want to create a team that feels comfortable with one another."
Since graduating from Barranquilla's Universidad del Norte with a degree in industrial engineering in 1995, Manotas has journeyed far beyond life in Colombia. Her professional roles have enabled her to live in four US cities and three European countries, each offering her the opportunity to soak up the local culture and learn from business perspectives that differ from her own.
Manotas got her first taste of life in the US when she took a role as a financial analyst at Xerox in 1997. She was based in Rochester, New York, where she experienced very cold winters and snow for the first time in her life.
"I found I really enjoyed myself. I missed my family, but I also realized I liked being independent," Manotas says. "In a country like the US, you get to see so many cultures—Europeans, Asians, other South Americans—all in one place. It ended up being a great experience."
The role at Xerox also shifted her career focus. She enrolled at the University of Rochester where she earned her MBA in finance in 2000, a decision that led her to a now twenty-two-year career at Thermo Fisher.
"Business school was an opportunity to learn what it was like to work in the US culture," Manotas says. "For example, being direct isn't always in my nature, but in the States, it is a more direct and informal culture whereas in Colombia there's a more formal culture at work. Not that one is better than the other. It was just easier to work in a more informal way, like being able to call my bosses by their first name."
Since joining the Waltham, Massachusetts-based life sciences company, Manotas has led multiple teams across North America and Europe and has held leadership roles in finance, operations, and general management. Her tenure in Europe exposed Manotas not just to new cuisines (Italian is her favorite by far) but to even more business perspectives from her peers and the teams she led. It was at that point that she realized the power of drawing from her team's cultural differences to help address issues or to develop creative solutions.
"I always want to ensure I get the best out of the various cultures represented around the table," Manotas says. "That's why I build teams that are diverse. I'm a true believer in the fact that diversity makes the team stronger and more efficient. It's about bringing people together that complement one another."
In 2020, Manotas found herself on the front lines in the fight against COVID-19. As president of laboratory products, she was responsible for scaling the production of critical plastics, like pipette tips used for COVID-19 testing, and ultra-low temperature freezers, which were needed to store the world's supply of the new mRNA-based vaccines.
Today, Manotas's role has expanded even further as the leader of a multibillion-dollar organization at Thermo Fisher focused on providing innovative products, services, and chemicals that are foundational for developing advanced therapeutics and pioneering medical research. Most notably, her business continues to play a critical role in supplying key components for PCR-based diagnostics, instrumentation for cell and gene therapy, and laboratory consumables for infectious disease and cancer research.
Curiosity and independent thinking may have been the catalyst for Manotas's career as a globe-trotting executive, but she is quick to acknowledge others who have contributed to her success in biotech, and offers Latinos her advice.
"Call them mentors or coaches, but having good managers that understood me really helped me throughout my career," the SVP and president says. "You usually can't have these success journeys on your own. You need those supporters around you.
"Also, embrace your uniqueness, and learn how to make it understood and valued," she says. "I've never lost my roots in Colombia, which can happen if you don't stay connected. It's about maintaining a balance between remaining open to learning new cultures without losing your identity."