Very few people get to wake up every day and feel like the work they do truly makes a difference. Monica Diaz counts herself as one of those lucky people. Each morning she is inspired by the opportunity she's been given to help others recognize their full potential while embracing the beauty of diversity.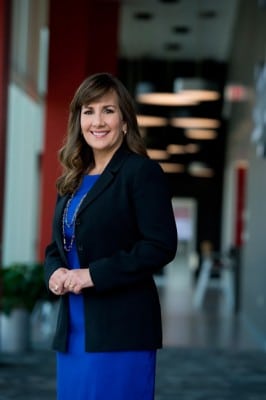 Diaz's introduction to the human resources field was 50 percent thoughtful planning and 50 percent serendipity. She majored in psychology but took an opportunity when a friend offered her a job in human resources. She found herself immediately drawn to the profession. "There's something magical," Diaz says, "about being able to help people tap into their unique abilities to become more successful."
As it turned out, the work came naturally to her, with one opportunity leading to the next, thanks primarily to word of mouth from colleagues impressed by her skills. Her career spanned globally recognized companies such as Microsoft, Merck & Co., and Sara Lee Corporation before she made her way to her current role, the one she deems the most life-altering yet: vice president of diversity, inclusion, and wellness at ESPN, the most successful sports network in existence.
Diaz says the diversity and inclusion era of her human resources career also came naturally.
"I got into this area of the field by following my heart and passions," she says. When she initially entered the space, colleagues told her to be careful. At the time, diversity and inclusion wasn't as prevalent as it is now, and they were worried it would put Diaz in a niche. "Once you become a specialist," they said, "it will be difficult to be a generalist again." However, Diaz's reasons to become a specialist weren't just professional; they were personal. Additionally, that choice took her on an endlessly rewarding path.
When Diaz moved to the continental United States from Puerto Rico in 2002, she felt she was "all of a sudden" considered Hispanic. "There were all of these preconceived notions about how I should speak, think, and behave," Diaz laughs. "This Hispanic designation wasn't something I was familiar with before moving here." By connecting with others who felt the same way, she organized meetings with colleagues from Mexico and Argentina to discuss what diversity really meant for them and how it could be relevant to their businesses. "I became excited by the prospect of working in a field that focused on valuing people's differences," Diaz says, "rather than seeing them as challenges to be overcome."
Two very different industry approaches truly prepared Diaz for the work she currently does with ESPN. In the pharmaceutical industry, she learned when to pay attention to the smallest details because the consequences could be massive. There are instances where things cannot be fast-tracked. And in the tech industry, Diaz says the speed of innovation is almost as important as the innovation itself. These lessons come together in her work at ESPN, where although she deals with fast-paced media content, time must be taken to understand the network's diverse audience and how diversity impacts storytelling.
ESPN has understood the importance of diversity for a long time and has worked hard to ensure that it hosts an inclusive workplace, both behind the scenes and in front of the cameras. "The time of one-size-fits-all media is long gone," Diaz says. "The ESPN audience is global; it's not one homogeneous unit. It's important that ESPN reflect its diverse audience, and I think we are doing a great job delivering that."
Diaz's role requires more than just expertise in diversity and inclusion. She is also a wellness leader at ESPN. Diaz says that the wellness aspect of her job brings her great joy. Part of it requires a focus on exercising, healthy eating, and stress reduction, and there is also the component of energy management.
"The work I get to do is a true privilege," she says. "We take a very holistic approach to wellness, wanting our employees to be in the best health possible. So, our goal every day is to help others recognize the importance of their health. From a diversity perspective, we help people seek and leverage different perspectives—not just because it's the right thing to do, but because wellness and diversity at ESPN directly drive its business results."
In 2008, ESPN launched eight employee resource groups: young professionals, women, Asians, people with disabilities, Latinos, families, African-Americans, and LGBT employees. In the years since, the network has received countless awards for its diversity efforts, including recognition among DiversityInc's top 50 companies for diversity and top 10 companies for Latinos. Women in Cable Telecommunications named it one of the best companies for women in pay equity, and the Gay & Lesbian Alliance Against Defamation awarded it for outstanding TV journalism.
Diaz says everyone at ESPN understands how important diversity and inclusion are to the network, which helps with what she considers her biggest challenge: constant visibility. The network's product is constantly visible to its audience, so the challenge is to strike the right balance of how fast you push content out with vigilance of different viewpoints in the
storytelling.
"The content ESPN produces has constant exposure to our audience," says Diaz. "This means that the impact of our diversity and inclusion efforts is always visible, and our audience's reactions are immediate. We're 'on' every minute of every day, figuratively and literally. This is why it's so important to ensure everyone at ESPN understands why and how to seek out and integrate diverse perspectives in everything we do."
This is easier said than done. Diaz says it's crucial that the network engages its audience in a natural way. So while employees reflect the ESPN audience, the goal of the programming is to entertain with accuracy. It's a delicate balance, the vice president says, requiring the network's approach to diversity and inclusion to be genuine and send the clear message to viewers that diversity is taken very seriously. "We truly enjoy what we do," Diaz says. "My work in diversity and inclusion is not just a job, it has opened my mind in ways that never stop evolving."
LÍDER INSIGHT

"People have the rightful expectation that their leader will have their back. At the end of the day, every successful person can speak about someone who trusted him or her—more than they trusted themselves. I focus on getting to know my team in a way that gives me enough insight to trust that they can deliver more than they even believe they can. I, in turn, develop their trust by listening to their realities, their aspirations, and what's important to them. Once you realize what motivates your team, personally and professionally, you can figure out which levers to pull to maximize their potential."