Miguel Sanchez Lascurain is a storyteller at heart. He's been one as a designer, as an art director, and as a creative director—and he's been awarded two Emmys for those efforts. Even as he's taken on the role of vice president of creative for TiVo, Sanchez believes storytelling is more important than ever—and it all began with his love for movies.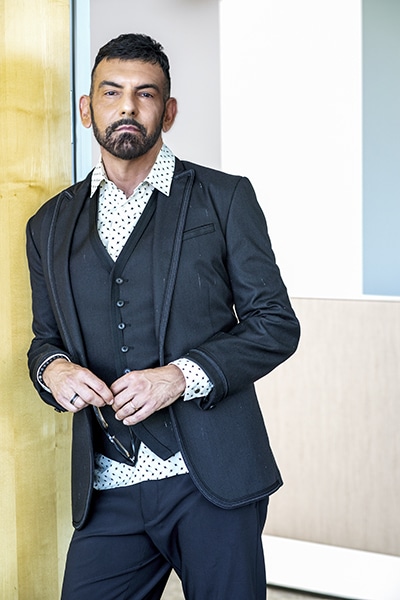 Growing up in Spain's Basque Country, Sanchez says, there were only two channels on TV: one for soccer, the other for old movies—and he had no interest in soccer.
"Some people learn art by going to museums," he says. "I think I learned lighting and color from watching old Hollywood movies from the '40s and '50s, seeing Technicolor."
After getting his undergraduate degree in Madrid, Sanchez spent a few years working on documentaries for Iberia Airlines and projects for Spanish television, where he developed an interest in creating video graphics and animation. At the time, the only place that offered the training he wanted was the American Film Institute (AFI) in Los Angeles—but Sanchez didn't speak any English. Undeterred, he decided to move to the US for a couple of years to learn English before attending AFI.
In 1992, he moved to San Francisco, where he joined the growing community of QuickTime user groups. There, he learned to create and edit thumbnail-size videos—which, at the time, was the cutting edge of technology. "Now we're used to seeing video in full screen," he says. "At the time, computers didn't have that power [to render larger images] . . . we were seeing movies, basically the size of a stamp. Apple revolutionized the movie industry."
Sanchez didn't end up getting into the AFI, so he switched gears and did a multimedia program at UCLA from 1994 to 1996. Nobody knew what multimedia was back then, he says, but he had a feeling there was a future in it. It was a good hunch: before Sanchez even finished his program, he was getting job offers. Before learning about multimedia, he says, he saw storytelling through the lens of film.
"As I went to this program, I understood that you can tell stories in many different ways," he says. "A logo can tell a story; a design can tell a story. And you could create a story that would be interactive and nonlinear. That was something totally new."
"We are living in a different reality of how we watch television. I'm telling that story."
One of Sanchez's first projects after graduating was creating interactive CD-ROMs for music labels—including one for a new and then-unknown group called No Doubt. He'd design interactive components to pop up on the computer when the CD was inserted (in the case of No Doubt, it was the story of how the band formed). Then in the late '90s, he got a job as an interactive designer redoing the Disneyland website, which up to that point had essentially been a print brochure posted online.
The four years he spent at Disney would be some of the most formative of his career, and Sanchez credits his experience there with making him the leader he is today. It also taught him the importance of branding and creating brand recognition among customers, which he's taken with him to every job since.
"Clearly I was touched by the magic of Disney," he says.
After leaving Disney, Sanchez went on to become art director of Univision, where he won an Emmy for Best Art Direction of a TV Network—the first in the network's history in that category. Technology is part of the reason he won that award, he says: when he first arrived, he insisted on replacing all the outdated equipment with new Mac computers and hiring designers who knew how to use them, which put the network ahead of others in terms of innovation.
Technology also played a part in Sanchez's second Emmy, he says (for Best Promo in 2007). He was senior manager of creative services at DirecTV, which was suffering heavily from movie piracy. The company shifted its focus to live sports, which couldn't be pirated. Sanchez had to create the ad campaign, despite knowing nothing about sports. As it turned out, he says, his lack of knowledge gave him a fresh perspective on the subject. "My concept was that every time they did promos about sports, it needed to be all about testosterone. I was going to talk about emotions . . . What is the feeling of winning? What is the feeling of fighting?"
At TiVo, Sanchez is combining lessons learned over the course of his career; his responsibilities include not only design but also brand strategy. In leading his creative talent team, he says he seeks to hire people who are smarter than him and whose strengths are his weaknesses. Keeping up with ever-evolving technology is an ongoing challenge, but also one that Sanchez is well suited for.
"I've been at the edge of technology my entire professional life," he says. "It's easy for me to understand it; it's easy for me to translate that into design." He's especially excited to put that to work in his current role. "We are living in a different reality of how we watch television," he says. "I'm telling that story."
---
RELATED LINKS
https://hispanicexecutive.com/2019/franke-rodriguez-anomaly/
https://hispanicexecutive.com/2018/william-sevilla-twentieth-century-fox/