Growing up in Almansa, Spain, as the son of a farmer, Antonio Sanchez, president of Pacific Shoe Corporation dba Mezlan, envisioned a future where he embarked on new adventures and broke free of his small-town roots, but destiny had different plans. "At the time, Almansa was known for two things: the town's historic castle and the local shoe factory," Sanchez says. "In high school, I loved physics and wished to go to university to study physics, however, my family needed my help at home." With high school behind him, Sanchez began working for the shoe factory, Mezlan, at the age of 18, serving in various administrative positions. Twenty-eight years later, he owns the company and strives to continue the old-world craftsmanship he learned as a boy.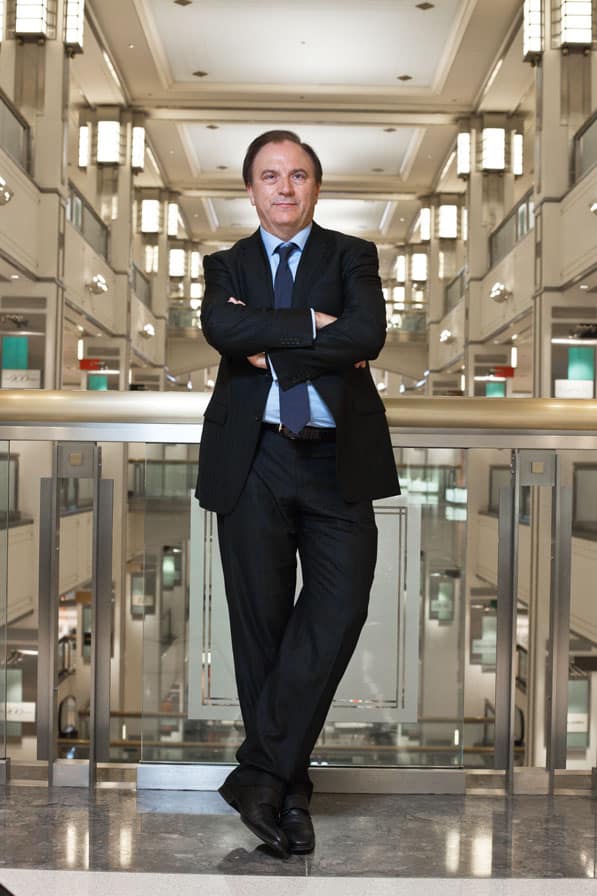 Sanchez's journey to president of Pacific Shoe Corporation started in 1985, when he traveled to New York City to introduce Mezlan's footwear to North America. He had been working with the company for nine years, but was ready for a new challenge. "One of my first goals was to organize visits to the 15 largest department stores in the country," Sanchez says. "Soon, I was setting up accounts at high-end retailers such as Neiman Marcus and Saks Fifth Avenue as well as the best independent shoe stores in larger cities like Philadelphia and Detroit. It was just me, traveling constantly. I was the North American sales team."
As he traveled from coast to coast, Sanchez learned the footwear business from the insiders and experts. "My customers respected that I was trying to build something," he says. "There was no reason for them to help me, but they could see how hard I was working, so they taught and guided me along the way. The experience was very motivating."
During his travels, Sanchez met his wife, Catherine, who would later become his partner in business as well as life. In 1990, the couple decided to form Pacific Shoe Corporation, the US distribution arm of Mezlan, in Huntington Beach, California. Over the years to follow, Mezlan was folded under Pacific Shoe, and became one of the company's luxury footwear brands.
"The Mezlan line focuses on the American male customer by offering old-world craftsmanship with a refined, up-to-date style and a dressier look," Sanchez says. "In contrast, our Bacco Bucci line is performance focused, casual footwear for men designed to provide unparalleled comfort and quality." The company also offers high-end leather accessories for men, such as leather jackets, wallets, belts, and bags.
Sanchez admits that the last several years have been tough for the company; however, he was surprised when the business began to bounce back from an unexpected place. "The Internet has been a game changer for us," he says. "Even through the recession, our web business was the best performing arm of our company. Currently, 30 percent of our total business is through web-based distributors and the Mezlan website, with Mezlan.com's sales growing 40 percent in the last year alone.
"When you are navigating rough waters, you have to give it everything you've got," Sanchez continues. "We had to reinvent the way we looked at business and do almost everything differently than we had before, but through the process, I found I gained a different perspective and maturity that gave me a renewed focus."
Under Sanchez's guidance, Pacific Shoe is expanding its lineup of Mezlan boutiques. The company currently has stores in Atlanta, Las Vegas, and North Bethesda, Maryland; boutiques in Washington, DC and on Michigan Avenue in Chicago were in the works at press time. "Through our boutiques, we offer superior service that's not available in the marketplace anymore," Sanchez says. "We wanted to bring a unique approach to shopping for men's footwear, so we created a men's shoe store with the right balance of dress, sport, accessories, and casual shoes supported by an experienced sales team that can serve the most demanding customer."
Today, Sanchez remains very hands-on and involved in all aspects of the business, from helping create the seasonal collections to traveling to Europe each month to spending time at the factory, which remains located in Almansa. "Shoes are like an addiction for me," he says. "Once it was in my veins, it was part of me—in my mind all the time. This doesn't seem like a business to me, which is good because I wouldn't do what I do if I did not love it."