Marta Carreira-Slabe has been a professional career woman for thirty years. The first chapter of her career began during the late 1980s as a television news reporter and then anchor for WCIA-TV in Central Illinois. She later decided to pursue the law, went back to school, and worked at a large Chicago law firm before landing in her current role as chief counsel for Aon's business in Latin America.
"Marta is an outstanding lawyer and manager," says Robert Ellis, a partner at law firm Kirkland & Ellis. "She treats Aon's outside counsel as true partners, and she values our contributions. Kirkland is honored to have the opportunity to collaborate with Marta and her team."
In early 2018, after an Aon regional business meeting, several women approached Carreira-Slabe to compliment her on her composure during a presentation. For Carreira-Slabe, the feedback from female colleagues was the nudge she needed to leverage her experience and position to help other women at Aon, no matter where they are in their careers. So, earlier this year, she led the launch of the Aon Women's International Network (WIN) chapter for Latin America.
Aon established the WIN business-resource group ten years ago to foster women's professional growth, aid women in their career advancements, and work as a benefit to clients by sharing innovative ideas. There are eighteen chapters in North America and another launching in Poland.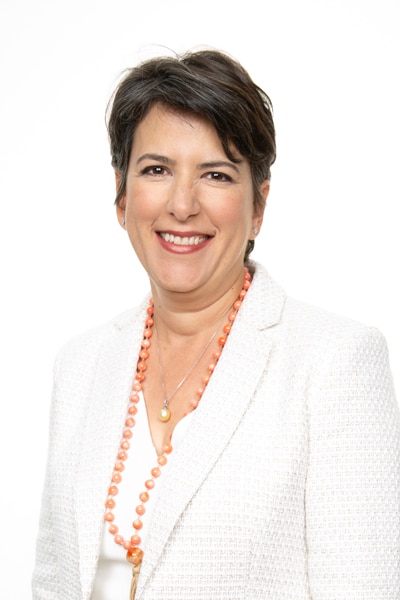 Aon's WIN chapter for Latin America is initially focusing on Mexico and Brazil, where there are significant employee populations. Aon senior executive sponsorship has partnered with Carreira-Slabe to provide the women of Latin America a platform to grow professionally and develop friendships with each other, clients, and with their business colleagues. "The network in Latin America has developed so quickly based on the demand we see for this type of support firsthand," she says. "The partnership with our human resources colleagues has also been critical to ensure this becomes a part of our culture and what we do on a day to day basis." Carreira-Slabe would also love for the initiative in Latin America to further build community with Hispanic colleagues in North America to reveal and leverage the power of women in the Americas.
During a 2018 trip to Mexico, Carreira-Slabe heard promising young women call for more help in building their confidence and connections. She found that many of her female colleagues want to listen to successful stories from other women at every level of the business and learn from their experiences, whether those are successes or mistakes. She also discovered that these women desired to have their accomplishments better recognized. Additionally, many women said they'd like coordinated events to connect with clients and similar WIN chapters at the national and regional level.
All of this, Carreira-Slabe says, is key to WIN's success. The purpose of WIN, after all, is to allow women to take time to reflect and focus on how to improve their careers. "We're so busy with our careers and our families that we don't always hit the pause button," Carreira-Slabe says. "I strongly believe in the power of women to address challenges. It feels good to help and to share experiences, as a mentor once did for me, so we can overcome those things that keep us from achieving our full potential."
Carreira-Slabe is also an advocate of the need for flexible work schedules. She says this is usually seen as a women's issue but  it's really a gender-neutral issue. "Men are also caregivers for children or aging parents," Carreira-Slabe says. "For instance, a male colleague in Mexico requested flexibility because he must drive his daughter to the nursery in the mornings."
This ties in to the ever-growing, universal discussion of diversity and inclusion across corporations. "Any company that is going to succeed has to embrace diversity and inclusion," Carreira-Slabe says. "That is the path to allowing colleagues to actually be themselves and feel more comfortable coming to work, which then sparks innovation and creative thought that leads to better problem-solving for our clients."
At Aon this year, the top two hundred leaders, which includes Carreira-Slabe, incorporated D&I objectives into their annual goals. "We will be a more productive and innovative firm because we foster diversity in an open environment," Carreira-Slabe says.
The first step to accomplishing these objectives, she says, is to talk about them meaningfully. "The D&I conversation needs to take place as an on-going debate because it is an on-going cultural change for any company," Carreira-Slabe says. Aon has launched unconscious bias training for management, which seeks to address implicit biases in human interactions and how they influence behavior and the decision-making process. For example, recognizing cultural behaviors are important. Aon's second strategy in creating an inclusive work environment is in its annual, global colleague survey that is distributed to its fifty thousand employees. "Our managers take the feedback seriously," she says, "and will track progress to ensure we're moving the needle."
From WIN to D&I, this all adds up to Carreira-Slabe's goals as a global leader and making Aon a place that supports and celebrates its employees.
Executive Insights
As a champion and advocate for others, Marta Carreira-Slabe shares six insights that she has gained throughout her career that anyone, at any level, can utilize to prosper and get ahead.
Believe in Yourself, and Be Yourself
"This is where confidence comes from and is really important in career development. When I have done very well and hit it out of the ball park, I was comfortable being myself and I wasn't pretending to be someone else's perception of me.
Take Risks
"I have grown the most professionally when I took a risk, stretched myself outside of my comfort zone, and allowed myself not to be entirely perfect."
Network
"Find out who your fans are. Nurture your fan base and network with people that want to promote you and believe in you."
Be Strategic
"Write down the top three things you must accomplish today, and do it well. Don't get lost in the day-to-day emails and phone calls, which can lead to low-value tasks, draining limited resources, and time. Understand and prioritize what is key to your career and development."
Be in the Moment
"Concentrate on one thing at a time, and if you can't be in the moment, be human enough to recognize that and try again another time."
Take Stock
"Recognize your own achievements. This allows you to recharge your batteries and celebrate who you are as a woman."