"Encouraging Latinas and women in STEM is part of my DNA," says Mariely Bandas-Franzetti, vice president of global services at Dell. "I think it's my duty. I want to help and give back like others did for me."
Bandas-Franzetti's interest in STEM was sparked when she was a little girl, living in Puerto Rico, watching her father almost every Sunday take apart his 1968 red Camaro. While putting the classic back together, he would explain to his youngest daughter the technical logic of how machinery works.
"I have great memories of working with my dad," she says. "He was very concise and intuitive and, in his simple way, he explained how things work together."
The father of three was born and raised on the island and sacrificed a lot to put himself through college to become a mechanical engineer. He continuously taught his daughters, she says, to focus on their education, self-reliance, and independence, and he ensured that they received an education so they could be independent on their future journeys.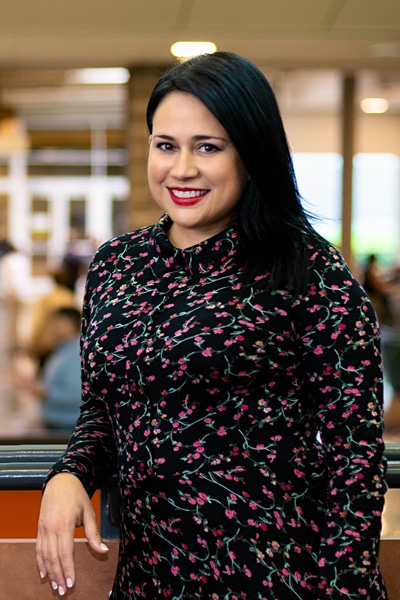 At the age of twenty-one, after graduating from Universidad de Puerto Rico in 1996, Bandas-Franzetti put her degree in industrial engineering to use by relocating to Austin, Texas, for a job opportunity with IBM. "I moved alone and didn't know anyone," she says. "I made that decision just for experience." Initially, her plan was to work in the United States for just two years.
After IBM, in 1997, Bandas-Franzetti started her journey at Dell by leading a variety of manufacturing engineering and supply chain transformation initiatives. She has since grown and flourished as a successful career woman in IT. At Dell, many leaders fully embraced her and mentored her from the very beginning. "Right after meetings, they gave me feedback, including sit at the main table, wait for someone to finish the question before you start answering, and don't switch to Spanish," she says, chuckling at the memory. "They really taught me the power of having open communication with your team, empowering others, creating accountability, and being courageous and humble."
One mentor in particular taught her the biggest lesson that she'd ever encounter—a lesson that would push her out of her comfort zone and help lead her to her current role: vice president of global services under the Dell Digital organization. "She told me, 'I need to ensure you're ready to change to a new job area where you're not the subject-matter expert; your next development opportunity is to manage an organization that is global in scope, requires team development and is in an area where you are not established as an expert," Bandas-Franzetti says. That eye-opening, development opportunity helped her focus and develop the people skills needed to oversee an executive team. "That was my biggest experience: having a leader see potential in me for the next challenge—or challenging me to get out of my comfort zone" she says.
In her role, Bandas-Franzetti oversees a global team of professionals that support development, deployment, and sustainment of IT solutions. Her responsibilities are to work closely with Dell's internal business partners to drive business transformation and innovation to more efficiently and effectively serve Dell Technologies' customers. 
"I believe STEM careers are great for anyone who is creative, likes problem-solving, is interested in technology, and wants to innovate and be part of something that helps the world," she says. "That is at the core of what we do here at Dell."
To promote STEM within Latinas and women altogether, Bandas-Franzetti does a lot of championing internally and externally with Dell's employee resource groups (ERGs). With the Latino Connection ERG, she is helping to build the pipeline for external leadership engagement with the Hispanic Association of Corporate Responsibility (HACR) and is involved with HACR's Young Hispanic Corporate Achievers Program. With Latinos in Tech, Dell brings in synergies from across many ERGs in the Austin area to drive common Latinos development initiatives. Bandas-Franzetti also partakes in recruiting events with the Society of Hispanic Professional Engineers. Her mission to help others doesn't stop there, though.
This year, Bandas-Franzetti created and launched a new program called Women in Leadership, which is designed for Dell's female employees. The yearlong program hosts workshops and lectures with the key purpose of inspiring, encouraging, and supporting women to reach their full potential. "I'm very passionate in helping females identify unconscious mistakes that may impact their career development and how to avoid career pitfalls overtime," she says. In 2019, the first thirty employee participants will be graduating from the program, which kicked off in Brazil and is expanding to other Dell Digital locations.
Moreover, Bandas-Franzetti encourages women to pursue careers in STEM regardless of any circumstance. In fact, she hopes that women will not see a career in STEM as a limitation for motherhood. "I haven't had a single challenge since having my son that I felt like my career was in jeopardy," she says about mothering her now teenage son. When her son was three years old, Dell provided Bandas-Franzetti with the opportunity to pursue her master's in engineering at the Georgia Institute of Technology. "There are a lot of opportunities," she says. "I have found that if you deliver results, always pursue the best interest of the company, and build purpose-driven relationships, then you'll find mentors and sponsors that will reciprocate your effort with an investment in you."
As another driver to seek women talent, Dell recently launched the ReStart Program. The program is a STEM Re-Entry Task Force initiative led by the Society of Women Engineers (SWE) and iRelaunch to increase the number of women in the STEM industry by providing support to those returning from a career break because of personal or family reasons. Dell is a member company and will be hiring under this program.
When reflecting on her two decades with Dell, Bandas-Franzetti sees a company with talented people, a noble mission, and a well-founded strategy.
When you couple this level of talent with clear direction, you get a driven and focused culture that makes Dell a very rewarding place to work," she says. "Dell is extremely inclusive and global, and we are a melting pot of different people all striving for a common goal—winning results for our customers and partners. It's key for me to work for a company that sees diversity and inclusion as a business lever critical to the sustainability of a successful global organization, and I love Dell's purpose of creating technology that drives human progress. I think it's very simple and a very powerful reason that is absolutely aligned with my personal and professional values."
High (Tech) Honors
Mariely Bandas-Franzetti is a three-time recipient of the Hispanic IT Executive Council (HITEC) Top 100 award: 2017, 2018, and 2019.
"It's an honor to share the award with amazing leaders in this industry," she says. "I think of how much more we can help and raise awareness on our Hispanic talent. It's really humbling to see the names on this list and the platform that they provide to drive career development, expertise in technology trends and expose to a technology community."