When Maribel S. Medina was a young girl living in Mexico, her mother immigrated to the US to toil in the fields of Northern California as a migrant worker.
"We actually had a little different story than most immigrant families," says Medina, general counsel at Los Angeles Community College District (LACCD). A "very humanitarian immigration policy" allowed Medina, her sister, and her father to eventually emigrate from Mexico to the US, uniting the family. Her father, who drove commercial buses in Mexico, found work in a Watsonville cannery, and became active in the Teamsters Union.
Working in the fields and on trucks, both her parents were exposed to oppressive heat and bone-chilling cold. Though they knew little about higher education, they did know they wanted better for their daughters.
"My father would say, 'I want my children to study hard . . . I don't want you guys out in the sun. I want you to be in an environment where there's air conditioning when it's 100 degrees outside and there's heat when it's 10 degrees outside. I don't want my kids in the fields,'" Medina recalls.
She escaped her parents' plight by enrolling in a cosmetology school. "I was on track to complete my course and take the exam. My father was going to help me open a salon," Medina says. But fate intervened. The cannery at which her father worked reduced wages and employee benefits. Her father and mother, who was also working at the cannery, went on strike in the mid 1980s.
Picketing with her parents, Medina, who was one of a few multilingual strikers, served as an unofficial translator and began organizing students. Teachers, principals, and community leaders would come up to her an encourage her to abandon cosmetology and attend UC Berkeley.
Reluctant at first—feeling she was abandoning her parents, who at the time were earning a combined weekly income of $110—Medina enrolled in a joint program between Harvard and Berkley, earning a master's in public administration and a JD.
With memories of picketing fresh in her mind, Medina hoped to practice labor, immigration, or civil rights law. "I wanted to do something that was really going to help my community," she says. Instead, she found herself on Wall Street but was eventually introduced to an area of law representing public entities and school districts.
Medina joined LACCD in 2022, just as it proposed a bond referendum seeking to build student and workforce housing for homeless and home insecure students, DACA Dreamers, and individuals who had aged out of foster care. "The community college system is a flagship for some of our most vulnerable population. Providing them a support network so they can get an education, to me has been one of the most exciting aspects of the work that I'm doing right now," Medina says.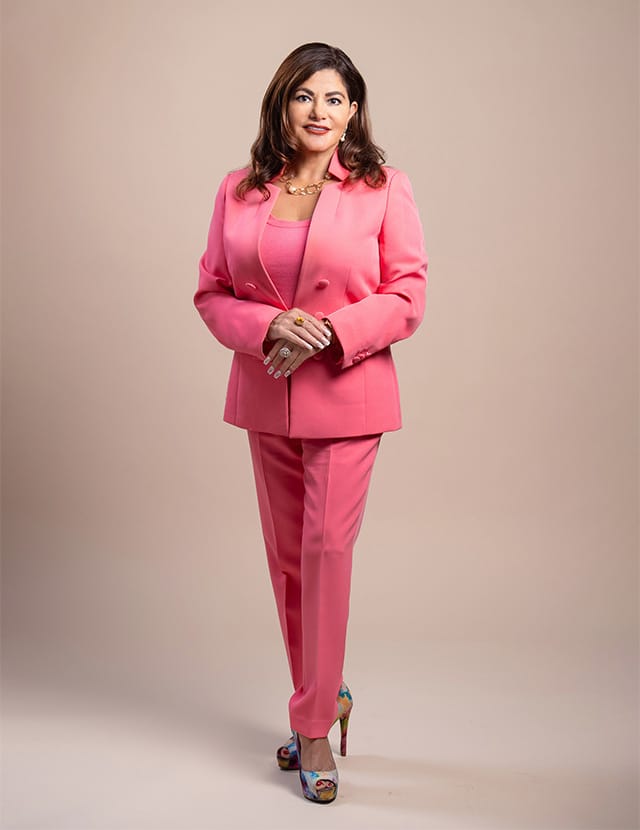 Taxpayers approved the bond, making $500 million available for the district's housing efforts. Currently the district is in the middle of a $14 billion construction program, which Medina is active in providing legal advice.
Before coming to LACCD, Medina served as lead counsel for the Los Angeles Unified School District (LAUSD). "At the time I served as the board's lead counsel, LAUSD had just begun a school construction project. It was $14 million. Everyone thought that was such a huge amount. Now, I'm dealing with $14 billion," Medina says. In that role she dealt with procurement laws, bond reporting, and the "phenomenon" of condemnation and imminent domain. She also served as general counsel for the San Francisco Unified School District for a time.
When fully staffed, Medina's team comprises five in-house lawyers and a support staff overseeing nine community colleges, which requires a deep bench of outside counsel. "I like to model a strong work ethic, high-quality lawyering, and working collaboratively," Medina says.
This year she's analyzing the most common cases brought against LACCD to mitigate frequency. "If I identify that 20 to 30 percent of our lawsuits are sexual harassment lawsuits, I do the data driven lawyering and ask, are they coming from a particular site? Is there any consistency in the allegations?" Medina says.
Medina, who admits she experienced a bout of imposter syndrome early in her career and sometimes still feels compelled to defend her ability to hold her current position, uses the phrase "Cinderella story" when describing her journey from a labor camp to general counsel of the nation's largest community college district.
"I feel very lucky because there are still not many Latinas in these positions, in the seat of top legal advisors," she says. "As a society, we have a lot of work to do in accepting and respecting that a Latina can serve as the general counsel of an institution of this size."
---
For over four decades, Atkinson, Andelson, Loya, Ruud & Romo (AALRR) has led in effectively representing California's educational institutions and providing trusted and strategic legal advice on the diverse and complex matters its clients must address on a daily basis. With a keen understanding of and laser focus on the distinctive issues faced by educational institutions, AALRR's expertise encompasses litigation, governance, labor relations, facilities management, Title IX advice and counsel, investigative services, and training. Representing more than 450 educational entities, AALRR is proud to partner with the Los Angeles Community College District and its General Counsel Maribel S. Medina, a pioneering and extraordinary leader in the legal profession, whose commitment to the LACCD community, educational equity, and public service is unmatched.
---
Meyers Nave congratulates Maribel Medina and the entire Los Angeles Community College District (LACCD) team on this well-deserved recognition. We are proud to serve as legal counsel to LACCD and partner with Maribel to find innovative solutions for a range of the District's complex legal issues. As the largest community college district in California, serving over 200,000 students, with a core mission to provide equitable and supportive learning environments throughout the LACCD's nine campuses, Meyers Nave is honored to work with Maribel and serve LACCD.