Though all of his childhood friends may be retired, Joseph E. Montoya, a top franchisee in the McDonald's corporation, shows no signs of slowing down. "If I come across more opportunities to own restaurants, I'll jump," says the franchisee, who successfully runs five stores in Maryland, Virginia, and Washington, DC. Though he celebrates more than 20 years as owner/operator at McDonald's, Montoya recalls first connecting with the fast-food giant in the mid-1960s. At the time, Montoya's real-estate connections in New Mexico attracted the McDonald's brand, which was having difficulty implementing new restaurants in that region. After Montoya provided consultation services, McDonald's executives encouraged Montoya to become an owner/operator. His first store in New Mexico surpassed expectations, but personal circumstances prompted Montoya to relocate to Washington, DC, in late 1997. Over the next three years, he opened four more locations that continue to thrive today.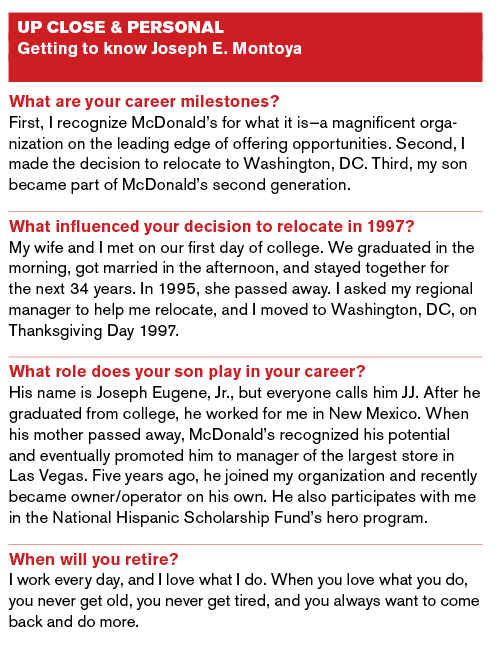 1. Comprehensive Training
"Success starts with the selection of people," explains Montoya, who personally hires and trains each manager in each restaurant that he oversees. "I've always had an aggressive outreach for good people who are inquisitive and looking for challenge. Being able to channel that energy has made me successful." McDonald's has a well-orchestrated training program that starts with in-store trainings, continues with outside classes, and finally culminates with the completion of a degree from Hamburger University, McDonald's worldwide management-training center located in Oak Brook, Illinois. While a student at the renowned university, Montoya received the Archie award as the top student in his class.
2.  Community Engagement
In the face of diversity and adversity, Montoya has been able to increase sales and profits by engaging the community. "My philosophy is that each store's employees should reflect the local population," he says. "In each restaurant that I own, the first step was to examine the makeup of the surrounding community and then reach out to schools, churches, and employment institutions to attract employees that are good for McDonald's and good for our neighborhoods."
Following the mantra of McDonald's founder—Ray Kroc—Montoya is committed to giving back to the community. He also works directly with the Hispanic population, specifically. He serves as a Hispanic "hero" for the National Hispanic Scholarship Fund, giving scholarship advice to high school graduates during daylong seminars. Montoya also has endowed in perpetuity a scholarship in his wife's name to Highlands University in Las Vegas, New Mexico, where he completed his education. Each year, the scholarship is granted to one graduate from his high school alma mater—West Las Vegas High School.
 3. Employee Longevity
Rather than losing talent and energy, Montoya explains he likes to build upon both. "The first employee that I hired in Washington, DC, is now the store manager of one of my most successful restaurants, and I've never lost a store manager since I've been a McDonald's operator," he says. "That is testimony to the initiative that you're only as good as your people." Montoya cites one particular employee, Marvin Ebraca, who stands out as a success story. Ebraca first joined McDonald's more than 10 years ago as a teenage-crew person. Today, he manages Montoya's highest-volume McDonald's in Maryland and recently served as a judge in McDonald's' singing contest in Washington, DC. "His wife works for us, and when his children are older they'll probably work for us too," Montoya says. "I'm very proud of him."
Relying on the standards that Kroc set for McDonald's, Montoya injects his own creative energy into the organization's tried-and-true formula for success. "That's what I've done for the entire 20 years that I've been with McDonald's," he says. "It's been a wonderful ride."