While growing up in Armenia, Colombia, a mountain town nested 4,856 feet above sea level in Eje Cafetero (the Colombian Coffee Triangle), Luis Ceballos looked up to a role model that topped all others. His father, who dedicated part of his career to practicing law, always offered consejitos (little pieces of advice) that Ceballos followed to a tee. His father reminded him to do the right thing and make the most of each opportunity.

"One of the biggest lessons that I learned from him was just don't take anything for granted and always act with integrity," Ceballos says. "Just be hungry, humble, and fight for each opportunity and try to do the best every time."
Fast-forward to the present, and Ceballos still honors his father's legacy. Not only did he become a corporate lawyer but he also joined PwC as its legal lead procurement director in 2022. He brings nearly two decades of in-house experience and legal expertise to the consulting and accounting firm, where he manages a group of licensed attorneys.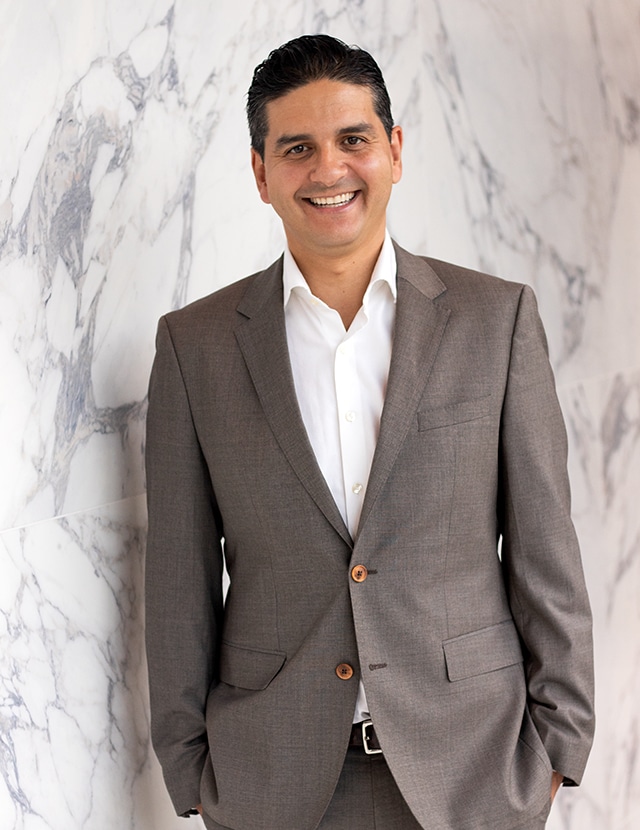 "Of course, even in my experience, I would be pretty much framed as a pharma attorney, but I think I've been in different industries," Ceballos says. "My unique background, being from Colombia, and my legal training as a Colombian and US attorney, made me an attorney who can work in different industries."
On top of starting his career as a legal counsel at Inmobiliaria e Inversiones Los Andes in Bogota, Colombia, Ceballos earned law degrees from Universidad del Rosario (LLB), Washington University in St. Louis (JD), and Duke University (LLM). He landed his first US-based opportunity as a corporate legal counsel with Centurion Cargo Airlines in 2012.
Then he arrived at Bristol-Myers Squibb (BMS) in 2014 as a secondee attorney working with Axiom Law. Within two years of supporting BMS markets in Latin America, he joined BMS to support the global product development and supply (GPS) business unit and shortly after got promoted to chief legal counsel for its global supply chain and facilities and engineering teams.

Ceballos discovered his knack for leadership while leading and working with teams of corporate attorneys. Whether he supported the pharmaceutical firm in some aspects of its mergers and acquisitions or directly supported its global response to COVID, they counted on him to negotiate when the stakes were high. Just consider how he left his mark on BMS' manufacturing division by ensuring its lifesaving medicines were properly manufactured and reached patients on time even in the midst of the pandemic.

"As a member of the law department, along with my colleagues, we were able to support the business not only as legal but also as business partners to maintain supply chain and manufacturing continuity," Ceballos says. "As part of [the team] supporting the manufacturing division, I was able to work on the divestiture of some of our manufacturing sites and the necessary supply agreements to guarantee that our products continued to be manufactured on these sites, temporarily, while we were able to transfer our products to another BMS site or to contract manufacturing organizations."
Still, even if Ceballos thrives in his career, he knows what it's like to navigate workplaces where Latino talent is underrepresented. He would love to see more employers and universities promote diversity and inclusion by hiring more early-career Latinos.

"I think it starts from giving opportunities for people getting into college admissions," Ceballos says. "Just continue trying to give the opportunity to more diverse candidates who are qualified." Ceballos also explains why businesses stand to win if they hire diverse talent.
"There are several analyses and studies that conclude that the most diverse corporations are the ones that tend to succeed the most, because you get ideas from people with diverse backgrounds," Ceballos says. "It's just getting all the best [talent] from a diverse team (not limited to gender, racial, or ethnic diversity—diversity has multiple forms). That's what they need to do."
When push comes to shove, Ceballos just gets it: diverse companies operate with 2.5 times higher cash flow per employee. However, no matter how far Ceballos is from Colombia, he takes pride in his Latinidad. Like many Latinos who move to the US and start a family, he embraces the challenge of preserving his culture for generations to come. He and his wife speak Spanish at home for their kids. And they encourage them to celebrate who they are.

"I'm trying to teach them, of course, my culture and our culture," Ceballos says. "Even though my wife is Spanish, we have a mixture of Spanish with Colombian culture."
Oh, and by that? He means their entire identity:

"They're part Latino and part Spanish with Chinese blood," Ceballos says of his children. "So that's the mix; they need to be very proud of that. They need to show it, and when you're confident and proud of who you are and where you come from, people from other backgrounds and cultures accept it and that's, in my opinion, really cool."