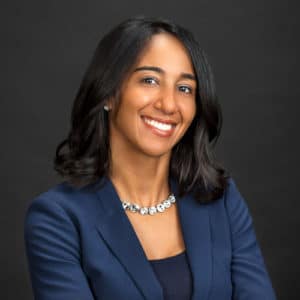 Getting from the classroom to the executive suite wasn't a direct path for Samantha Santiago, director of strategy and continuous improvement for insurance giant Liberty Mutual.
Growing up, education was not her top priority. When applying to colleges, her counselor told her that she may have a hard time getting accepted, but they explored opportunities at local colleges that highlighted her strengths.
"It was at the moment my guidance counselor told me that I likely wouldn't get in that I realized I actually wanted to go to college," she recalls. "I also realized that if I did, I would be the first person in my immediate family to get a college degree."
She applied to three state colleges. Two rejected her, but the office of multicultural affairs at the third, Worcester State, called her and told her there was a way.
They recognized her potential and accepted her as a new freshman. They asked that she complete a six-week program that had been set up to assist minority students; Santiago's parents met in New York, and her grandparents are of  Puerto Rican and Mexican descent. The program—which consisted of algebra, writing, sociology, and peer-to-peer mentoring—also required that she stay in a dorm for the term of the course.
Coming from her insular family environment, it was a "huge change," Santiago says. "It was a real turning point, being the center of an amazing multicultural community of first-generation college students. And what I found out is that I thrive in environments that challenge me to change and grow."
And grow she did. After graduating with a degree in business administration, Santiago went on to work at Fortune 500 companies, including Staples, Toyota, and Hyundai. She moved quickly up from administrative assistant to senior analyst at Staples, and was trained in the lean process, earning her Lean Six Sigma Black Belt certification.
At Toyota, Santiago learned the Toyota Way, facilitated training courses in Kaizen and worked across silos on several process optimization projects. At Hyundai, she was a manager of quality assurance, until she joined Liberty in 2014. Immediately, she says, it felt like home.
"From my first interview, I saw that diversity was valued at Liberty," she says. "As woman, Latina, part of the LGBT community, and a new mom, I found a company that supported all aspects of who I am."
At Liberty, Santiago is charged with developing and driving strategic initiatives to improve loss outcomes and customer experience within the commercial insurance claims department.
"I challenge myself and my team to always put our customers at the center of everything we do by helping them recover from the unexpected," she says. "Making our processes easier for our customers is some of the most important work we can do."
Inside the company, Santiago has lent her efforts to growing the diversity and inclusion program. Liberty has six employee resource groups (ERGs) focusing on employees of African descent; Asian Americans; Latino/Hispanics; LGBT; military and veterans; and women and allies. Anyone can join these ERGs—allies are a critical component.
"Diversity here considered broadly, while including the traditional ideas of difference like race or gender," she says. "We recognize that people are multidimensional, and it's the intersecting of these various dimensions that makes us who we are."
As part of the Amigos@Liberty Leadership Team, the ERG dedicated to the Latino community and allies, Santiago helps plan and execute the annual strategic plan to support careers and community. She says that because of her own experience, she understands how important networking opportunities are for Hispanics and Latinos to develop their careers, and continues to take on more responsibility within the group.
Beyond her work family at Liberty, Santiago still keeps a close relationship with her parents, calling them every day. She says her parents and her sister, who she calls "a second mother" were, and continue to be, the greatest influence on her life and her success.
"They support and encourage me to be who I am and not apologize," she says.
Santiago has traveled a long way from home, but it's apparent that home has never left her.