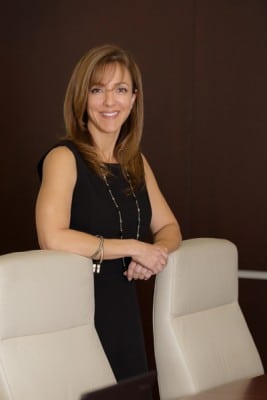 That Joanna Iglesias' home state of Florida, the "Sunshine State," ranks 14th in total installed solar capacity—lower than Massachusetts, New Jersey, New York, Connecticut, Oregon, Colorado, California, and even Minnesota—tells you a great deal about what she faces every day as general counsel of
SunStreet Energy Group. The firm is a division of national homebuilding company Lennar.
The business of installing rooftop solar might be more widespread nationally than it once was, but it's not simple. Every state has its own set of rules, regulations, and rates that keep Iglesias and her team of attorneys busy as Lennar expands SunStreet's reach across the country.
"Florida is a perfect example of how we work within a regulated environment," says Iglesias, a graduate of the University of Florida and Columbia Law School. "There is a lot of opportunity here."
No rules forbid putting photovoltaic (PV) cells on Florida roofs, but unlike some states such as California and Massachusetts, Florida lacks tax and rebate incentives that can reduce the upfront costs. The state does not allow net metering, in which utilities buy unused solar energy produced on a homeowner's rooftop. Additionally, Florida currently prohibits citizens from using power purchase agreements (PPAs), which allow companies to install and own the PVs on residential rooftops, selling the energy at a low rate to the home's owner/occupants. The current law allows only regulated utilities to buy and sell power.
"As general counsel, it's my responsibility to expand into more territory," she says, speaking as much as an environmental evangelist as a businessperson. Leveraging her knowledge of the law, Iglesias and her team devise programs that comply with myriad—and sometimes conflicting—regulations to deliver programs that bring clean, affordable solar energy to middle-income homebuyers.
Things are looking brighter in Florida. SunStreet and Lennar are working to introduce a residential solar program that adheres to Florida's regulatory framework. "We're not there yet, but we are optimistic," she says.
Since it was launched in 2013, SunStreet Energy has built a substantial solar business in other states coast to coast, and was recognized by the Wall Street Journal and the New York Times for its novel approach to bringing affordable solar to the masses. That program includes rooftop solar systems as a standard feature—not an upgrade or an extra—on every home in Lennar's SunStreet communities.
Iglesias oversees regulatory compliance, as well as all other legal affairs typically managed by companies' general counsel: corporate governance, customer and vendor transactions, strategic alliances, risk management, and litigation. After a 17-year stretch in law firms, she says her responsibilities with SunStreet go beyond the practice of law.
Greater regulatory leeway for solar sellers, installers, and owners means more business for the company and its category competitors. But also it means fewer greenhouse gases and lower energy bills overall for owners, as well as jobs on American soil. Iglesias explains that when a state or municipality is friendly to any type of renewable energy technology, the economies of scale kick in because the work and product delivery are clustered in a specific
geographical area.
What's remarkable for solar as well as wind energy is that both continued growing nationwide while fossil fuel prices tumbled in 2015. New capacity for both forms of renewable energy have had year-upon-year record growth and are projected to continue on that pace through at least 2016.
This is aided in part by renewal of the US production tax credit and executive orders from the Obama administration to require states to reduce power plant emissions—known as the Clean Power Plan. Wind and solar energy cumulatively account for about 6 percent of US electricity generation, with 7 gigawatts of capacity installed nationwide, as of 2015.
Improving technologies have stimulated growth as well. SunStreet has to install the latest technologies to meet Lennar performance goals. This includes remote monitoring systems and micro inverter technologies that increase energy production efficiencies by up to 20 percent.
Note that Lennar predominantly builds mid-price residences, which effectively brings solar to middle-class buyers. "It's automatically part of your home," Iglesias says. "We want to make this technology available to more people." The company manages installation and permitting details while streamlining the process of obtaining rebates and tax credits—requirements that would flummox some homeowners.
Those homeowners, depending on where they live, have a number of ways to pay for their solar installations. They can buy it outright, lease the equipment, or use a PPA. The rules vary by state, and in some cases those rules are changing as increased solar installations begin to affect the traditional economics of energy production and distribution. The whole business of generating energy from one's own rooftop—cutting traditional suppliers (utility companies and their fossil fuel providers) out of the process—is disruptive; Iglesias helps SunStreet navigate this changing and challenging legal landscape.
Iglesias is not alone in this task. She and SunStreet work with the solar industry's leading trade group—the Solar Energy Industries Association—to "explore opportunities to get solar everywhere," she says. "We can modify and adjust [SunStreet products and purchasing arrangements], and work to change the rules."
And while this complicated business of increasing the deployment of renewable energy may sound bureaucratic and, at times, contentious, Iglesias has no trouble mustering a sunny optimism. It comes from her children, she says, who stand to benefit most from a cleaner, lower-carbon world. In the four years since she assumed her position at SunStreet, "they actually understand my work now," she says.