She has often been called upon to share her story.  She is a survivor of domestic violence who became a single mother at age sixteen. She's also assistant general counsel at Fortune 500 company Leidos. All of these facets are equally important to the narrative of Aurelia Flores's success and the impression she leaves on fellow Latinas who hear it.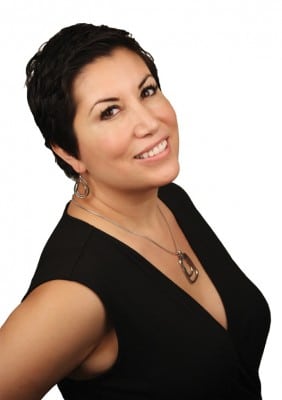 Flores believes the human mind works through storytelling and that people identify themselves in the stories of others. When she wanted more Latinas to tell their stories, she launched the website Powerful Latinas. Online, she hosts interviews with a wide variety of women, allowing each to tell her story and open up about issues sometimes considered taboo. By opening up about topics such as money, career paths, and family, she's hoping that her site's readers will be inspired by ways to create better lives for themselves.
"We're more likely to discuss intimate details of our sex lives than to share our credit score or how much we made last year." Flores says. "Women are still scared to negotiate for a higher salary or discuss having more time to spend with their families, and we should be able to do that as straightforwardly as men."
Flores went to law school because she wanted to make a difference. She traveled to Mexico City on a Fulbright fellowship and saw how organizations brought change through social education and entrepreneurship. Her degree helped her work her way up in intellectual property and business law at the law firm Luce Forward through the dot-com boom and bust, but it was not her only asset. She had to combine education and experience to conceive Powerful Latinas and share her message. "As you get older, you get more of a perspective on what is possible and how change really happens," Flores says. "You need more than just one tool in your toolbox. Going to law school and being a lawyer is just one of my tools."
Flores is writing a book that aims to inspire and inform Latinas on how to start focusing on building wealth, not just for themselves, but for the strength of the country as a whole. She wants to help as many people share their stories as possible, so that young people can learn from the paths others have taken before them, an opportunity she didn't have when she was younger.
"A lot of young women who aren't from wealthy backgrounds don't have the chance to explore the whole world of careers, and what they know about being a lawyer is from what they see on TV," Flores says. "If being a lawyer is your calling, absolutely, you should go to law school and do it. But there are lots of different roads to success in this day and age."
At Leidos, Flores is a part of creating change every day. Her favorite part of her job is collaborating with smart people who are constantly inventing new technologies from health analytics to biomedical research. Flores helps them by protecting the intellectual property (IP) of their new products and answering questions about IP law. She's even starting an initiative to help Leidos employees learn more about how IP impacts their everyday work lives.
"These are all incredibly bright people, but sometimes the law is counterintuitive," Flores says. "Intellectual property law is different than most people would think, but at Leidos, it's an important part of our daily lives."
The achievement of her life that Flores says trumps all others has been raising a smart, successful son who, now 27, graduated from Georgetown and works in IT. "I know that parents are just a small part of a child's success," she says, "but I'm very proud to have played a part."