Admittedly still a young community, Latino entrepreneurs in Charlotte, North Carolina, have big plans for the future—with the help of the Latin American Chamber of Commerce Charlotte (LACCC), a chamber unlike others, with a focus not just on networking, but also on mentoring and development.
In 1995, Astrid Chirinos was part of a group of Latino professionals and entrepreneurs in Charlotte, North Carolina, who began La Americas Business Council through the Charlotte Chamber of Commerce. At that point, there were only 10,000 Latinos in the area. Soon, the Latino population in the area would explode, validating Chirinos's foresight in knowing that an organization geared towards Latino business owners needed a larger infrastructure to deepen the access, opportunities, and networking possibilities made available to them. In 2001, the council became the Latin American Chamber of Commerce Charlotte (LACCC), and with more than 400 members and 100,000 Latinos in the city, the organization is growing every year.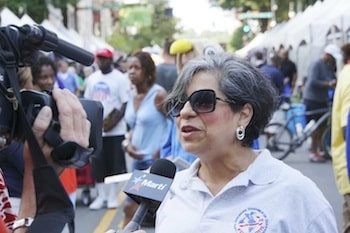 "In North Carolina, we're still young in comparison to other chambers in areas with more mature Hispanic heritages, such as in Texas, California, Florida, and Nevada. There's still a lot of work ahead for us because we're building the infrastructure to support Latino entrepreneurs," Chirinos says. "After the economic downturn, the net worth of many Latinos was eroded, so we've done a lot of repositioning and retooling for the next chapter in our journey."
Many chambers focus primarily on providing their members with networking opportunities, but as LACCC's executive director, Chirinos has taken a decidedly different approach, placing emphasis on mentoring, leadership development, and developing the skills needed to accelerate and navigate the new economic landscape. Essentially, Chirinos wants LACCC to act as a hub that engages the Latino business community and provides them with the resources and knowledge they need to succeed, including a comprehensive platform featuring programs such as English and Acculturation for Entrepreneurs, How to Design or Revise a Business Plan, Access to Capital, and Legal and Immigration Matters.
"Our members have to make a very interesting adjustment," Chirinos says. "Understanding how to do business in the United States can be difficult because things are very informal where many of us come from. Here, it's easy to start a business, but very difficult to maintain one. In our countries, it's difficult to start a business, but they're easy to maintain. We want to guide our members through all of these adjustments, large and small, and provide them with all of the tools they need to be successful entrepreneurs in the United States.