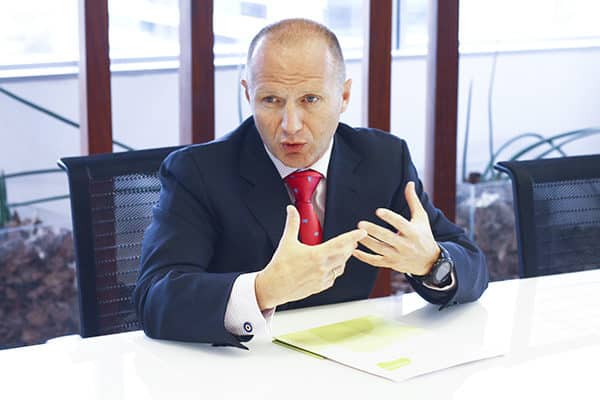 Juan Francisco Yáñez Rodriguez has spent the last twenty-one years working for everis. Now, as the company's regional CEO of the Americas, he wouldn't dream of doing anything else.
"What makes everis extraordinary, as my friend and mentor Benito Vazquez would put it, is that it has gente buena and buena gente," he says. "It sounds naïve, but it's in fact a profound statement. The skilled, hardworking, knowledgeable, and essentially good people that work at everis are our best asset."
Born and raised in Madrid, Spain, Yáñez received a degree in electrical electronics and automatic regulation from the Universidad Politécnica. He worked in Tabacalera SA (former Fábrica de Tabacos de España) and then at Coritel as an IT system analyst. He joined everis (DMR Consulting at the time) in 1997 as a banking and telecom manager. "I started at the bottom of the pyramid," he says. "This allowed me have a first-hand experience with the company's development."
In 2004, he moved to Chile, where he would spend the next five years—a period that marked his personal and professional life. "My wife Silvia and I moved to Santiago when we had just gotten married," he says. "That was practically our honeymoon. Our son Fernando was born there. It was in Chile where I was promoted to managing director and later became a partner of the company."
After returning to Spain, Yáñez became the managing director of everis Madrid and, eventually, the company's chief operating officer.
"In that capacity, I established overall operational budgets for fourteen countries and worked closely with the Latin American market," he says. "All this lead me to my current position: seven countries and around nine thousand professionals that I manage from our Miami office."
Yáñez is now responsible for all the everis operations in the United States, Central America, and South America.
"I've been able to do all that because of my family's encouragement," he says. "My wife is my best supporter, and our son Fernando has always been at my side."
The Evolution of Everis
Yáñez recalls how everis began in 1996 with just five people in a small building with a tiny cafeteria. Today, the company has close to twenty thousand employees.
"These are professionals that we have hired one by one," Yáñez says. "We haven't bought any companies. All our employees have been chosen personally based on their merits, after seeing their CVs and conducting personal interviews. That's how we ensure that our core values of trust, transparency, and consistency are maintained and lived by all its members."
Yáñez credits the company's success— everis had a turnover of 1.03 billion Euro in the last financial year—to its commitment to such principles. "Consistency is to do what you say and transparency, to say what you do," he says. "Trust means knowing that those who are working with you will do their best. It's like when you are hiking: you trust that whoever is in front of you will secure the ropes so you won't fall. The success of the team is your own success."
Challenges & Innovations: The Digital Revolution
One of the biggest challenges that consulting firms like everis face nowadays is keeping up with the new technologies and adapting to the digital age.
"The expectations of the consumer have changed with the increased digitalization of our lives," Yáñez says. "We are living in one of the most interesting and most complex moments in the history of our company and of the world in general. The digital revolution is our main challenge, and we are facing it by using new tools and technologies and by building new business models."
The company is prepared and has been positioning itself as one of the most innovative consultants, using the breakthrough technologies.
Its capacity combining the artificial intelligence and technological innovation with business expertise could bring exponential growth to all sectors. Yáñez says everis can help achieve the best results democratizing, digitalizing, and transforming business process to promote grow faster and making a huge impact on the community.
Strengthening ties with other industries in a global scale is also part of everis' vision. In May 2018, for the third consecutive year, the company sponsored the Digital Business World Congress that took place in Madrid.
Positive Leadership
The main goal of the company is to deliver outstanding results, Yáñez says, and hiring the highest performing professionals in their field and keeping them produces these results. A combination of positive leadership and a sense of purpose is the best strategy to nurture and keep employees.
"Going back to Benito's words, the idea of being a company with buena gente y gente buena means to excel both ethically and emotionally," he says. "That's why we encourage people to use responsible freedom—do what you love—and direct their creative energy—love what you do. Here at everis, we know we want to be the number one consulting service in the world. We are all in this together."