Josue Gonzalez learned many lessons from his dad, who emigrated from Cuba right before the Cuban Revolution in 1959. One of the most important lessons centers on the idea of added value.
"My dad owned a business in Cuba, and he had to leave it behind: he came to this country making about twenty-five cents an hour," explains Gonzalez, who was born and raised in New Jersey. "He worked hard and focused on education, always telling me to study and that working hard and offering value to someone would always be welcomed."
Now that Gonzalez has advanced in his own career, he has passed that lesson on to his son. "I always mention that any purpose that does not add any value will not make any difference towards achieving a goal or target," he says. "You have to stay up with the trends because at the speed that things are changing, you can be outdated in no time. You must be able to quickly understand the situation at hand and either prevent a crisis or implement a contingency plan immediately in order to minimize any impact."
Heeding his father's advice, Gonzalez graduated from the New Jersey Institute of Technology as an industrial engineer and later earned his MBA from Nova Southeastern University. He began his career in a supply chain role through a co-op program with multinational healthcare company Hoffman La-Roche. Gonzalez spent five years there, learning the ins and outs of the pharmaceutical supply chain business.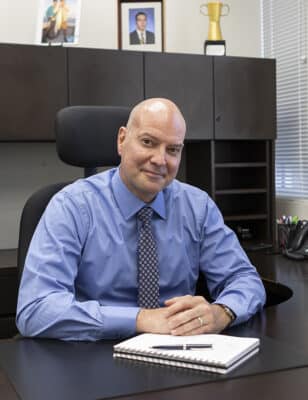 "I was always in operations, and tended to be geared toward medical and pharmaceutical," he explains. "There's something about the industry that's self-gratifying; you're helping people and there's no room for error, especially when you're launching a new product.
Determined to keep learning, growing, and finding more ways to add value, Gonzalez moved to Boston Scientific to improve his understanding of the manufacturing side of the industry. In 2007, he moved to Teva Pharmaceuticals, a global pharmaceutical leader that specializes in generic medicines and biopharmaceuticals.
Gonzalez currently serves as Teva's senior director and head of supply chain for Latin America. He's charged with the end-to-end supply chain responsibilities for Latin America (from the purchasing of raw material to their arrival at the distribution center), as well as for a couple of manufacturing plants in Europe and Indonesia.
"On the Latin America end, it's about understanding the unique laws and regulations around importing products and manufacturing internally, which differ from country to country, so our customers receive complete orders on time," Gonzalez says. "Doing this successfully is all about ensuring standardized supply chain practices and well-defined communication channels between suppliers."
In leading a team of supply chain professionals, one important distinction he makes about his role is the difference between being a functional manager and people leader. He tries not to micromanage his team, instead helping them develop, teaching them, and exposing them to opportunities that will stretch their capabilities, enabling them to grow and succeed.
"I always tell my team, 'If you don't think you're adding value, take a step back, take a deep breath, and let me know how I can help,'" he explains. "One of the most important activities I've accomplished here was to develop a well-rounded team that executes according to strategy. You can't do it on your own."
Tenacity is another trait that Gonzalez emphasizes while discussing his career and work philosophy.
"In order to have tenacity, I think you need to understand where you came from," he reflects. "You have to stay hungry. I did not have the best toys in the world, I wore my cousins' hand-me-down clothes, and I remember my dad working twelve hours a day Monday through Friday and eight hours on Saturday. I had to pay my college loans. Those experiences pushed and fueled me."
Those lessons came in handy in 2020 when the pandemic hit: Teva had to pivot quickly to solve the logistical problems caused by closed borders and quarantines. "Here we are, a pharmaceutical company, and we needed to get product to our customers," Gonzalez recalls. "The company needed to react quickly because we needed to get the job done. It was a lot of long, stressful nights. It's a different ballgame when people aren't getting their meds."
Now that most of the pandemic-related challenges have been resolved, Gonzalez is working to get back to as close to pre-COVID operations as possible. He realizes, though, that things will probably never be quite the same again.
"This is a learning experience, and something else I teach my son [is that] we have to stay current and focus on value and adjust accordingly," he says. "There's a societal transformation going on, and we're not sure yet what normal is going to look like. But the most important thing is to continue to deliver wherever you can."