Jose L. Garcia, vice president and chief human resources officer (CHRO) for Commerce Casino and Hotel, the largest card room in the world with over 240 tables onsite, has a reputation as a business dynamo. It's well-deserved. One of his first major projects at the casino was a top to bottom revamp of its human resources department.
"Commerce Casino started as a kind of a mom-and-pop operation, and it grew much faster than anticipated," he says. "It was into its third decade of operation when I joined in 2011, and they were still operating what was essentially a personnel department, not a true human resources function."
Despite Commerce Casino's offer to foot the bill for the staff's Professional in Human Resources (PHR) and Senior Professional in Human Resources (SPHR) certifications, the majority declined and eventually found other jobs. "I had actually anticipated that situation and started recruiting among my former HR colleagues at CareMore Medical Enterprises," he explains.
Garcia faced other challenges, too.
A handful of employees were brazenly cavalier about flouting internal policies and management was reluctant to hold them accountable—even for basic things such as showing up on time.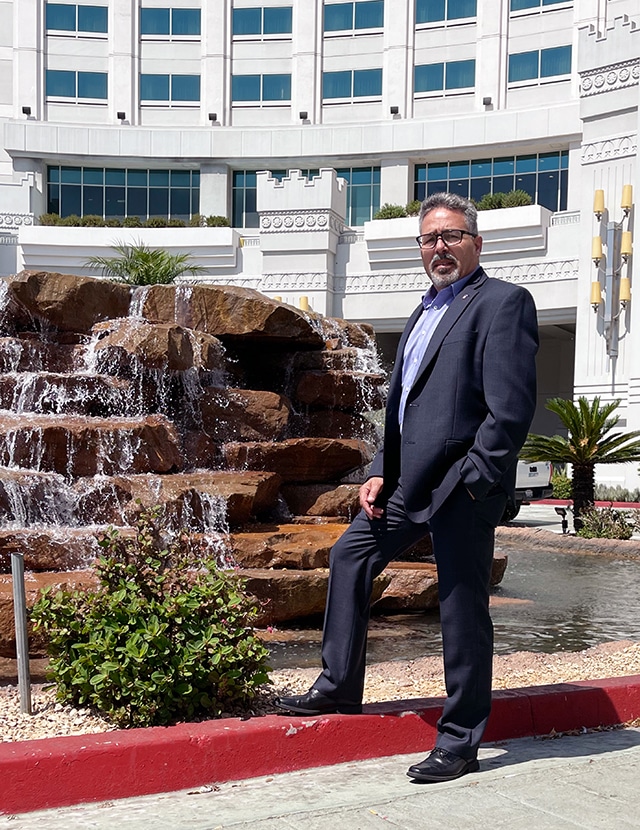 "When the casino opened, its in-house counsel handled many policies and procedures, and each department had its own individual set of rules for discipline and rewards," he says.
Garcia replaced that mishmash with standardized company-wide attendance rules, a leave of absence policy to curb the abuse of protected leaves, and a substance abuse policy.
The procedural side of the business underwent significant changes, as well. Commerce Casino still relied on manual systems and had no active recruiting program. Garcia introduced digital recruiting and applicant tracking systems, as well as a complete human resources information system. "I automated as much of the routine HR work as possible," he says, "and I'm still looking at ways to make the department more efficient."
As an example, he offered Commerce Casino's company-wide texting software that enables "broad instantaneous messaging." Commerce Casino went from 2,500 employees to the handful needed for routine operations. "As the shutdown continued, we communicated with all of our furloughed employees, and were able to recall them at once when we reopened," he says. The system is also part of the company's recruiting efforts.
Over time, he introduced several other forward-thinking ideas to the workplace, including 24/7 HR availability. "Because Commerce Casino is open around-the-clock, HR issues can arise at any time. We're prepared to deal with those issues as they occur, rather than delaying action for hours or days," he says.
To help mitigate attendance problems, especially among single parents, Commerce Casino considered solutions including 24-hour childcare service. This solution was impracticable but eventually led to a partnership with Medcor that provided casino employees with onsite medical care and this proved to be the right fit.
"Together, we opened our employee care center, an on-site medical clinic for our employees regardless of their benefit status," Garcia says. "It was originally offered during a single shift, but it worked so well, we expanded it to all three."
The clinic is staffed by registered nurses and physician's assistant, and under-the-weather employees can easily pop in during breaks and be evaluated for colds, flu, or other conditions. It proved to be a crucial service during the height of the COVID-19 pandemic. "It's an expensive undertaking," Garcia says, "but, overall, it's an asset for everyone working here."
He also introduced mandatory town hall meetings, where senior executive staff had a forum to share critical information with the entire employee base and where they could also raise their own questions. "It avoided filtered messaging, or 'telephone game' distortions," the VP adds. And they take place in a festive atmosphere, with music, food, raffles, and other activities. "COVID stopped them for a while, but I hope to restart them soon."
Such sweeping changes often are accompanied by a "my way or the highway" management style, but Garcia's approach is decidedly different.
Straightforward communication is a hallmark. "I don't want yes-men because they don't offer me anything. I'm open to pushback, even from entry-level staff, because that can lead to interesting conversations that could change my mind," he said.
And he sees those conversations as evidence that his staff is thinking and growing into their jobs. "I often state an objective, and then we 'build the road backwards' with everyone's input. And good ideas can lead to even better ideas," Garcia explains.
His insistence on open communications lines carries over to Commerce Casino's board. "Before I joined Commerce Casino, HR had no direct representation at the executive level; everything was handled by in-house counsel. I insisted on having a seat at that table, because I don't want anyone speaking for me, especially if major changes are pending. Now I talk directly with the other board members," he says.
---
Small-Business HR Consultant
Small businesses—the backbone of the American economy—have HR issues, too, says the HR leader and consultant. But they usually don't have the budget for on-site human resources professionals. Enter the Garcia Consulting Group.
"The idea came about when the owner of a local bakery asked my advice during our sons' little league game in 2001," Jose L. Garcia says. Today, I focus on minority-owned businesses, but I'm available to anyone seeking help. I can offer advice, recommendations, and suggestions for process improvements." That can include how to transition from being a cash-based business to a formal payroll system.
"I don't do any advertising, and it certainly isn't a money-maker for me," he adds, "but it's rewarding to offer my years of HR experience to the small-business community."