Jenny Flores knows how much corporate social responsibility can change an organization's culture. After nearly twenty years of working in community development, she's seen firsthand how it can transform companies.
"A corporate social responsibility program ingrained within a company is a powerful force," Flores says. "This level of commitment and training for colleagues empowers them to go out and make a difference in the world."
Flores, who is the head of corporate social responsibility (CSR) at Bank of the West, has spent the past four and a half years working with colleagues at all levels of the bank to build that culture at the organization. Although she's deeply invested in banking, she is emboldened by her longtime passion for addressing community issues. Flores started her career as the executive director of the nonprofit Congress of California Seniors, where she traveled throughout the state to address issues of affordable housing, healthcare, and economic prosperity for its most vulnerable communities. During that time, she realized how corporations have the power to address many of those issues. Her next ten years were at Citibank where she advanced the organization's community relations and development programs.
In 2013, Flores joined Bank of the West to drive community impact on a national scale, an opportunity that excited her. She was thrilled to execute the bank's commitment and strategy both internally and externally across the company's footprint. The bank's parent company, Paris-based BNP Paribas, is committed to a sustainable future that promotes the well-being of people and the environment at a global level. "Our organization's commitment for making an impact in the world creates a natural synergy for the company's leadership, business, and employees," Flores says.
At Bank of the West, Flores and her national CSR team focus on four key areas: small businesses and supporting diverse entrepreneurs; youth and youth leadership; sustainable energy; and contributing to local communities. She works closely with the executive team on strategies that are both aligned with the business and are deeply authentic.
The Bank's commitment involved looking at its customer base and where it could address underserved communities. In 2016, Flores helped the bank create a fund to put low-cost capital into microfinancing organizations, so people who would not otherwise be bankable could have access to loans. Most recently, Flores is focused on building a Women's Entrepreneur program to address a gap in access to capital, knowledge, and networks: despite a rise in women-owned businesses in the US, only 16 percent of all small business loans in 2017 were to women.
Through the Women Entrepreneur Initiative set to formally launch in late 2018, Flores collaborated with her colleagues in the Innovation Department, human resources, and small-business lending to deliver human-centered design training for twenty employees across the Bank. Since then, those employees have reported ways they've found to incorporate design thinking into their own business strategies.
To help make an impact in the communities Bank of the West serves, Flores has helped provide employees with opportunities to volunteer time and talent with local nonprofits. Over the past four years, the organization was able to generate 160,000 hours of volunteerism. In 2016, she launched the Community Ambassador Program, which places an employee in a full-time position at a nonprofit for one year while still receiving full salary and benefits from Bank of the West. The first Community Ambassador was assigned to a workforce development organization, where he enhanced a program to help un- and underemployed job-seekers find sustainable careers in the banking industry. The second Ambassador is currently on assignment helping a microfinance organization hone in on strategy in the marketing landscape.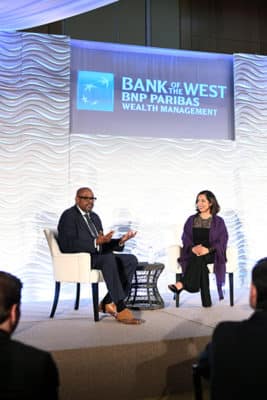 With these initiatives, Flores has received overwhelmingly enthusiastic feedback. "Employees are proud to work for a bank that enables them to be involved in community issues," she says. "They're also able to increase professional networks that help them in their own careers." Volunteering helps employees to develop new skills and to bring new opportunities back to the company. For example, through the first Community Ambassador experience, the bank was able to identify and hire talent from the job training program.
As the bank's corporate social responsibility program has expanded and evolved, Flores is finding ways to align with Bank of the West's parent company, BNP Paribas. One area Flores sees an opportunity in is sustainable energy. Within this focus area, the Bank has created financial opportunities for solar panel business owners and recently awarded its Philanthropy Award in Innovation to a nonprofit advancing sustainable farming and food chains. Moving forward, Flores hopes to align more programs and partnerships like these with BNP Paribas' global commitments and to find new ways to finance and support renewable energy.
From the outset of the corporate social responsibility program, Flores has credited Bank of the West's deep culture of collaboration as a key factor in bringing these big ideas to life. And the results have been particularly rewarding for Flores, whose passion for innovation and social impact extends to her work on nonprofit boards for organizations like EARN and Operation Hope. "I feel privileged to be in a position where I can live my values in ways that reflect how I was raised," Flores says.
What she's most proud of, however, is simply the way corporate social responsibility has been integrated within Bank of the West. "Building sustainable communities and environmental awareness lives in all parts of the bank, not just on my team; it's a part of how we do business," Flores says. "We're seeing a major transformation and cultural shift."