When Jeanette Hernandez Prenger founded ECCO Select back in 1995, she did everything at the company.
"I secured the client, did the recruiting, placed the candidate, worked with a bookkeeper to handwrite payroll checks, created the marketing collateral, and was responsible for compliance," Prenger says. "I had to wear every hat in the company."
ECCO Select provides technology talent for both the private and public sectors. In the beginning, Prenger's goal as CEO was to find exceptional talent that met her clients' needs at a lower price point than her competitors. Y2K was around the corner, so she promoted project work for modernizing old legacy systems. Soon after that, she acquired a small IT staffing company, which diversified her book of business and grew her client base.
"This was before the Internet—before Salesforce or Monster or Dice or LinkedIn," she says. "It was picking up the phone and meeting someone in person. It took longer, but it also showed me how to make the best use of my time."
As her company grew, so did her team. Today, she has more than five hundred associates around the country supported by a team headquartered at the corporate office in Kansas City, Missouri. Prenger's success at the intersection of technology and talent recruitment is due to her unique blend of qualifications: an IT background, high emotional intelligence, and a keen understanding of personal chemistry.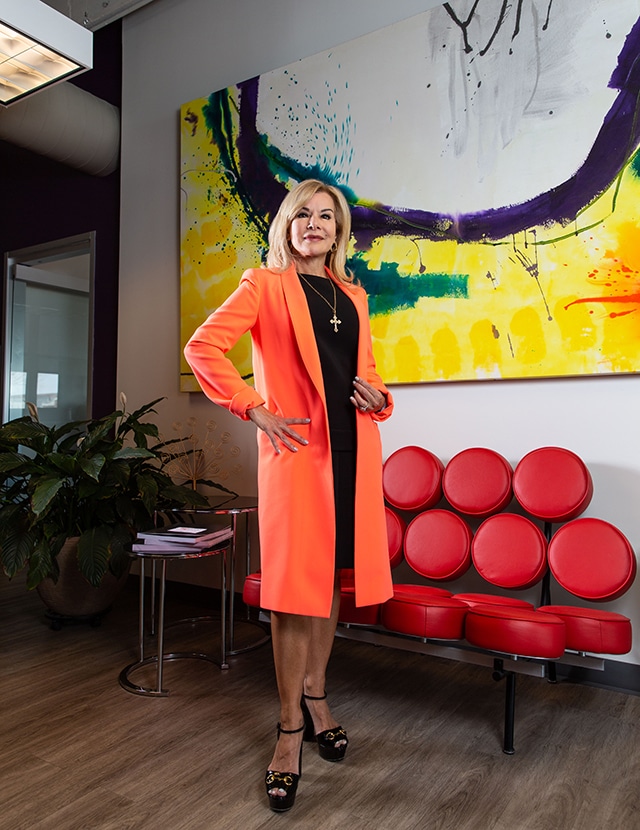 "It's about matchmaking," she says. The work is as much about matching talent to the right team environment as it is matching necessary skills to a job description.
"I was always the girl who made friends easily and introduced people," she says. "Going into a job where you match talent to needs in the technology world came [naturally] to me."
The scope of Prenger's role nowadays is strategic and supportive: among other things, she ensures ECCO is scalable for the next level of growth. As the company's clientele expands internationally, Prenger works through compliance measures and certifications. ECCO Select has cemented professional relationships in Canada, Mexico, and Europe, and Prenger plans to do work in Portugal (where she was born).
Prenger works directly with her leadership and management teams to collaboratively execute long-term objectives. While planning ahead is always a good idea, she has her own reasons for it: looking ahead, Prenger sees herself in a different role and wants to prepare the company for a sustainable transition. "As we get older, whether we have the energy or not, there's a natural progression toward that next generation," she says. "You need to make sure you have the right people and processes in place."
For her, that means recognizing talent, cultivating space for growth, and being open to movement internally. She also emphasizes surrounding yourself and your company with people who have a passion and commitment to a high-quality work, product, and service mentality.
Prenger gives an example: "I have a vice president of national sales who started off as a recruiter. She didn't love being a recruiter, but she did a great job. As we promoted her, she voiced her interest in learning how we sell services. We developed her and now she sells services and she's a superstar."
Helping employees move into new roles not only lengthens tenure, but creates space for more stimulating, fulfilling careers within the organization. "We constantly strive to be the best we can be. It's not just in the work we do individually, [but] also the experiences people have with the company," Prenger says. "If each individual is successful, the company is successful. And it shows: in our bottom line, in our top line revenue, and in growth."
Prenger's leadership style celebrates diversity. She meets people where they're at and acknowledges the differences in their working styles. This self-awareness has, for Prenger, helped reinforce a company culture built on collaboration and excellence.
"I am very passionate about what we do, how we do it, the way we do it, and the way we make people feel," Prenger says. "As a culture, [we] have the grit and resilience to ask for help, fail and learn, and to overcome challenges."
The COVID-19 pandemic threw a wrench in the collaborative synergies of face-to-face communication. With clients, Prenger prefers sitting down for coffee or a drink. Among colleagues, she values problem-solving across the same table. "When you're face-to-face with someone, you can see if they're really engaged," Prenger says.
Not every development from the pandemic has been negative. Like many companies in recent years, ECCO Select has morphed into a hybrid workplace. "With the tools of technology, we can do business a lot less expensively and without wasting as much time," Prenger explains.
Getting her company to where it is today hasn't always been easy—and while ECCO is certified as a Minority Business Enterprise and Women Business Enterprise (MBE/WBE), Prenger was initially skeptical of the idea.
"I want someone to want to do business with me because we do a great job, not just [to check] off a box because they have to," Prenger says. "Now that we've been in business twenty-six years and done as well as we have, I don't think that's as much of a consideration."
The company has come a long way since the days when Prenger herself was its only employee. "I was the first person in my business. I didn't have any partners. It really made me figure things out," she says. "I took small steps. It took time but I feel that it helped support the great culture and company that we are today."
---
As a leading national business advocacy and entrepreneur enabling organization, The Latino Coalition is thrilled to see our Board Chair, Jeanette Prenger, receive this prestigious and well-deserved recognition. Her business leadership has been exemplary and her commitment to having a positive impact on the community is nothing short of phenomenal.