From a young age, Javier Flores knew he wanted to be a lawyer. He was close with his maternal grandfather, who was a corporate attorney, and while that specialty didn't interest him, the idea of arguing before a judge or jury always enticed him.
"From childhood through college, I never wavered or reconsidered it," he said.
One could say that his grandfather set the path, and that his mother kept the process in motion. After graduating from Kenyon College, Flores was offered a scholarship from the University of Connecticut School of Law. It was not his preferred school, and so he planned to let the offer lapse and take a gap year.
"My mother, on the last day, went to UConn without telling me and put down the deposit," he says, "And I'm so thankful she did."
Though he initially questioned returning to his home state of Connecticut, he says he enjoyed his time as a Husky; he met his wife in law school and lived close to his family. In the early 1960s, Flores's father immigrated from Cuba and ultimately settled in Granby, a small town in northern Connecticut. Flores's extended family lived nearby and helped him connect with his Cuban roots in an area that had a small Latino population. It wasn't until he entered the legal field that Flores was surrounded by people with similar experiences and backgrounds.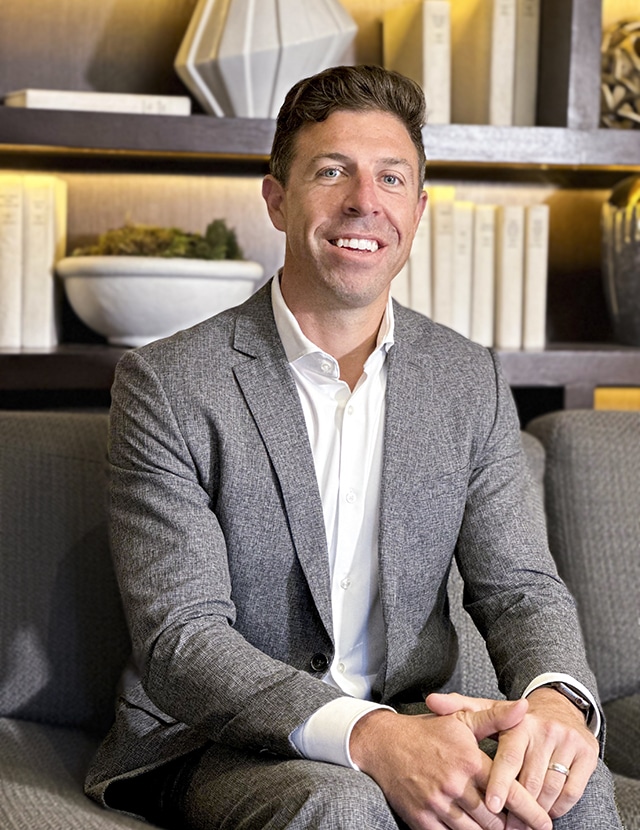 "My first integration to a much broader Latino community was through the Hispanic National Bar Association (HNBA)," he said. "I've always found it to be so rewarding because it immersed me in a community that I never had access to growing up."
Through the HNBA, he got the opportunity to join the nationwide law firm Dinsmore & Shohl LLP, which recruited him to open its Boston office along with his longtime friend and colleague Eric Skelly. Flores currently serves as the office managing partner for the Boston office and a member of the firm's board. He describes the firm as a wonderful place to practice law, with exceptionally talented lawyers and a friendly culture that promotes collaboration.
"Everyone is incredibly friendly," he says. "It's clear that people genuinely like each other and want to work together for the betterment of the firm."
Flores is an accomplished litigator, with a lengthy track record of success, including first-chair trial experience and arguing before the First Circuit Court of Appeals. As a commercial litigator, his practice primarily involves handling business disputes and defending catastrophic injury cases, but he also serves as outside counsel to the risk management department of a Fortune 500 REIT, negotiating the insurance and risk allocation provisions of all its real estate and vendor contracts.
As office managing partner and member of the board, Flores plays a large part in further developing Dinsmore's culture. He is conscious of making the office a place where people's wants and needs are understood, where they are supported, and where they are given the opportunity to expand their skill sets and achieve their ambitions. It's a consciousness that he carries with him in his extensive community work throughout Boston and when he works with aspiring Latino attorneys.
Flores always tells them to work hard, develop their skills, build a network both locally and nationally, and to find a trusted mentor who will help, listen, and look out for their best interests. Finally, he makes it a point to tell them to be authentic.
"There's such a desire to fit in, which often means suppressing your individuality. You've got to push back against that. Be your authentic self and have confidence that people will accept and appreciate that."
---
Legal Posts
Community involvement has always been a tenant of Javier Flores's career. A few examples:
Hispanic National Bar Association (HNBA)
As the HNBA's vice president of programs and a member of the executive committee, Flores's biggest responsibility is to run the Poder25 program, an in-house talent development program working to increase Latino representation in senior levels of legal departments. Their goal is to have twenty Latinos in general counsel roles in Fortune 500 companies by 2025. "The HNBA has given me so much, and the experience of working with its exceptionally talented in-house attorneys to advance their careers is tremendously rewarding," he says.
Housing Equity
Flores is a commissioner with the Boston Office of Fair Housing and Equity, acting as a mediator or arbiter in housing discrimination cases. "I was appointed in part because of my legal experience, but as a Boston resident and a minority, I have a unique perspective," Flores says. He also serves on the board of Inquilinos Boricuas en Acción, a nonprofit in Boston that provides subsidized housing, as well as education and arts programs that empower individuals and families to improve their lives.
Police Reform
In the wake of the murder of George Floyd, Flores was appointed by Boston's mayor, Marty Walsh, to serve on the Boston Police Reform Task Force. "We fostered broad changes that will have a lasting effect upon policing in Boston. I'm really proud of our work," he says. The group pushed forward initiatives to diversify the Boston Police Department (BPD), change use of force policies, and form the Office of Police Accountability and Transparency (OPAT), an independent body that provides oversight of the BPD, including investigating allegations of misconduct.