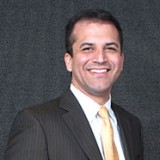 J.Pablo Cáceres had little experience with a broad Hispanic community until he began doing immigration and workers' compensation work after graduating from law school. Today, however, he considers his heritage a defining characteristic. Below, the Tampa, Florida-based Cáceres, now a partner at Butler Pappas, explains his evolution.
"I was a Morehead [now Morehead Cain] scholar at the University of North Carolina Chapel Hill. That gave me access to summer programs that provided invaluable work and travel experience. These experiences opened my eyes, and I decided to be a lawyer.
There was a recession when I graduated from law school. I finished at the University of North Carolina Chapel Hill in 1992, and moved to Washington, DC, to gain big-city experience. I office shared for almost two years, doing immigration and workers' compensation work, really helping the Latin community and enriching my own cultural identity.
At the beginning of my career, the opportunity to deal with people of Latin descent as a lawyer was very important to me. My father emigrated from Honduras in the 1960s, and I grew up in a rural North Carolina town, one of two families that spoke Spanish. Even in Chapel Hill, I didn't encounter a lot of Hispanics. Thus, my Hispanic experience was limited. It wasn't until I began working in Washington, DC, in immigration law and workers' compensation, which are relevant to the immigrant population, that I realized how important it is to understand the culture and have an ability to speak professionally, not just casually, in Spanish. That work experience really enriched me personally as well as professionally.
In 1995, just as the American Airlines crash in Colombia occurred, I received an offer to be an associate at a San Antonio, Texas, firm that specialized in aviation litigation. On the plaintiff's side, the firm was involved in many airline crashes in Latin America, and needed someone who could speak Spanish. Having honed my professional Spanish skills in Washington, DC, the position was perfect. I spent a lot of time in Colombia working on that American Airlines case and another crash that had occurred a few years before. That gave me more experience connecting with people of Latin descent.
I joined Butler Pappas in 1997 and have been doing sophisticated property-insurance litigation since. I represent insurance companies. I counsel them on property-coverage matters and defend against multimillion-dollar insurance claims, which, in many instances, are inflated or fraudulent. But my early work representing people rather than companies has kept me grounded.
Given the kind of higher-end work I do now, you might not guess my most notable case. My work involves complex state and federal cases and multimillion-dollar insurance claims, but one immigration case stands out. A year and a half out of law school, I represented a gentleman being deported to Jamaica for a minor offense. He'd been in this country for a very long time, and had a US citizen wife and a child here. I kept him from being deported. It obviously meant a lot to him, and was very rewarding for me."
MDD is a leading international forensic accounting firm that provides economic damage quantification assessments for its clients. With 38 offices around the world, we have worked in more than 130 countries and across 800 industries. Founded in 1933, we work with law firms, government entities, multinational corporations, small businesses, insurance companies, and independent adjustment firms.