On Ilhiana Rojas Saldana's first day as a chemical engineering student, she walked into class as one of a handful of women in a classroom full of men. After introducing himself, the professor asked the women in the room to gather their things, save their parents' money, and head back to the admissions office to change their majors. This wasn't a career for women, the professor said.
Rojas Saldana did not stand up. She did not pack up her things or change her major—in fact, she graduated with honors.
Rojas Saldana continued to defy expectations after graduation, when she went straight into a marketing career at Procter & Gamble. Rojas Saldana quickly moved up the ladder, securing promotions every other year, successfully navigating a nonlinear career path between marketing and sales, and crossing industries in different Fortune 500 companies until she became head of a marketing department.
Throughout it all, Rojas Saldana grappled with being the youngest executive on her team, and often the only woman in the room. "It was challenging—the balancing act between meeting the expectations of an executive position, managing multimillion-dollar businesses, and being a mom to my two toddlers at the time," she says. "My family is core to who I am. However, reaching that executive position and feeling professionally fulfilled was also important, so it became a delicate balancing act to manage both sides of my life to fulfill my purpose as a mom and as a professional."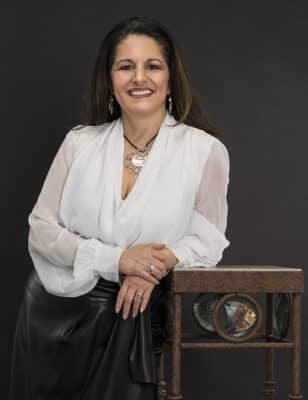 In 2011, Rojas Saldana moved from Mexico to the US, where she grew her expertise on a global level. Rojas Saldana found that her Latina heritage, and the many other parts of her identity, created pressures that required her to work harder to make her voice heard.
"It also made me feel lonely: there was no one like me, so I was constantly adapting to meet certain 'standards of success' that were completely different from what I had lived through and what had made me successful in the past," she recalls. "This, in many cases, made me lose my voice, authenticity, self-confidence, and purpose."
Twenty years into her career, Rojas Saldana hit a wall. "I was dragging my feet to work," she says. "I couldn't imagine my career continuing in a corporate environment where I kept feeling like 'the only one,' but I couldn't see myself doing something different. I grew up in a world where you went to school, got a job, and then stayed there until you retired. That was my world—until I found ALPFA."
Through the Association of Latino Professionals For America (ALPFA), Rojas Saldana connected with other Latino professionals who shared similar stories. "When you get to those senior positions, you're expected to know the answers. You're expected to know what you need to do. You're expected to be a superwoman," she remarks. Rojas Saldana found peers both within and beyond ALPFA who were willing to help provide the answers she needed.
In 2018, Rojas Saldana leaped into the entrepreneurial world. ALPFA's mission to empower and develop Latinx professionals had deeply resonated with her, and she embraced her passion for creating an impact and helping other Latino professionals find their voices and stand out. Today, Rojas Saldana is the CEO of BeLIVE Coaching & Consulting as well as a public speaker, author, and a leader and advisor to community organizations such as the Rhode Island Hispanic Chamber of Commerce, the Network of Executive Women, and the Center for Women and Enterprise.
"I remember telling my husband early in my career, 'In another life, I want to do this.' Then, suddenly, I came to the terms that there is no other life—I either I do it in this one, or I don't," Rojas Saldana says.
BeLIVE is a professional development, leadership coaching, and DEIB (diversity, equity, inclusion, and belonging) consulting practice that focuses on the meaningful transformation of employees, leaders, and culture. "Through our impactful coaching and leadership programs and workshops, we have helped over one thousand leaders of all levels transform themselves from the inside out, maximize their potential, and create impact in their own authentic way," she says.
BeLIVE also collaborates with organizations to help foster professional development strategies, train employees, and build people-centric cultures of equity and inclusion. Thanks to such collaborations and partnerships, Rojas Saldana has established four women's leadership coaching programs—two in the US, one in Latin America, and one in Europe. "I've learned that success is tough to achieve alone—not impossible, but it's easier when you're riding the path together," the CEO says.
Through the years, Rojas Saldana has stayed deeply involved with ALPFA and currently serves as the chief development officer for the Boston Chapter. Her work with the chapter's mentoring initiative, with the Rising Leaders program, and with the Women of ALPFA's Latina Summit is just another way for her to realize her passion for elevating the Hispanic community and developing Latino men and women into exceptional leaders.
In addition to her work as CEO, her work in the community, and her many board roles, Rojas Saldana has published four books (despite a long-held fear of writing). One of her books, Extraordinary Latinas, features eleven inspiring Latina leaders and their personal journeys. The book made the Amazon best seller list, and Rojas Saldana plans to continue expanding it into a platform for elevating Latina voices in 2022.
But that is just one of her goals, she notes. Whatever the future brings, Rojas Saldana is determined to continue using her twenty-five years of corporate experience to foster a culture that empowers people to believe in themselves.