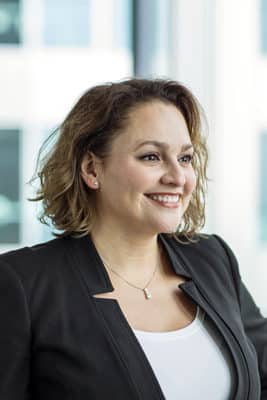 Gracie Inacay sat in the Harris Associates office at midnight on September 30, 2015, testing links and firing off emails to make sure everything was in place. The new human resources system, UltiPro, was set to go live on October 1.
The implementation had been eight months in the making, not counting the previous months of narrowing down software options. "The team still teases me, 'We lived in this conference room for an entire year,'" Inacay, project lead and director of human resources, says with a laugh. "It was this nonstop rollercoaster that touched on everything in my wheelhouse and then some."
With all the moving parts this massive project involved, Inacay never got to the point where she thought Harris Associates needed to move back the go-live date. Though there were some bumps along the road, the system went live on October 1, 2015. Serving as the project lead was the biggest undertaking of Inacay's career, sixteen years of which have been with Harris Associates.
When Hispanic Executive last spoke with Inacay in early 2013, the search for the new system hadn't even begun. Harris Associates was only looking for applicant-tracking software to replace its email and spreadsheet system. The conversation evolved into finding software that would be a one-stop shop for the human resources team and all employees from recruitment to retirement.
Tips for Rolling Out Your New HR Software
Gracie Inacay, a self-described resource book, offers advice on how to best approach such a
massive project.
• Have a well-thought-out project plan. Begin with a needs analysis. Why do you think you need a new system? What is your end goal? What are your pain points?
• Decide the efficiencies you want. How much automation do you want to build in? Think through how you will use a new system.
• Build yourself a cushion of time. You still have your day job on top of implementing new software. Manage your time and resources wisely.
• Take a phased approach.
Decide what makes sense to roll out first. What is critical?
• Get the proper teams involved early. If you don't have the talent in-house and you have the budget, use consultants.
• Advocate for yourself. Talk to your vendors and your representatives. You don't know what you don't know.
• Don't reinvent the wheel.
Reach out to your resources because knowledge-sharing is huge.
• Incorporate change management. Develop a communication plan and an appropriate timeline.
Inacay and her team started with a spreadsheet of fifty potential vendors. Not knowing how to whittle the list down, the team partnered with the consulting firm ihouse in 2014. The first task was conducting a needs analysis, reviewing existing processes, and figuring out what Harris Associates needed and wanted in the future. "I remember sitting in the conference room, and we had this schematic of our workflows," Inacay says. "It was an octopus; it was a mess. We had a lot of redundancies, a lot of manual and paper-driven processes, a lot of inefficiencies."
Inacay, with ihouse's help, was able to narrow down the initial list to a select few viable options. Through a detailed RFP and scripted demonstrations, Harris selected its new human capital management partner, Ultimate Software. Though the vendor was positioned to implement the program in sixteen weeks, Inacay built in cushion time—sixteen extra weeks—and the team used every minute of it.
"For HR professionals, your day job doesn't go away," Inacay says. "You already have a full forty-hour work schedule. This is going to be another forty hours, at least. You need to build in the cushion, build in the time, and have the right people with the right skill set on the project team."
This new system was a behemoth compared to what Harris Associates was previously using. So Inacay talked with ihouse about its consulting services. "It was the best decision and best money spent," she says. "Having the consultant from kickoff to go-live was instrumental for us because ihouse knew the curves in the road before we'd even gotten on the road. That was really helpful for us."
The team met at least once a week (twice a week in the beginning) during those eight months to configure every single thing for the new system, from the color of the buttons to the content, the benefits, and how the modules would be structured. And don't forget the training, which Inacay scheduled so that each step would transition smoothly.
On October 1, 2015, the first three modules—core HR, payroll, and time management—went live. In September, the recruiter and generalist began working on the recruiting and onboarding modules, which went live the following January. Since then, additional modules and functionality have been rolled out successfully.
Being project lead called on all parts of Inacay's skill set: project planning, time management, communication, attention to detail, collaboration, and partnership. She calls herself a "resource book on the shelf" for her team. It's important for Inacay to share her knowledge with others, whether it's a team member or someone outside the organization.
Because of her extensive work on the UltiPro implementation, Inacay does reference calls with potential ihouse and Ultimate Software clients. She's part of a local HR roundtable, where she's been able to help others in her network with vendor decisions and vice versa. In October 2016, a year after the go-live date, Inacay was part of a five-person panel hosted by the Human Resource Management Association of Chicago: "Influencing Technology at Every Level—Building Your Business Case."
"It's important to me to be able to share my knowledge and experience with others—that's been a big one for me," Inacay says. "That ties back to what keeps me at Harris Associates because I'm still growing and I'm still learning."
Implementation is far from over. Inacay is currently looking at the talent-management module, which incorporates goals, 360-degree performance reviews, and more. And there's still a compensation module and a learning module that could be added down the road. The goal is to eventually go paperless.
"The system has all sorts of bells and whistles that we're not even using at this point," Inacay says. "We'll get there; our goal is to get there. We've incorporated more enhancements and workflows, and then we'll start moving away from paper."