Milwaukee may not have a large, bustling Latino population like Chicago or LA, but it does have a lot to offer Hispanic professionals—thanks in part to the Hispanic Professionals of Greater Milwaukee. Learn how the 11-year-old organization is making major strides with professionals at all levels in their career, even those just starting out.
Milwaukee is one of those unique, midsized metropolitan areas that has a small-town feel with all the benefits of a big city, such as a strong cultural scene and a robust, industry-heavy economy. After all, it is the international headquarters of five Fortune 500 companies, including ManpowerGroup, a human-resources consulting firm that happens to be the world's third-largest HR service provider. The firm's senior vice president, Jorge Perez, is a shining example of the city's changing demographics. Though Milwaukee has fewer Hispanics than other similarly-sized cities, it also has a growing number of Hispanic professionals at the helm of their own businesses, both small and large.
This is why the 11-year-old organization Hispanic Professionals of Greater Milwaukee (HPGM) continues to grow and gain the interest of major business leaders like Perez. As the demographics of the city continue to shift, Hispanic professionals want to tap into a community where they can network and trade insights—and while HPGM acts as that networking hub, its executive director Griselda Aldrete has much bigger plans for the organization.
Aldrete first became familiar with HPGM when she was working as a journalist in the area covering the Hispanic business community. In an odd case of happenstance, Aldrete actually interviewed the organization's former executive director before eventually taking over the role herself in October of 2012. A member of HPGM since 2007, Aldrete carries with her an interesting dual understanding of what it means to be a member of the organization and what it means to lead it. This unique insight has served her well.
"I always believed in the mission of the organization, and I feel like it's a really exciting time for us," Aldrete says. "The entrepreneurial spirit is alive and well in Milwaukee, and as a city, we have a very strong work ethic. The work ethic of Hispanics fits right into that. My real challenge with the organization is getting others to realize that we're a force to be reckoned with."
Aldrete's mission isn't a simple one: teaching HPGM's members—and especially young college students—how to navigate the business world and their career paths in a way that is intentional and strategic.
"As Hispanics, many of us are taught that if you put your nose down and work very hard, you'll get noticed. We have to put those beliefs behind us," Aldrete says. "You have to be your own advocate. More and more Hispanic professionals know what they want, but they don't know how to achieve it; they don't know how to get to where they want to go. Companies are looking for diverse candidates, but colleges and companies aren't doing things to retain Hispanics. As an organization we think [those companies] are 'trying something' or 'have a desire,' but are not successful or thinking out of the box to get results. It's a complicated landscape, but it's my goal to keep increasing the number of top-quality professionals in our organization and to help teach them how to navigate all of it."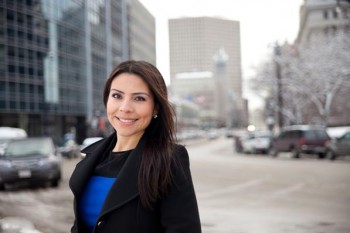 HPGM recognizes that early careers are drastically different than mid- and late-life careers, which means that the organization caters its professional leadership and development programming to better meet the diverse needs of its nearly 800 members. For some, this means attending networking events that may help them get to the next level. For others, it can mean learning to think critically about the career choices they make. The latter is especially true for college students, which is why HPGM has recently taken special care to become more of a presence on college campuses with its Abriendo Puertas, or "Opening Doors," college program. When looking at research regarding Hispanic students, Aldrete realized that for many, getting to college was the end goal and what happened after graduation was almost an afterthought.
"These first-generation kids were told by their parents that they had to go to college to become doctors and lawyers, but their parents couldn't offer them any real guidance once they got to college. It's as if they never questioned whether or not they really had any interest in the field they were being ushered into," Aldrete says. "It's my goal to help college students map out a career path and be very intentional about it from the earliest stage. This means learning the importance of taking on an unpaid internship to gain experience rather than taking on a summer job to make some extra cash. Abriendo Puertas is about opening up the door for them and letting them decide if they want to walk through it or not."
The program began in September 2012, and is being funded by a grant. It is Aldrete's hope that teaching this intentional decision making to the next generation of Hispanic professionals will eventually translate into increased Hispanic representation at all levels of corporate America. As the executive director is quick to point out, more Hispanics are going to college than ever before, but the lack of visibility come graduation time is something that needs to be recognized by Hispanics and the colleges they attend.
"Numbers speak louder than words sometimes, and if you look at the numbers here in Milwaukee, you'll know that there's a lot of potential to widen the pipeline of talented Hispanic professionals," Aldrete says. "The HPGM Board of Directors has had the vision and courage to bring us to this point. We know that by staying the course on our strategic goal of expanding the pipeline of talent, Hispanic professionals win, our corporate partners win, and our region wins. We need to hold our feet to the fire to make a mark on this city, but some of the work that needs to be done is by others. We're trying to create an honest dialogue. Colleges are taking tuition, but they're not doing anything to retain their Hispanic students. The same is happening in work environments, where companies talk about diversity, but do little to retain their Hispanic professionals. I believe that if we do our part in these areas and we continue to push these conversations, there will be a big impact."