Gwen Aviles partners with content creators across the US to tell their stories. The senior content program manager at NewsBreak helps bring communities together, amplify stories, and is an independent journalist and content creator herself. Aviles harbors a passion for giving voice to Latinos and other underserved communities who deserve to be part of the national conversation. Discover more about Aviles's 2022 Midterm coverage at Twitter, her completion of a novel, and how she's learned to control what she can and be OK with the rest.
What do you do today?
I work with content creators across the country to tell stories about and for their local communities. By planning in-person and virtual events, hosting office hours, and editing and amplifying stories on social medias, I equip creators from all backgrounds to find and use their voices to inform and to tell the stories that often go untold.
I am also an independent journalist and a content creator who writes and records videos about various topics, including politics, culture, and mental health. Diversity in the news is something I've always been passionate about, especially because my years as a reporter have shown me that Latino communities and other minoritized groups are often missing or misrepresented in mainstream media. So many people don't have access to quality, accurate information about their communities, which is why it's been my mission to use my various platforms to elevate the stories of minoritized groups.
What is your greatest career accomplishment to date?
My greatest career accomplishment to date was leading public service-oriented midterms 2022 coverage at Twitter. In this role, I coordinated with various teams to produce serviceable midterms-related pages for underrepresented groups to provide them with the resources they needed to navigate voting amid changing election laws and other barriers. Under my direction, we produced a variety of resources for Disability Voting Rights Week, in order to support the more than 38 million eligible voters with disabilities who face immense barriers to casting their ballots. Being able to use a platform as large as Twitter to provide resources that could potentially benefits people's lives was incredibly rewarding.
What is your greatest personal accomplishment to date?
My greatest personal accomplishment to date was completing a draft of a novel called "Diversity Hires," a coming-of-age story and romance centering a Latina journalist.
How do you tackle problems and overcome challenges?
I tackle problems by focusing on what I can do and what's in my control versus what's not. Depending on the challenge, I will reflect on what's the best way to approach it, conduct research, and see what actionable steps I can take. I also overcome challenges through my faith. When in doubt, pray about it!
What do you do today to impact your community?
I'm a mentor with the Latinas in Journalism Mentorship Program as well as an adjunct journalism professor at Rutgers University and love providing any guidance I can to the next generation of storytellers. Navigating the media industry, especially when you're just starting out and don't have access to resources, can be incredibly difficult. Through these associations, I've been able to share my experiences to uplift and mentor young journalists working in a volatile industry.
Describe yourself in five words.
Creative, committed, tenacious, empathetic, visionary.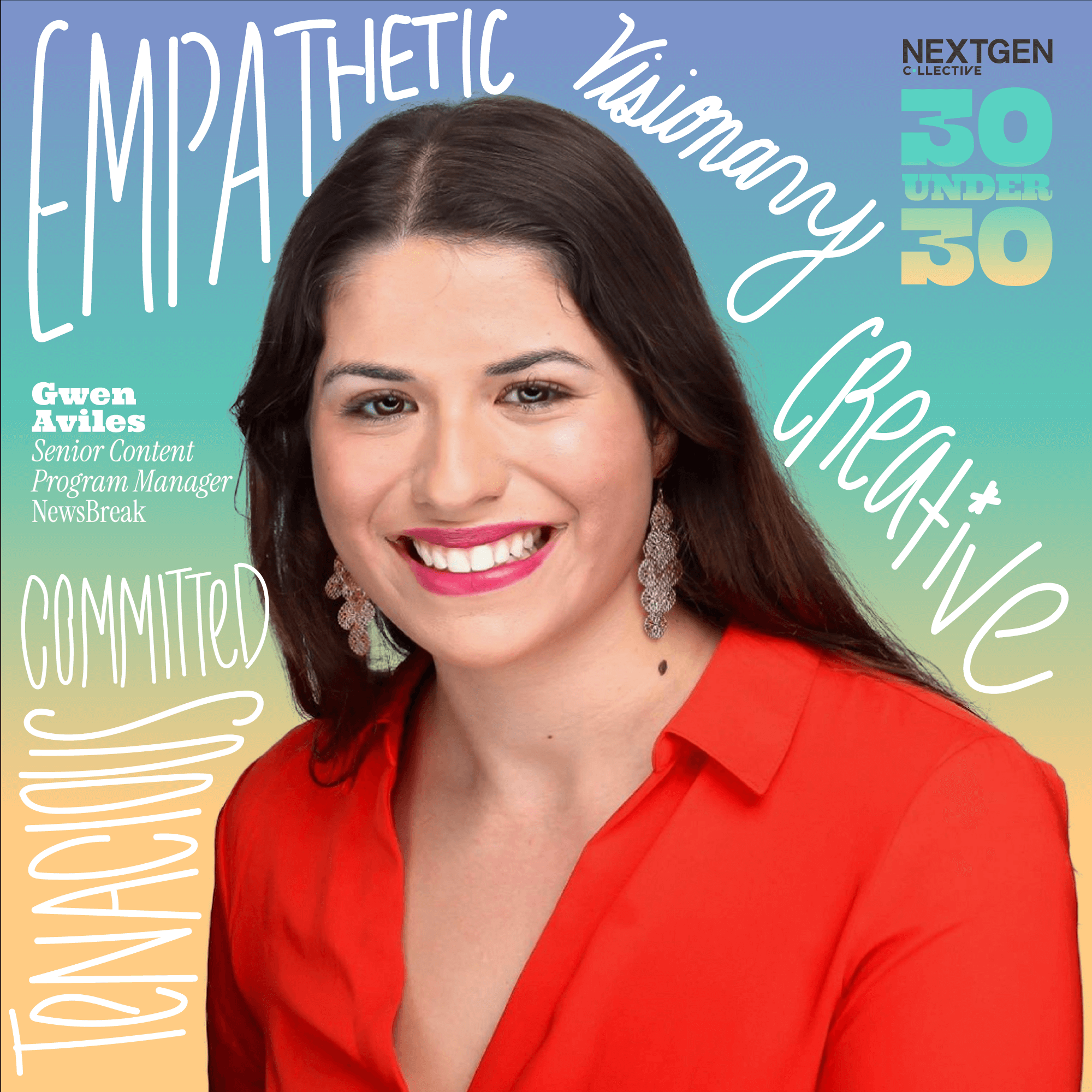 What are your future goals?
My future goals are to publish both fiction and nonfiction books, to inspire people through speaking events, and to use my storytelling skills to create safe, accessible, and valuable community.
What is your favorite form of self-care?
My favorite form of self-care is going to the beach with a good book and when that option's not available, hitting a punching bag at the gym!
What do you like to do for fun when you're not working?
When I'm not working, I love reading and/or browsing bookstores looking for my next read. I also enjoy trying out new restaurants, running, and going to the gym, as well as spending time with my three-year-old labradoodle, Paloma, and traveling.
What does making NextGen Collective's 30 Under 30 list mean to you?
Being on NextGen Collective's 30 Under 30 list is a huge honor, especially because I know how many talented young Latino professionals are out there who are doing incredible work. I'm so proud and grateful to be recognized among such accomplished peers for doing work that I am truly passionate about!
What is your personal theme song?
My personal theme song is "Unwritten" by Natasha Bedingfield.
What is your Latino background?
I'm Puerto Rican on my dad's side, and born and raised in Brooklyn, New York.
Editor's note: This Q&A has been edited for clarity.