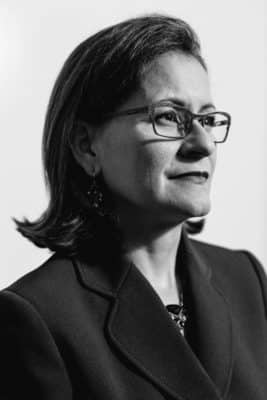 Results matter. That's what makes Esther Aguilera's twenty-five-year career stand out. She excels at building and executing strategic business plans to drive both growth and impact.
When Aguilera was leading the US Department of Energy's small business office, she received the Secretary's "Superior Performance Award" in 2001 for spearheading a departmental directive that resulted in increasing small business contracting by $1 billion. For the previous eleven years, she served as CEO of the Congressional Hispanic Caucus Institute (CHCI), where she doubled revenue and tripled the size of its Washington, DC-based leadership programs.
In June 2016, Aguilera stepped in to lead the Latino Corporate Directors Association (LCDA) to deliver on its number one goal: increase the number of Latinos on corporate boards. Upon agreeing to serve as guest editor for the annual Best of the Boardroom issue, Aguilera sat down with Hispanic Executive to discuss the outlook for Latino professionals and how the LCDA can make a difference.
What drew you to the LCDA?
My brand has always  been about elevating the talent and brilliance of Latinos to the highest leadership levels in the US. A group of pioneers launched this organization, and I saw the opportunity to leverage Latinos at the highest level of corporate governance behind a powerful mission. It was the right fit.
How did your previous work prepare you for this challenge?
I am driven to leverage potential and maximize resources to produce results, which are critically important to building an enduring and thriving organization. Plus, my fundraising track record and prowess was a big plus.
There's a lot that the LCDA can do, but how do you summarize your top one or two goals?
Within my first four months, we launched a four-part strategic framework that lays out how we seek to advance our mission. Among our top priorities in 2017 is growing the demand—creating more opportunities to accelerate the promotion of more Latinos to serve on corporate boards. By the same token, we're also focused on growing the supply of high-caliber, board-ready candidates. Corporate America, especially consumer-facing companies, becomes more competitive with the inclusion of Latinos in the boardroom.
Can you describe some of your strategies for achieving all that?
On the demand side, it involves working proactively with corporations, search firms, investors/pension funds, and other stakeholders and influencers to connect them with the best talent. It also involves raising awareness about the business case, identifying champions, and working with allies and partners. Greater emphasis will be on consumer-facing companies, given that the Latino consumer is driving consumption growth in America now and in the foreseeable future.
On the supply side, we are launching a unique program to surface and position Latinos for seats on public or private company boards. What makes this program unique is its comprehensive approach that combines preparation, networking, mentoring and exposure—all key elements for success. The program will run concurrently with our annual membership meeting, featuring leading authorities on corporate governance and risk and quality networking.
Why hasn't corporate America made more progress when it comes to Hispanic participation on corporate boards?
This is an ambitious plan and a difficult task as board seats are coveted positions. Recently, it was reported that because too few Latinos serve as Fortune 500 CEOs, that our prospects are bleak. I reject that idea. The LCDA is a resource, and we are out to showcase and promote the talent pool for placement on corporate boards. Secondly, there over two thousand publicly traded companies and nearly twenty thousand seats.
At LCDA's Inaugural Board Leaders Convening in October 2016, HP Enterprise CEO Meg Whitman stated that if board leaders do not actively seek a diverse slate, they will not get one. When serving as chair of the HP Inc. board, she fought back when the slate she was given did not include any Latino candidates. With more prompting, voilà, they identified terrific Latino candidates (including Áida Álvarez) for the HP Inc. board. We need to place Latinos top-of-mind in this highly competitive space and have a large and ready pool. That is precisely why LCDA was formed.
What is your number one most important message to corporate America regarding Latino talent?
Especially for consumer-facing companies, it's the business case. It's about improving the bottom line and shareholder return. Latinos are driving America's economic growth. Already, Latinos are 18 percent of the population and projected to grow from 54 million in 2014 to nearly 120 million by 2060. That is 65 million new customer and eyeballs. Latino purchasing power, now at $1.5 trillion, is on pace to grow $80 billion to $90 billion a year and projected to reach $2.3 trillion by 2020. For example, in the past five years, new auto sales among Latinos grew three times that of the total auto market.
To what extent should Latinos leverage their heritage when interviewing for a board director role?
I think anyone interviewing should be authentic. Latinos are valuable for both their keen business acumen, experience and technical know-how, as well as their insight into America's diverse marketplace. Decision-making from diverse perspectives leads to better decisions and produces greater shareholder return, as reported by McKinsey's 2015 report Diversity Matters.
What's your advice for Latinos interested in a board position?
It can be a long journey. It takes personal engagement, packaging your profile and business leadership experience, and tailoring your search. Leveraging your professional network comes into play, especially others you know who already serve on a corporate board.
Are you hopeful that things will change? How soon?
Definitely. Working with our Board of Directors and membership, 2016 was an important year for us at LCDA. The caliber of leadership at our first annual meeting really put the organization on the map. Panelists and attendees affirmed our vision and got together to commit to moving forward together to accomplish our important mission. We are increasing our capacity, growing membership, producing quality programing, and building strong partnerships. We have our strategic framework and clarity of mission. 2017 is going to be a big year for us as we set out to execute, measure results, and make our vision a reality.