Growing up in Los Angeles, Gabriela Valverde-Rivera had always assumed that being a first-generation kid was the norm And it is for about 40 million people in America, at least.
"Growing up in La Puente, a community in the San Gabriel Valley, which is a predominantly Latino community, I felt like I could relate to others because we had similar experiences," she says. However, when Valverde-Rivera went off to college just thirty miles away, her experience was drastically different.
"There were not very many people who looked like me and I did not meet a lot of first-gen students. Trying to navigate the differences in mentality, thinking, and experiences was so interesting," she remembers. "That was the first time where I truly felt culture shock." During her time as an undergraduate student at Loyola Marymount University, she was introduced to people whose families had lived in the US for generations, with pre-established networks she never knew existed.
"My parents constantly shared their story with me about how they immigrated to the US, how difficult it was, and the poverty they faced—those stories are ingrained in my mind forever," Valverde-Rivera says. "Because of that, I know that I have to take advantage of the opportunities that I have and embrace those sacrifices they made."
For Valverde-Rivera, learning that other people in college didn't share that mentality was a shock. But she eventually found her crowd. While it may not have been easy, she believes it was the right decision. "That was my entrance into the real world, and it prepared me for what the world looks like today," she says.
A few years after graduating from college, Valverde-Rivera went on to get her master's degree from Pepperdine University and her doctorate from University of Southern California. However, while she may have begun her educational experience studying communications, her passion for journalism led her to an internship where she discovered another potential career path: human resources.
"I knew about HR as a function, but at that point, my perception was probably the same as a lot of people's—that it was a purely administrative function," she admits. "I had no idea what HR really meant and how powerful the organization and the work could be."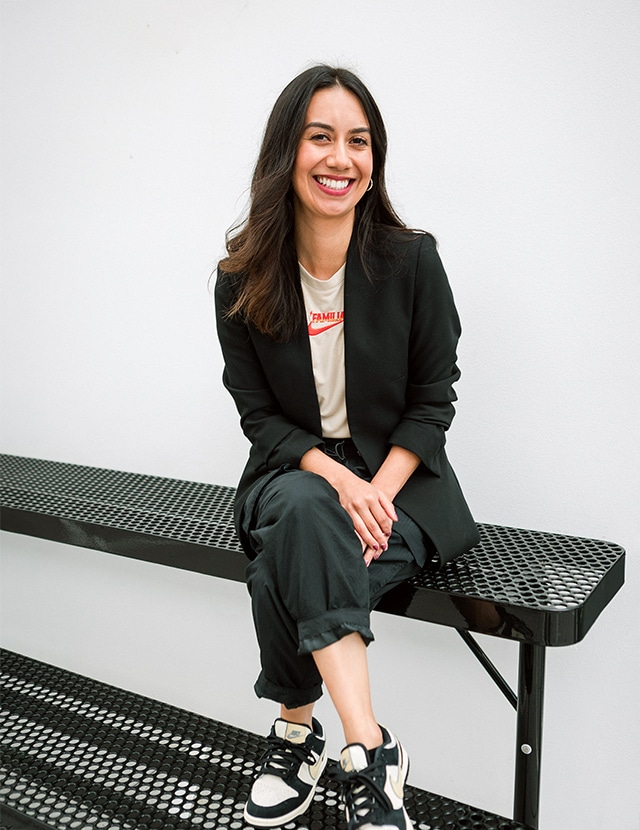 This realization was only reinforced by the time she stepped into her first role out of college at Target Corporation. "It was at that organization where I really understood not only what it meant to lead HR and the systems and processes behind it, but how the function could impact culture and high-performing teams. Valverde-Rivera reflects. "That is what helped me understand that the HR business partner role was something that I wanted to pursue."
From there, she took on HR positions in different industries, from retail to restaurants to start-ups, including WeWork and Better Place Forests. She eventually made her way back to retail, where she currently serves as senior director and HR business partner of digital commerce at Nike. Initially she was a bit hesitant to join such a large organization, but Valverde-Rivera knew that she would have the opportunity to scale culture in a new way.
"The leaders just really wanted someone to be able to come in and build, innovate, and shape HR in the digital retail space," she says. With that, the senior director has curated a culture of inclusivity and high performance that she has sought out from day one.
According to Valverde-Rivera, crafting that kind of culture starts with the people. She credits much of her organization's success to the support and openness of the leadership at Nike. But that's not all. The HR organization has set very clear aims: providing end-to-end support to managers and leaders, creating a culture of inclusion and belonging, and, supporting meaningful growth and development.
To ensure that they include the entire employee experience, many initiatives revolve around employee feedback. "I think we do a really good job of listening to our teams and actually executing on what we learn and hear through employee surveys, focus groups, and our managers and leaders," Valverde-Rivera says. Recently, Nike enacted an annual wellbeing week, where corporate offices close to focus on rest and recovery.
Perhaps one of the greatest examples of Valverde-Rivera's impact at Nike is in the data. With many digital employees working remotely, maintaining the company culture has been a challenge. However, according to Valverde-Rivera, the feedback shows that it's working.
"Folks are feeling more productive, and they're actually feeling more engaged because of the flexibility that they have," she says. "From a culture perspective, looking at it holistically. What we've been able to do is not necessarily replicate the culture that we are used to from an in-person office perspective, that wasn't our goal. Rather, we've ensured that we're tailoring our support structures to meet our teams where they are."
Outside of Nike, Valverde-Rivera continues to live out her passion for journalism through her podcast, Latinxellence, where she and her husband share the stories of top performing Latinos and Latinas in their community. Additionally, she is passionate about increasing Latino and Latina representation in leadership and volunteers at nonprofit Latinas in Tech, works with the Center of Executive Education at Portland State University, and teaches at a local community college in Los Angeles.