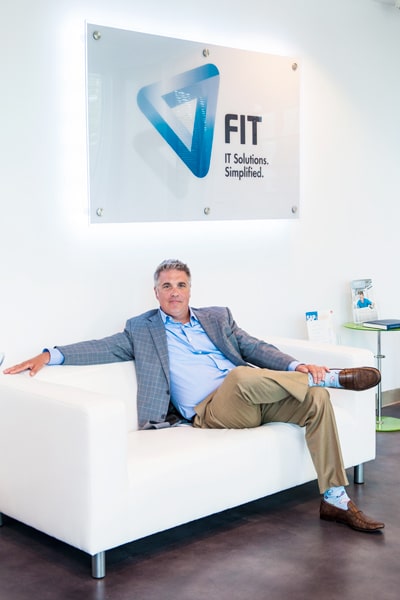 Although his official title is chief customer officer with Freudenberg IT (FIT), Kevin Diaz might as well be called chief trust evangelist. That's because to hear him describe it, trust is key to every aspect of his responsibilities—everything from nurturing and maintaining professional relationships with customers and colleagues to developing and delivering customized, mission-critical IT solutions to organizations around the world.
His belief in that approach was reinforced by one of his mentors, Lynn Claussen, in a previous position with SAP. When Diaz had been customer manager for just six weeks, Claussen informed him that he would be leading the opening of a new Latin American practice based in Mexico. When asked what the strategy was going to be, he told Diaz there wasn't one.
"He had enough trust in me to let me go to Mexico and figure out the best approach. There's a distinct difference between management and leadership at the tactical level. So, if you've hired the best people, you lead by giving them the vision and then empowering them to navigate to the ultimate objectives on their own," Diaz says.
He has maintained that perspective at FIT. In a company that is entrusted with developing and supporting customers' critical software solutions and infrastructure, he believes the spirit of open communication and interdepartmental collaboration is part of its cultural DNA. Demonstrated from the top down by CEO Michael Heuberger, Diaz points out, "in an industry where escalation calls come in at 2:00 a.m., I have to know that the person I reach out to for support is just as committed as I am to follow through and make things right as quickly as possible."
Freudenberg IT by the Numbers
83%
customer satisfaction
(2015 TNS Survey) 
400+
customers 
100+
SAP HANA worldwide installations
20+
industries 
Source: www.freudenberg-it.com
He goes on to explain that the team orientation eliminates silos that typically occur between departments. For example, because his division focuses on sales, marketing, and developing business alliances, it's the delivery organization—which he characterizes as "the unsung heroes"—who ultimately manage installations, customer expectations, and on-site interactions.
"Some elements of a deal may negatively impact workloads and schedules in the other department, so it's important to have strong, transparent, ongoing relationships to accommodate those circumstances. Those kinds of authentic bonds and friendships are part of a genuine team culture here," Diaz says.
Building Relationships
Diaz learned a great deal about building customer relationships when he began focusing on business in Mexico. He recounts one episode that was unsuccessful, even though his company presented a superior solution at a better price than his competitors. A colleague explained to him that they had not yet built the necessary relationship with the prospect to engender their trust and confidence.
"I always keep that in mind now and do whatever is necessary to make time for customers, to understand their priorities and develop a real connection with them. We go the extra mile because anybody can sell technology, but you can't always trust everyone selling it," he points out.
He benefited tremendously from that approach several years later when a prominent hotelier in Mexico requested a one-hour face-to-face meeting. Diaz was skeptical about flying in from the United States because the prospect already had an existing relationship with another company. However, the meeting stretched out to more than three hours, Diaz won the business, as well as a relationship with the customer's chief information officer that has lasted to this day.
"It's about simple things like really listening to clients and keeping your word on everything you've promised. In IT, we're not dealing with tangible products but with diagrams and descriptions about how our services will optimize mission-critical solutions. It's all predicated on trust," he says.
Strategy for Global Growth
FIT is pursuing plans for doubling its worldwide volume, so Diaz will need to adapt some of his trust-based business methods. For instance, as scope and scale increase, he wants to find ways to maintain the boutique approach of spending "quality time" with customers to understand their drivers and then customize deliverables appropriately.
He describes it by saying, "If you're genuinely listening, not selling or talking about yourself, you'll ask the right questions. Customers sense that you know their business through those questions. Doing it right requires humility and real attentiveness no matter how large you are."
Diaz and an executive team are also working on developing a single, standardized global website that will highlight FIT's core competencies and capabilities in a simple, straightforward manner. Their challenge is distilling all the key elements needed to showcase the company's strengths while crafting language that addresses local nuances of international markets that stretch from North America, to Europe, and China.
As the growth strategy is implemented, Diaz says it will be vitally important not to lose sight of the consistency and reliability that has made the company successful for decades. So as expansion occurs, he will focus on ensuring that existing customers and prospects don't lose the personalized time and attention they have come to expect.
"Even though growth is one of our corporate objectives, customer managers will still be hands-on to deliver the highest levels of customer satisfaction. That's how we gauge our success, not just by volume of business," he explains.
"Even though growth is one of our corporate objectives, customer managers will still be hands-on to deliver the highest levels of customer satisfaction. That's how we gauge our success."
That isn't a surprising answer from someone who describes his greatest professional achievements as the relationships he has established with customers over the years. To illustrate, he recounts numerous episodes when they have agreed to call in as references during presentations to new prospects often, with just a five-minute notice.
He says proudly, "The quality of our brand and our image is a byproduct of the people in our organization. The fact that we've been able to develop such strong client relationships is a great testament that we're not just a vendor to our customers. We're their partners."