As a child in Fresno, California, Fran Katsoudas was encouraged to share her perspectives on society, especially its ills, at the family dinner table. Her grandmother, never shy about expressing her views on women's rights and often advocating for Hispanics and farmworkers, railed against inequality of all types.
"She had a very strong agenda," Katsoudas says. "If your perspective was different than hers, you better believe you were going to be called out, but she'd have a conversation about it."
Katsoudas channels her grandmother's feminist values and distaste for inequality as Cisco System's executive vice president and chief people, policy, and purpose officer. "I have been passionate about equal rights since a very young age. It's in the essence of who I am," Katsoudas says.
She didn't realize it as a child, but her family was shaping her perspectives on inclusion and empathy—perspectives that inform her current role. "When you grow up understanding that not everyone is included and some people have different experiences, I believe that's made me [as a people officer] more aware and open to the fact that there is a lot more work to be done to ensure that everyone has a seat at the table," Katsoudas explains.
At Cisco, her team orchestrates how the organization delivers on its purpose, which is to power an inclusive future for all. Her organization, people, policy, and purpose brings together government affairs, human resources, sustainability, social and digital impact, and workplace resources. "How do we show up to our own people and the broader community? We look at what policy not only drives an inclusive future but also ensures that Cisco is well-positioned from a global technology perspective," she says.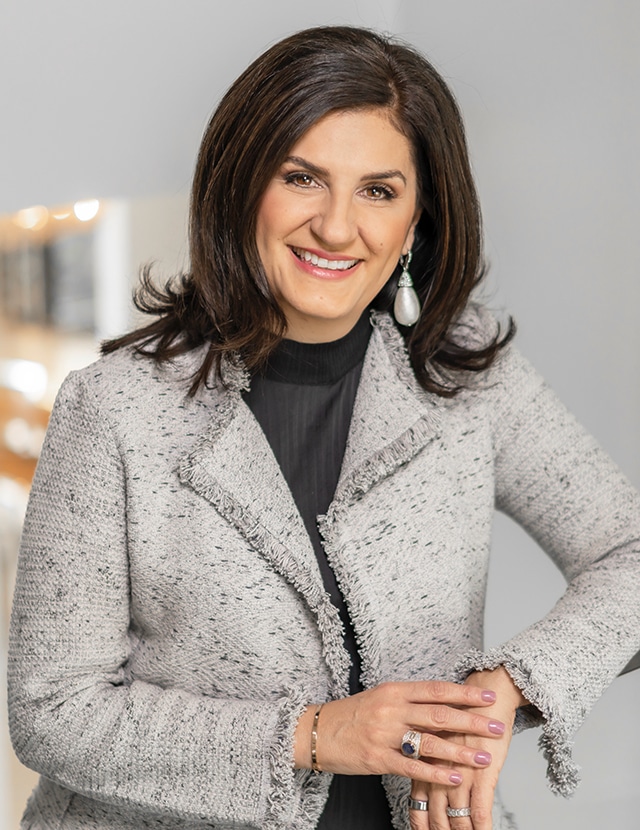 Katsoudas, who attended UC Berkeley and was the first in her family to graduate college, began working at Cisco as a contact center agent shortly after graduating, and has been there for the past twenty-seven years. She has held a variety of roles across the company and transitioned to human resources in 2010. Over the past thirteen years, she has helped drive the evolution of HR philosophy for the organization.
"All of us in the people space must evolve our philosophies," she states. "What we're learning about our people and engagement and wellness is evolving. We're accountable to continue learning."
Empathy and inclusion have played key roles in Katsoudas's life and leadership—a fact that was never more apparent than in 2018, a watershed moment at Cisco when the organization addressed issues of mental health and well-being more directly than ever before.
"There were two tragic events occurring back-to-back: the deaths of Kate Spade and of Anthony Bourdain. Chuck Robbins, our CEO, sent an email out acknowledging their deaths and emphasizing that mental health is health. It doesn't sit in a separate category. It's something we have to talk about," says Katsoudas, who adds that staying silent about mental health would run counter to Cisco's culture.
For many people, it can take someone experiencing a mental health crisis up to a month to locate and speak with a mental health practitioner. To get employees the help they need faster, Katsoudas worked with her team to put resources in place to accelerate this process.
In addition to leading with empathy and cultivating an inclusive environment, Katsoudas has learned that trust, sharing goals, and winning as a team are critical to success. Leadership style, she says, has an impact on the business environment and its culture and directly affects the team's performance. Leaders who take the time to recognize employees' strengths and can leverage those strengths will find their employees have more fun, perform better, and are more productive.
"Build trust, take the time, listen to understand, and commit to a shared vision of success," she says. "Play people to their best and understand what makes them unique and differentiated."
While working in Cisco's acquisition integration space, Katsoudas experienced a revelation regarding employee trust. Tasked with developing and implementing an integration plan, her counterparts would enter the facility with a checklist. Finding that practice counterproductive, Katsoudas dispensed with the clipboard.
"I tried to build trust with the acquired company whose workers were worried about their roles," she says. "They're wondering if they even have a role. They're asking, 'Will we continue on the same trajectory?'"
So rather than ticking off a checklist, she built trust by listening to the acquired workers and understanding their point of view. Once she gained their trust, then she would address the checklist.
At Cisco, business and culture are two sides of the same coin. Several years ago, Katsoudas and her team launched an initiative to build a Conscious Culture, which addresses three areas, and is designed to create a positive experience for all employees.
"Francine Katsoudas has shepherded Cisco's Conscious Culture as the framework for developing and measuring their workforce culture and the communities they serve," says Janine Yancey, founder and CEO of Emtrain. "It's extremely rewarding helping Fran and Cisco in that endeavor."
First comes transparency. "We show our people all the wonderful things happening and the not so wonderful, so they see what needs to be improved," she says.
Second is company values and principles, and everyone is asked to understand and share how they relate to those principles. The third area is day-to-day experience because if that is not in line with the values and principles, "that's not your company," she says.
The final goal is ownership. "If we all own the culture, then the focus on well-being is absolutely connected," Katsoudas says.
For twenty-seven years, Katsoudas has worked to create an inclusive environment in which Cisco employees feel valued and that they have a seat at the table. "Cisco's people, policy, and purpose portfolio will lead us to a more inclusive future for all," she says confidently.