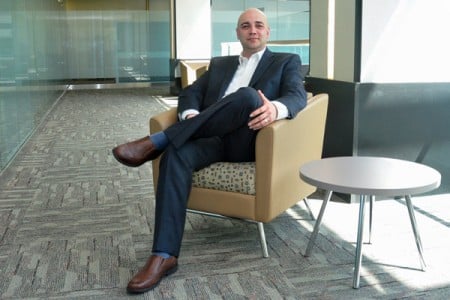 There are a number of milestones that stick out as life-altering in  Gerardo Iglesias's mind.
He lived in Argentina until age six, so he has some very crucial early snapshots of his upbringing stored away. He was reunited with his father, Norberto, at JFK Airport after the former had come to America a couple years earlier. "I remember running into his open arms like it was yesterday," he says. And now that Iglesias has a one-year-old  son of his own—Jackson—he's enjoying a whole new set of milestones.
But somewhere in between boyhood and fatherhood is a treasure trove of moments that drew Iglesias to the health care industry and have kept him at Bronx-based Affinity Health Plan for the past decade.
Iglesias started as a purchasing assistant who oversaw the credit card program for Affinity, the independent non-profit that provides for the underserved in the New York City vicinity. He's now the organization's procurement director.
And it's the legacy of Norberto—working 18-hour days so his children could receive the education to a better career path—to which he credits much of his success. "He's molded who I am," he says in regard to his father, who passed away late last year. "And he is the driving force behind my work ethic."
The basic role of a procurement department in a managed care organization (MCO)  like Affinity is to provide an employee or department with guidance about the purchases they want to make — particularly if it's something that hasn't been purchased before.
Everything from consulting agreements to computer contracts falls under that umbrella, as does toilet paper and more traditional office supplies. "I like to tell people that if you tore the roof off our building and turned it upside down, everything that fell out was something that had to be purchased," Iglesias says. "And our area is the one that takes care of that purchase."
Something that ultimately simplified the purchasing process at Affinity was a shift from a decentralized to a centralized system, which created unity as well as volume discounts for the purchases of different departments. Implementing this wasn't easy, but Iglesias saw it as an imperative for the betterment of the organization. "The work we do in the corporate office impacts the dollars, cents, and bottom line of the organization," he says. "So if we're overpaying on contracts and services, it leaves less money to fulfill the mission of Affinity Health Plan. We always need to remember the end goal is the member."
Iglesias's procurement department changed its routine significantly when Affinity recently relocated its corporate office, and put him in charge of overseeing construction of the office itself—which included the purchase of carpet, furniture, glasswork, audiovisual systems, backup generators, and various elements of network and data infrastructure. Considering the size of the new place—110,000 square feet spread over three floors—the undertaking was no small feat.
"It was atypical [of what we normally do], but it was a tremendous learning opportunity for me to see how much buying impacts a project specifically like that," Iglesias says. "In that sense, I don't know of anyone in the healthcare space that's ever had the opportunity to do that."
Something else that sets Affinity apart from other MCOs is an abundance of "Retail Store" locations. Affinity operates eighteen of these branches within its ten-county coverage area.
Iglesias and his team do a lot of the contracting for these spaces, too. "In these locations," he says, "a marketing representative can help clients break down their coverage, understand where to go for service or benefits for which they may qualify. That may ultimately assist them in getting to a healthier state. Isn't it nice they can walk into a store, in their own neighborhood, and physically speak to someone, as opposed to dialing the 800 number on the back of their ID card and getting dropped into a queue?"
"Every time I come out of an under-construction retail location, a person on the street will stop me and say 'Hey, when are you guys opening?' It reminds me that my job is not just about finding the best office supply provider. There are people depending on us here."
Much of Iglesias's time is spent on the daily needs of Affinity's headquarters or the expansion needs of branch locations, but it's the unusual procurement requests—face painters, clowns, and pony rides for an upcoming community event, for example— that keep him and his team on their toes. And with Affinity enjoying its thirtieth anniversary this year, the celebrations and their respective unique needs are sure to keep coming.
Yet for Iglesias, each one is simply a reminder of the sometimes delightful, but always important, role his organization plays in each community it serves. "Getting out in the communities reminds me of what I'm there for," he says. "Every time I come out of an under-construction retail location, a person on the street will stop me and say 'Hey, when are you guys opening?' It reminds me that my job is not just about finding the best office supply provider. There are people depending on us here."
---
A Healthcare Solution Grows in The Bronx
The Bronx, New York City, is where Affinity was founded and is headquartered, but over the past thirty years, Affinity has built one of the tri-state area's largest physician networks, which includes 30,000 providers and more than eighty-five of the top hospitals in the region. Affinity offers a variety of programs under Medicare, Medicaid, Child Health Plus, and Qualified Health Plans on the New York State of Health Marketplace for members in the Bronx, Brooklyn, Manhattan, Queens, and Staten Island as well as Nassau, Suffolk, Westchester, Rockland, and Orange counties. Affinity "Retail Stores," where patients can find information and ask questions, are also located throughout the New York  metropolitan area.