I always liked math, which, I suppose, is what led me to a career in finance. I was also very detail-oriented, even as a child. I remember when my father taught me the importance of budgeting. Even when I had very little, I always had a rainy day fund.
I got my degree in Industrial Engineering in Mexico (where I was born) and went on to work in consulting for McKinsey and KPMG  in Mexico City. I then moved to the United States and received my MBA from Carnegie Mellon. From there, I landed a role with Campbell's Soup as part of the financial leadership program. At Campbell's, I had multiple roles in financial planning and analysis, including new business development.
I was then transferred to Arkansas as finance lead of the team serving the Walmart account—and later joined Walmart, working for both Walmart International on global format development and then for Walmart US with the Real Estate Strategy team.
In 2011, Ahold offered me a job that was closer to my role at Campbell Soup.  I am now vice president of finance,  responsible for the Giant Food Stores division. I am now located in Pennsylvania. What attracted me to this role was the opportunity to be on the front line and focus more on performance than data. I'm responsible for delivery of the P&L [profit and loss statement], financial planning and analysis, strategic planning, budgets, and tracking performance against the budgets.
It's much more than just reporting numbers. I'm also providing insights on how to turn around underperforming areas of the business. Ultimately, I'm responsible for the company's assets and ensuring we have the necessary return on investments to drive value for shareholders.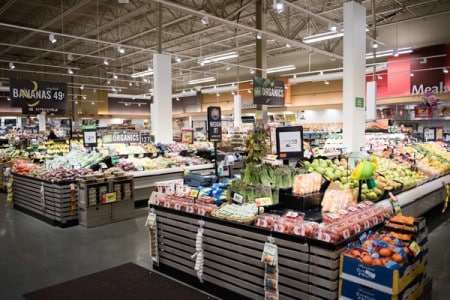 My direct reports are a team of five. My management style is to lead by example and have an open-door policy. We try to catch problems early, and then solve them together. The key is to hire good people in the first place, so that I can trust them with decisions without micromanaging.
Ahold USA has four major divisions—Peapod, Stop & Shop New England, Stop & Shop New York Metro, Giant Landover, and my division, Giant Carlisle, which includes Martin's Food Markets. We operate stores in Pennsylvania, Maryland, Virginia, and West Virginia.
The Giant division began as a butcher shop owned by David Javitch in the 1920s. In 1936, he bought a store that he named the Giant Food Shopping Center. In 2013, Giant Foods celebrated its ninetieth anniversary and now has about 200 stores.
Ahold USA has close to 800 US stores generating over $25 billion in sales. We're currently in merger talks with the Delhaize Group. The company is laser focused on growth. My division alone has acquired about forty stores around Philadelphia and Richmond, Virginia. When we buy a store and convert it, we close it, strip it, clean it, update it, and put our signage on it—all within a week. We take over a store on a Saturday and are ready to reopen it by the next weekend, after we've made sure it meets our standards.
Retail grocery is an especially competitive field in the United States. We're always looking to identify savings in how we operate to become more efficient. We look at the stores, our suppliers, the products we sell, and the things we use in the store that are not for resale—such as plastic bags and trays. Once we've generated savings, we have to find the most effective ways to reinvest in the company by lowering our margins, remodeling stores, and purchasing new equipment.
Another key focus is to continuously provide better quality and value, and ultimately, a better customer experience. We want our produce department to feel like a destination. So, we've revamped all of our produce departments. We changed the fixtures and redesigned the product displays. We also added more organics and natural products in one common area. By focusing on produce, we differentiate ourselves.
"When we buy a store and convert it, we close it, strip it, clean it, update it, and put our signage on it—all within a week."
I think the Peapod model is the wave of the future. The Internet is a vehicle to help customers get their tasks done. Peapod now has home delivery and "pick-up point" options, where customers can order online, go to a designated store for pickup, and have the groceries loaded into the car.
In some of our stores, you can self-scan products with your mobile device as you shop. When you're finished, you go to a dedicated checkout terminal, download the data, and pay. It expedites the process.
About 2.3 million customers are served weekly by GIANT/MARTIN'S
Everyone can relate to groceries—we get feedback right away when we start making changes in the stores. We employ a lot of people and serve a lot of people. We donate a lot of food to food banks, collect donations for the Children's Miracle Network, and dedicate our own resources to children's health and fighting hunger. There's a lot of pride in working here.
I expect fewer players in the retail grocery business as mergers and acquisitions continue, pushing quality over quantity. Good is no longer good enough. We're determined to be great—a retailer that our customers go out of their way to recommend to family and friends."